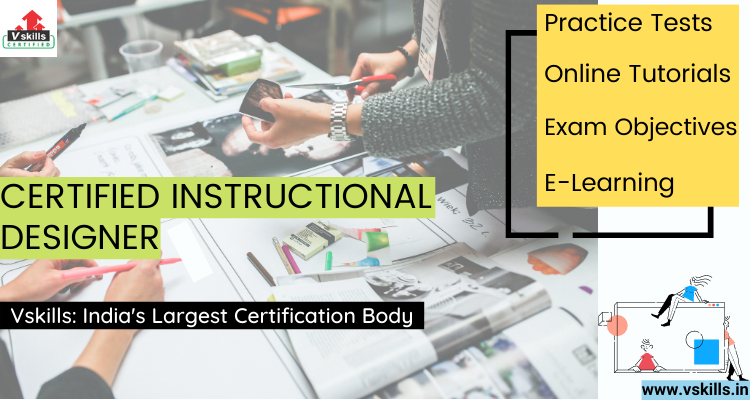 An instructional designer is a professional who has the ability to identify the performance, skills, information, and attitude gaps of a targeted audience. They are responsible for creating, selecting, and suggesting learning experiences. They work with subject matter experts as well as identify the target audience's training requirements. Further, they also visualize instructional graphics, the user interface, and the finished product. They are responsible for conducting instructional research and analysis of learners and contexts. Lastly, they also have the ability to apply tested instructional design theories, practice, and methods.
So, let's get started with the in-depth details and resources to become a Certified Instructional Designer.
Vskills Certified Instructional Designer
Instructional design basically involves designing, developing, and delivering learning experiences, in digital or physical format. And, in this field, huge opportunities are available for instructional designers with increased relevance of learning in corporate as well as educational environments. However, the Vskills Instructional Designer certification course will help candidates to understand the basics, principles and tools of instructional design as well as it will also cover augmented and virtual reality. Moreover, this certification is best for content developers, instructional designers, curriculum producers, learning managers, and courseware developers.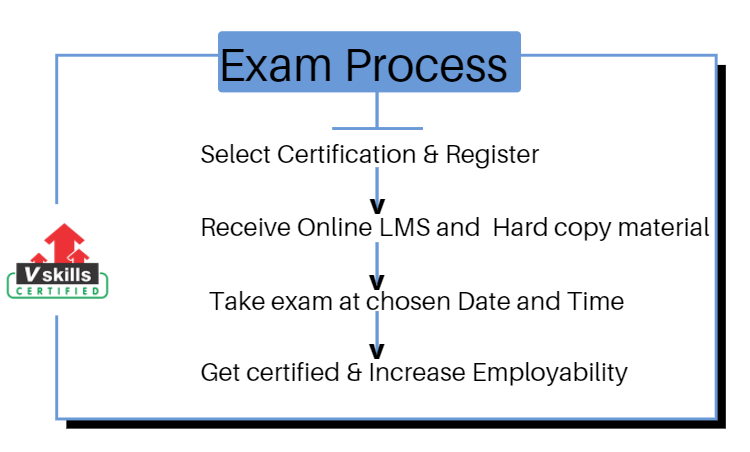 Vskills certification providers give candidates access to top exams as well as provides exam benefits. This includes:
The certifications will have a Government verification tag.
The Certification is valid for life.
Candidates will get lifelong e-learning access.
Access to free Practice Tests.
Candidates will get tagged as 'Vskills Certified' On Monsterindia.com and 'Vskills Certified' On Shine Shine.com.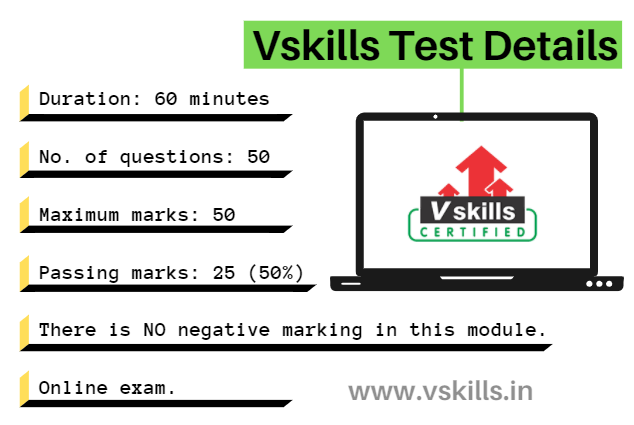 Course Outline
Certified Instructional Designer covers the following topics –
Instructional Design Basics
Learning process
Evolution of ID
Instructional Designer Role and Skills
Instructional Strategies
Training, Development and Education
Introduction
Objectives of Training
Areas of Training
Training Drawbacks
Benefits of Training
Need for Training
Types of Training
Training Risks
Difference between training, education & development
Role of T&D in HRD
Learning and Learning Styles
What is learning?
Learning Styles
The Three Representational Modes (TRiM)
Self, Met cognition, Cognition, Knowledge (SMCK)
Other Supporting Theories
Adult Learning
Principles of Training
Student Types
Adult Learning
Principles of Adult Learning
Characteristics of Adult Learners
Applying Adult Learning Theory
Learning Principles
Retention and Recall
Concentration and Attention Span
Cardinal Rules of Memory
Learning Styles Continuum
Instructional Design Concepts
Keller's ARCS Model of Motivation
Knowles' Theory of Andragogy
Bloom's Taxonomy
Gagne's Nine Events of Instruction
ADDIE Model
Kirkpatrick Model
The Cognitive Load Theory
Dale's Cone of Experience
ROPES
ID Need Assessment
Training Content for Different Categories of Employees
Steps for Needs Assessment
Rummler Brache Cause Analysis Model
BARS
TLO and ELO
Instructional Design Planning
Project Stakeholders
Developing Project Charter
Project Scoping
Project Budgeting
Project Feasibility
Estimation Tools and Techniques
Project Appraisal
Handling Project Risk
Design Considerations
Modular Design
Cultural Issues
Reducing course length
Reigeluth Elaboration Theory
SQR3 technique
ARCS Model
Selecting and Prioritizing course content
Preparing the design document
ID Development
Developing for different audience
Developing effective, efficient and engaging content
Using Interactive Media
Sequencing course content
Storyboarding
Develop Training Aids
Templating
ID Implementation
Course Validation
Preparing Check list for implementation
Selecting Implementation mode
E-learning
Technical Compliance
Meeting Readability and Accessibility
ID Evaluation
Evaluating Techniques
Measure Learning
Evaluate Learner Satisfaction
Measuring Learner's Improvement
Advanced Topics
ID Software and Web Tools
Digital Narrative
Agile Instructional Design
ID and Virtual Reality
ID and Augmented Reality
Preparation Guide for Vskills Certified Instructional Designer
It is essential to gather all the study resources before starting to prepare for the certification exam. This is necessary so that candidates do not face any difficulty in researching the contents and topics. As without having the study resources candidates will face difficulty to understand the concepts. However, for Certified Instructional Designer, below there are resources provided by Vskills that will help candidates to cover all the concepts and prepare well for the exam.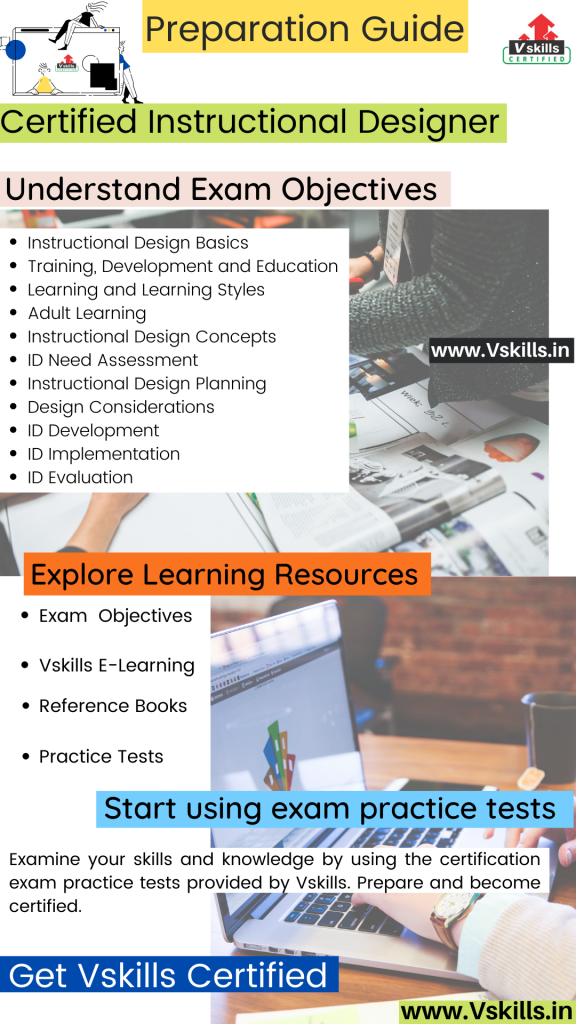 Exam Objectives
Exam objectives are important as it provides brief about the exam by diving the syllabus into topics that include various sections and subsections. Candidates should get all the content and topics related to the exam. As it provides a benefit to candidates to understand better during the preparation time. Doing this will help them to understand things more accurately. For Certified Instructional Designer the topics include –
Instructional Design Basics
Training, Development, and Education
Learning and Learning Styles
Adult Learning
Instructional Design Concepts
ID Need Assessment
Instructional Design Planning
Design Considerations
ID Development
ID Implementation
ID Evaluation

Vskills E-Learning
With E-learning for Vskills Certified Instructional Designer, candidates will get a better understanding of the content using the online learning material for a lifetime. Moreover, Vskills provides hard copy material that will help them in improving skills and staying up to date with the learning curve for getting better opportunities.
Books for Reference
Candidates should start taking help from reference books for understanding concepts and topics fastly. However, for the Certified Instructional Designer exam, there are various books available which you can find online or in libraries. Some of the books are as follows:
Design for How People Learn book by Julie Dirksen
Instructional Design for ELearning Book by Marina Arshavskiy
Evaluate yourself with Practice Test
Practice tests play a crucial role at the time of exam preparation. This will helps candidates to improve their answering skills as well as helps in finding out the weak areas. Moreover, by assessing themselves candidates will get a clear view of their preparation and then start working on it accordingly. So, start practicing for the exam and get certified.