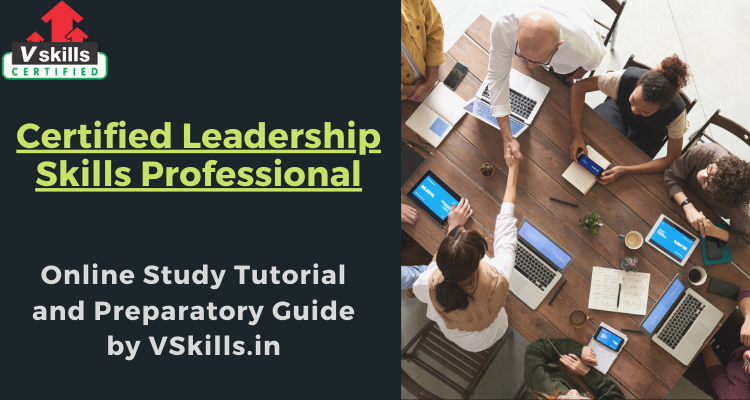 Vskills certified leadership skills professional, assess candidates in various skill areas of leadership. It enables an individual to be effective leader like leadership theories, motivation, communication, emotional intelligence, negotiation and influence. The certifications help to show your dedication towards your aim and also makes you a preferable candidate for the job. You have to take the level of your skills beyond excellence in order to survive in the corporate sector. In order to stand out in the crowd you need to put some extra efforts and to make things light up according to your style.
In this era when corporations demand certified professionals for their firms, certifications help to become the preferred one. They also help to show the dedication and commitment towards the goals and your will to achieve them. Let us get into details of this valuable certifications.
Roles and Responsibilities
A is Certified Leadership Skills Professional responsible for various tasks as implementing leadership theories, motivation, communication, emotional intelligence, negotiation and influence.
Why to take this certification?
Leadership skills have gained prominence as there is increased need to lead organizations through ever changing and complex markets and times we are experiencing. The ability to lead effectively is most sought after by employers.

Leadership skills have become the focused area as leaders need to deal with employees, vendors and stakeholder so, as to motivate, enthuse, build respect and achieve organizational objectives.
Intended Audience
Gaining knowledge in various facets of leadership, ensures you are ready to handle any challenge. The certification gives you confidence and skills to lead your team to success in your organization. The certificate adds perspective to broaden your horizon effective decision making and leading the team.
Benefits of Certification
Certification Process
Select Certification & Register
Receive a.) Online e Learning Access (LMS) b.) Hard copy – study material
Take exam online anywhere, anytime
Get certified & Increase Employability
Test Details
Duration: 60 minutes
No. of questions: 50
Maximum marks: 50, Passing marks: 25 (50%).
There is NO negative marking in this module.
Online exam.
Content Outline
The exam has following testing basis –
Leadership
Overview of Leadership
Leadership Style
Leadership Theories
Recent Development in Leadership Theory
Leadership Styles
Leadership Skills
Wakeful Leadership
Digital Leadership
Motivation
What is Motivation
Theories of Motivation
Key Strategies of Motivation
How to Boost Motivation
Motivational Drives
Communication and Organizational Vision
Process of Communication
Elements of Communication
Effective Communication
Barriers to Effective Communication
Steps to be an Effective Communicator
Why Leaders Need to Communicate
Organizational Vision
Techniques for Communicating Vision
Communicating Vision
Individual Behavior
Integrated Human Behaviour Model
Factors Influencing Individual Behaviour
Self Concept and Self Esteem
Organization Politics
Overview of Organisation Politics
Political Landscape of an Organisation
The Political Players
Antecedents of Political Behaviour
Method of dealing with Organization Politics
Conflict and Negotiation
Overview of Conflict
Types of Conflict
Causes of Conflict
Conflict Management Technique
Negotiation and Conflict
Negotiation Basics
Preparing for the Negotiation Process
The Seven Basic Steps in Negotiation
Best Alternative to a Negotiated Agreement (BATNA)
Tactics for Negotiation Process
Influence Building
Influencing and Persuasion Techniques
Influence and Organizational Politics
Connect and Influence
Influencing Others as a Leader
Emotional Intelligence
Emotional Intelligence
EQ Domains
Self-Awareness
Self-Regulation
Social Skills
Improving Perception Competencies
Using Self-management and Social Skills
Emotional Maturity
Business Execution
A Business Execution Culture
Leveraging Planning and People
Supporting Business Execution
Disciplines of Business Execution
Successful Strategy Execution
Time Management
Innovation Management
Pillars of Innovation
Crucial Questions
Types of Innovation
A Business Innovation Culture
Characteristics and Actions of an Innovation Leader
Building an Innovative Culture
Change Management
Overview of Change Management
Recognizing Obstacles to Change
Introducing Change
Managing Change
Eight-Step Change Management Process
Strategies for Effective Implementation of Change
Leading Change
The Change Model
Leading through Change
Leadership Development Plan
Assessing Yourself and Your Environment
Setting Development Goals, Objectives, and Actions
Evaluating Personal Leadership Development Plans
Business Ethics
History
Ethical Principles
Ethical Theories
Functional Business Areas
Value Integrity
Corporate Governance
Other Definitions
Principles Of Corporate Governance
Corporate Governance Models Around The World
Legal Environment – General
Sarbanes-Oxley Act of 2002
Codes and Guidelines
OECD Principles
Preparatory resources for Certified Leadership Skills Professional
Cracking this exam can be difficult for the first time. But with the right set of resources and hard work you can ace the exam in one go. So, you should be very careful while choosing the resources. There are unlimited resources for preparation that you can use. Make sure to pick the apt resources out of the unlimited resources available, as they will determine how well will you pass the exam. Let us look at some resources that can be beneficial –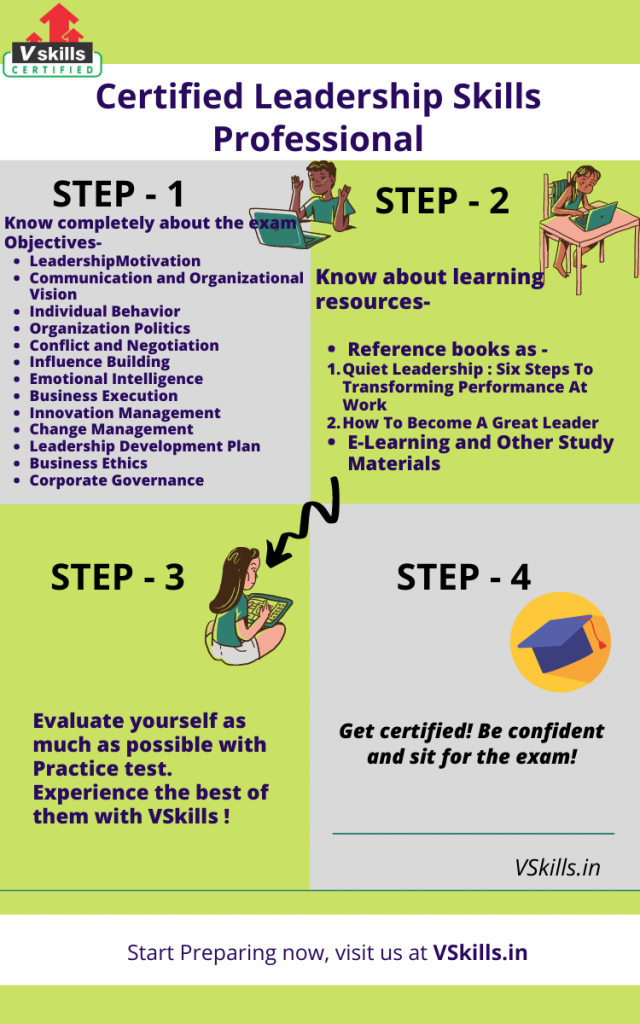 Step 1 – Review the exam objectives
Knowing about the objectives of the exam is very important as the whole exam is going to revolve around the objectives. The first and foremost thing before you start preparing is to get well versed with the objectives of the exam. Exam objectives let you define the framework for preparation and the path that has to be followed in order to pass with flying colors. This exam revolves around following objectives –
Leadership
Motivation
Communication and Organizational Vision
Individual Behavior
Organization Politics
Conflict and Negotiation
Influence Building
Emotional Intelligence
Business Execution
Innovation Management
Change Management
Leadership Development Plan
Business Ethics
Corporate Governance
Refer – Certified Leadership Skills Professional Brochure
Step 2 – Hitting the books
You can choose the books that is comfortable to your reading habits and which you understand well. Books are the best valued resources and first resource that comes to our mind when we thin of preparing for any exam. You can find multiple books online or can refer to libraries and bookstores. There are even fantastic books online that can be very useful in preparation. Some books that you can refer are–
Quiet Leadership : Six Steps To Transforming Performance At Work
How To Become A Great Leader
Step 3 – E-Learning and Study Materials
Vskills offers you its E-Learning Study Material to supplement your learning experience and exam preparation. They are prepared by the experts of the subject matter and are reliable enough. These online classes and instructor led courses are one of the most interactive ways of preparing the exam. Learning for the exam can be fun if you have right set of resources matching your way of studying. Many reliable sites provide with the very nice instructors and excellent content for the preparation. As we all are habitual of classroom teaching, these classes can serve as close substitute with an advantage of attending the class anywhere.
Refer – Certified Leadership Skills Professional sample chapter
Step 4 – Evaluate yourself with practice tests
Your practice is an important determiner of how well you pass the exam. Take as many practice tests and test series as you can. They will help you in determining the level of your preparation, identify your loopholes and identify the weak portions you need to work more upon. There are so many reliable educational sites that provide with amazing content and help you in achieving excellence. Try a free practice test now!

Leadership Interview Questions
Checkout these latest online interview questions on Leadership Skills to prepare for any job interview. The questions are created by domain experts, to help you to overcome the job interview obstacle.

Boost your chances to become a Certified Leadership Skills Professional. Start preparing and get a step closer to your Dream Job Now!