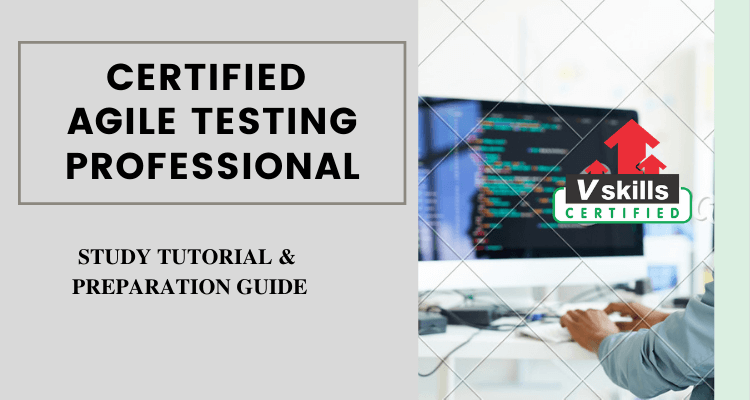 The Certified Agile Testing Professional is a person who has profound knowledge as a Software Tester. It will set your base in Agile testing concepts and will provide you with deep insights on how to communicate effectively with others in the Agile Software Team.
Why become an Agile Testing Professional?
This certification is primarily designed for the graduates and job seekers who aspire to grow in their field. Employees who are already working can also apply for this certification to gain progress in the future. This certification will give you a different recognition and will also increase your demand in this competitive market. You can display your advanced skills and that will result in earning potential.
Who should take this certification?
Candidates who are looking for job opportunities in the software testing department or application development department of different companies. This certification will make your CV strong and instill advanced Software skills that will help you get a better role in the organisation.
Roles and Responsibilities of a Certified Agile Testing Professional
Always begin with reviewing the tasks that a Practitioner of a particular niche undertakes, before preparing. The following are the responsibilities of a Certified Agile Testing Professional.
To approach software testing that follows principles of agile software development as showcased in the Agile platform.
To recognize work differently than one working on a traditional project.
To collaborate and direct with a cross-functional Agile team being familiar with principles and fundamental practices of Agile software development.
To take up existing testing experience and knowledge to Agile values and principles.
To Support the Agile team in planning test-related activities and functioning
To share information with other team members using effective communication styles and platforms.
To Guide the Agile team in test automation activities.
To apply appropriate methods and techniques for testing in an Agile project.
Benefits of taking Vskills Certification
Vskills being India's largest certification providers gives candidates access to top exams as well as provides after exam benefits. This includes:
The certifications will have a Government verification tag.
The Certification is valid for life.
Candidates will get lifelong e-learning access.
Access to free Practice Tests.
Candidates will get tagged as 'Vskills Certified' On Monsterindia.com and Shine.com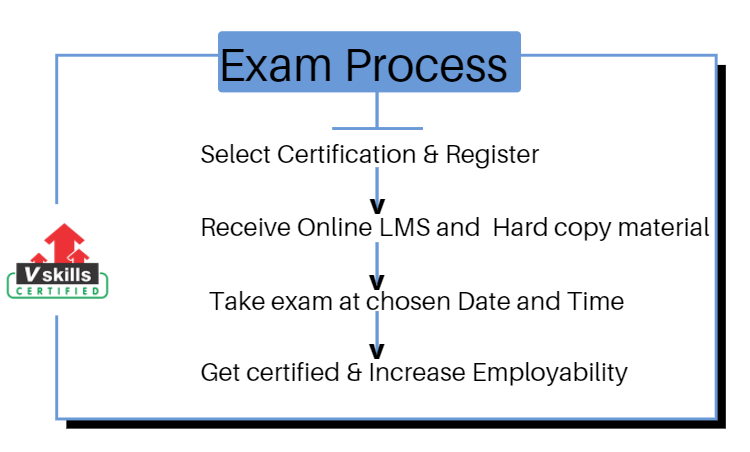 Exam Details
Exam Duration: 60 minutes
Vskills Exam Code: VS-1587
Number of questions: 50
Maximum marks: 50
Passing marks: 25 (50%)
Exam Mode: Online
There is NO negative marking in this module.
Course Details
Preparation Guide for Certified Agile Testing Professional Exam
A candidate requires good knowledge and understanding about the learning process before beginning the preparation for the exam. This preparation guide will show you the right direction with appropriate and essential resources to follow. This will increase the chances of your success in the examination result. You can follow the preparation guide below for this exam.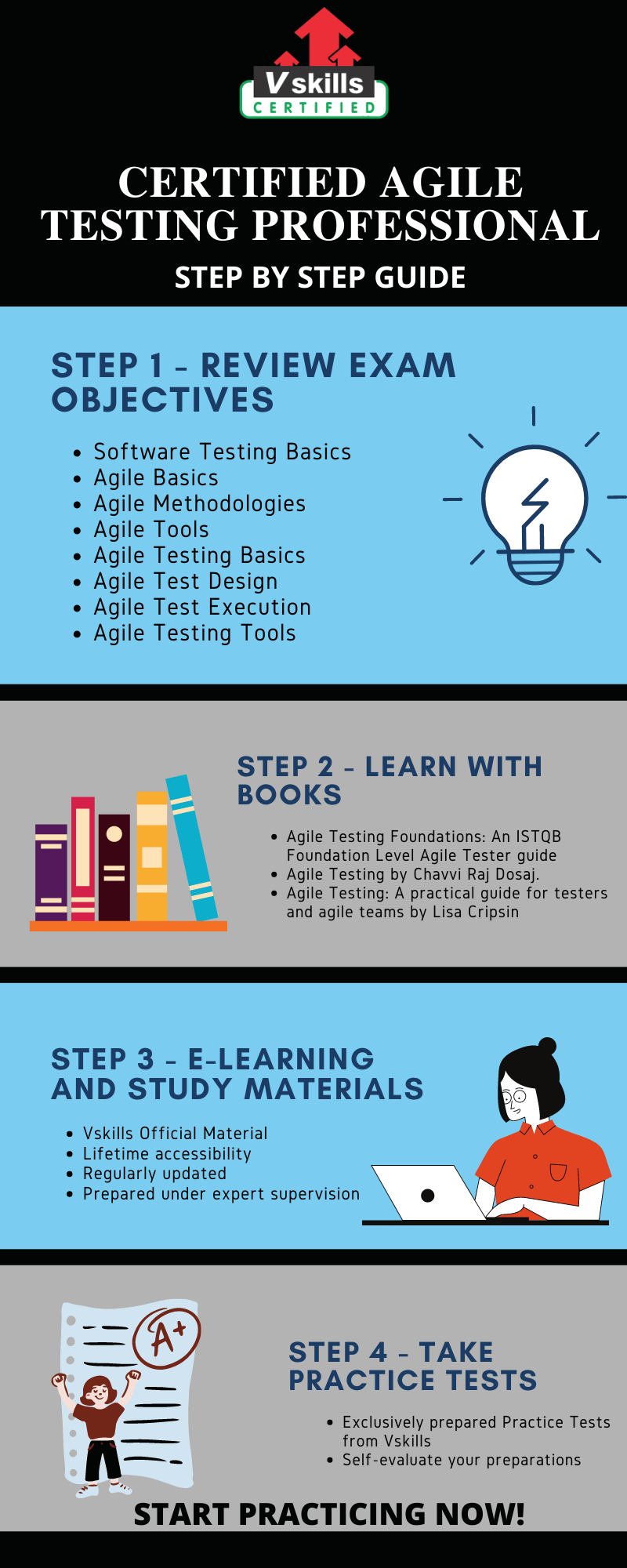 Step 1 – Review Exam Objectives
You must always have thorough knowledge about the content that you are about to study before taking up the learning process. These are the exam objectives for this certification exam.
Software Testing Basics
Agile Basics
Agile Methodologies
Agile Tools
Agile Testing Basics
Agile Test Design
Agile Test Execution
Agile Testing Tools
Refer: Certified Agile Testing Professional Brochure
Step 2 – Learning with Books
Books are meant to be our sincere companions since the beginning, our intellectual development is based on books, hence taking reference from the books is quite essential and also one of the important resources that you should implement and invest time on. The top 3 books for this certification are mentioned below.
Agile Testing Foundations: An ISTQB Foundation Level Agile Tester guide. This book has many fundamental concepts like increasing overall product quality to providing greater scope for flexibility of agile software. It will give you detailed information about the Agile environment or undertaking the ISTQB Foundation Level Agile Tester exam.
Agile Testing By Chavvi Raj Dosaj. This book is a sample question book that consists of all the important questions that you need to attempt and practice before examination. Every part has a clear understanding of the domain.
Agile Testing: A practical guide for testers and agile teams by Lisa Cripsin. The book mentions all the key components of agile Testing. And this book gives deep insights on the adoption of agile methods that have brought the need for effective testing into the limelight. This book can be very effective if you are a beginner.
Step 3 – E-learning and Study material
The second resource of self reliant preparation is e-learning and study material. E-learning is important as it gives you instant information regarding any queries you have without wasting any time and makes things easy for you. Various online learning mediums are effective and time efficient. E-learning gives you updated knowledge. Study materials offer notes that are required during the preparation, it is developed by professionals of the niche. Therefore always refer to study material available online to prepare better.
Vskills offers you its E-Learning Study Material and its hard copy as well, to supplement your learning experience and exam preparation. Moreover, this online learning material is available for a lifetime and is updated regularly.
Refer: Certified Agile Testing Professional Sample Chapter
Step 4 – Check your Progress with Practice Tests
We need self evaluation before examination, to refer to weak sections. For this evaluation practice tests are the best resource. In this way you get an idea of what kind of questions can be asked in the examination and you get prepared for it. This will motivate you to do better and give an examination atmosphere experience.