Performance objectives – Setting goal and objectives
Performance objectives and expectations flow from the work description and the performance goal of organization. It is a manager's right and obligation to set performance standards, goals and objectives for the section; not everything is in the work description. Performance objectives/expectations must reflect the "SMART" characteristics of effective objectives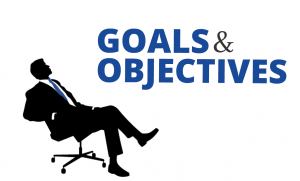 Specific (a clear statement of what is expected);
Measurable in terms of quality, quantity, cost and time;
Attainable (must be achievable, realistic and challenging);
Relevant (must relate to the legitimate requirements of the job as outlined in the work description); and
Trackable (there must be a time limit on the expectations).
Some examples of performance goals are,
Departmental: The strategic goals of this department/business unit
Branch Business Line: Assistance of the branch/business line that helps the department achieves its strategic goals.
Sector/Organization: What does the sector provide that helps the organization achieve its goals?
The Team: Do the goals created for this team support the goals of the sector/directorate?
The Individual: Do the goals created for this individual support the goals of the unit/team?
Test your skills by taking our Performance Appraisal practice tests on this link