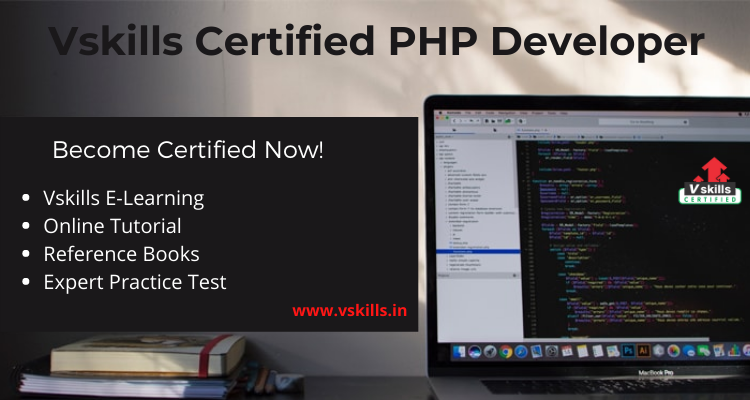 A Certified PHP Developer is an expert who generates programs, applications, and websites, using the dynamic scripting language known as PHP. A PHP developer is accountable for writing server-side web application logic. PHP developers normally generate back-end components, correlate the application with the separate web services, and maintain the front-end developers by uniting their work with the application. They are also frequently expected to develop and desegregate plugins for certain popular frameworks. The Vskills Certified PHP Developer exam proves that the candidate possesses such capabilities. 
Roles and Responsibilities of a Certified PHP Developer
Operate jointly with the IT team in performing projects
Troubleshoot and repair any issues associating with PHP programs
Guarantee smooth operations of web methods and infrastructure
Generate scripts to help client systems to meet performance and goals
Experiment and develop software for client applications
Design documentation for software formulated
Employ source debuggers and draft or modify client software
Exhibit results efficiently and within the deadlines set
Vskills Certified PHP Developer: Exam Overview
PHP is one of the most necessary & recommended web programming languages & understanding it gives the candidate an advantage in the web development department. All big companies like Google, Apple, Facebook, Wikipedia, and many others practice it for their web applications. Knowing PHP, the candidate can discover a job anywhere or work on their own or as a freelancer. Students who require to study PHP from the start & anyone who wants to discover the basics of PHP or desire to enhance their web development skills will obtain from this course. By the end of this PHP course, the candidate will have sufficient knowledge to build a website of their own.
Vskills being India's largest certification provider gives candidates access to top exams as well as provides after exam benefits. This includes:
The certifications will have a Government verification tag.
The Certification is valid for life.
Candidates will get lifelong e-learning access.
Access to free Practice Tests.
Candidates will get tagged as 'Vskills Certified' On Monsterindia.com and  'Vskills Certified' On Shine Shine.com.
Career as a PHP Developer
A PHP Developer is an Applications Developer who works with the PHP programming language to develop, test, and implement software. PHP (Hypertext Preprocessor) is a scripting language that allows developers to easily create dynamically produced content and is widely used to enhance web sites' functionality. Let us know about Career as a PHP Developer!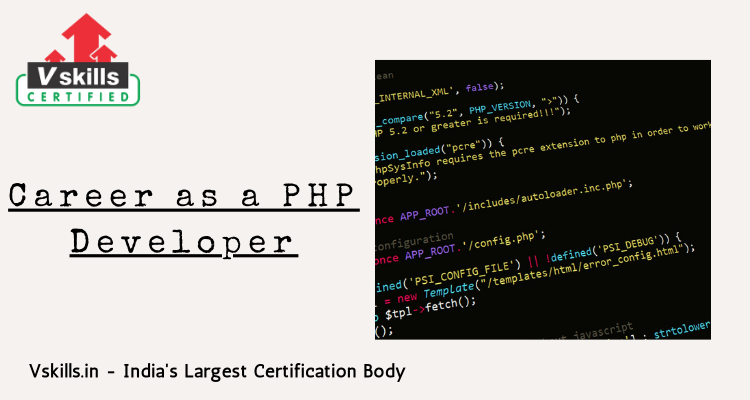 Exam Details
Exam Duration: 60 minutes
Vskills Exam Code: VS-1054
Number of questions: 50
Maximum marks: 50
Passing marks: 25 (50%)
Exam Mode: Online
There is NO negative marking in this module.
Certified PHP Developer Course Outline
Certified PHP Developer covers the following topics –
Preparation Guide for Certified PHP Developer
Candidates brewing for the Certified PHP Developer exam should recognize the importance of exam resources. During the exam preparation, it is important to get all the necessary exam study sources. This will provide the benefit to understand the concepts and meaning more precisely. In the preparation guide, we will review some of the most significant resources to help the candidate prepare well for the exam.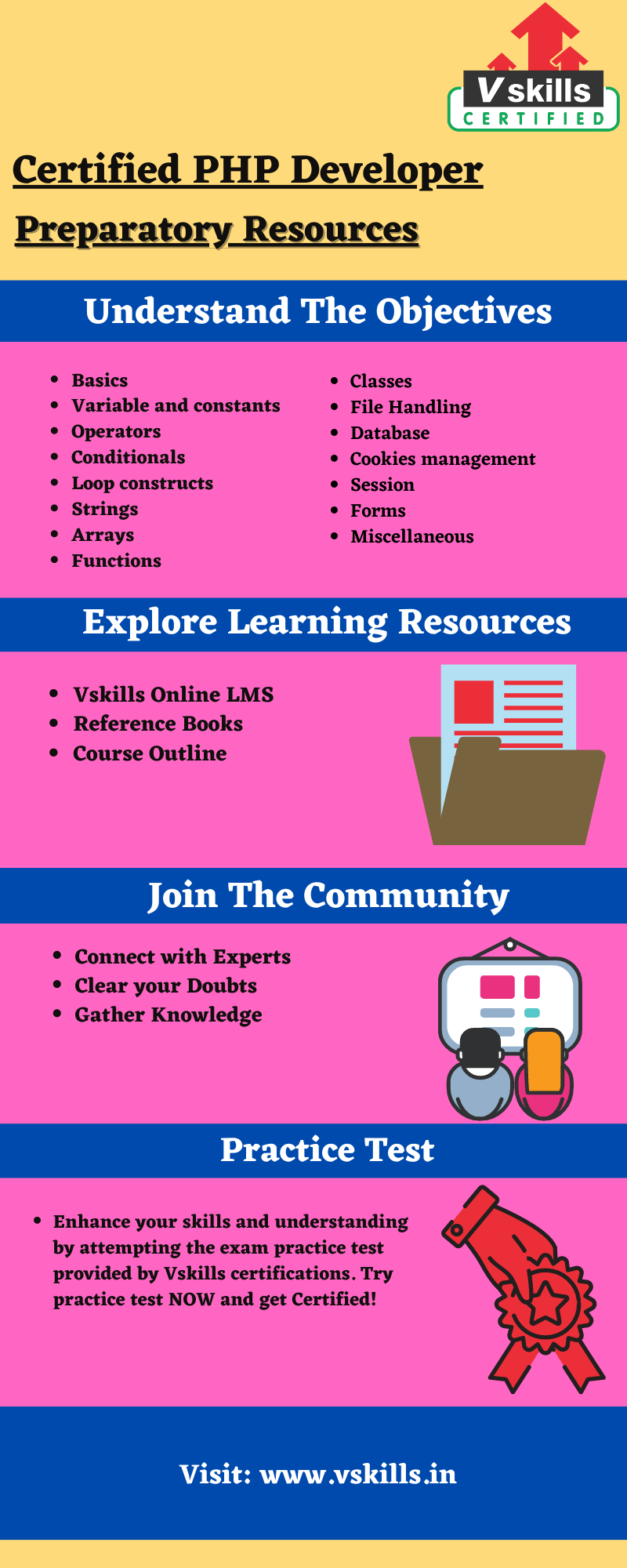 Refer Exam Objectives
For every examination, the first task should be to get all the exam relevant details including the important contents and its topic. With complete exam objectives, the candidate's exam preparation time is better spent because they already know what to study. For this exam, the topics include:
Basics
Variable and constants
Operators
Conditionals
Loop constructs
Strings
Arrays
Functions
Classes
File Handling
Database
Cookies management
Session
Forms
Miscellaneous
Vskills Online Learning Material
Vskills provides candidates a way to prepare for the exam using the online learning material for existence. The online material for this is regularly updated. Moreover, e-learning is bundled with hard copy material which encourages candidates to enhance and update the learning curve for superior and better opportunities. The candidate can also download the sample chapter for the Certified PHP Developer exam.
Vskills Brochure
Vskills also provides a brochure for the Certified PHP Developer exam. The brochure contains all the necessary related to the exam such as details, sample papers, important information, course outline, etc.
Books for Reference
The next step in the preparatory guide should be books and study guides. The candidate needs to find those books which are enriched with information. Finding a good book may be a difficult task, but in order to gather knowledge and skills, the candidate has to find, read, and understand.
Evaluate yourself with Practice Test
Practice tests are the one who ensures the candidate about their preparation for the exam. The practice test will help the candidates to acknowledge their weak areas so that they can work on them. There are many practice tests available on the internet nowadays, so the candidate can choose which they want. Try the practice test here!

Job Interview Questions
Get ready to crack you PHP Job interview whether you are a fresher or looking to upgrade your career. These questions will surely help you to ace the job interview.