Network Security Tutorials | Vskills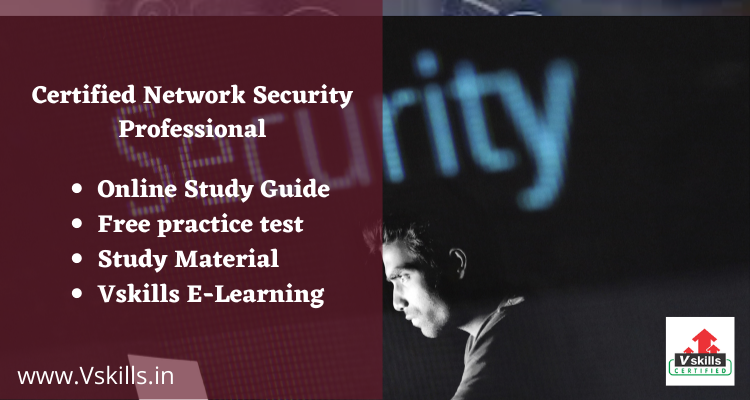 A network Security profession is an upcoming profession. As a Network Security professional you will be working on checking, preventing, and monitoring unapproved access to computer networks. Moreover, you will be protecting, overseeing network operations. To add on, you will be required to develop skills and knowledge to detect intrusion & how to defend from cyber attacks.
Network Security: Roles and Responsibilities
There are various roles and responsibilities when you work as a Network Security professional. They will be working on the roots of principles and concepts of networking, security, firewall & security management. Moreover, you will be overboard with responsibilities but the main job will be to protect online data from being compromised. Also, companies specializing in securing and implementation computer networks are constantly hiring knowledgeable professionals. Various public and private companies also need network security professionals for securing and managing their computer networks.
Vskills Network Security
With the Vskills Network Security Certification, you will develop all the skills and knowledge required. It enhances the candidate's thinking and analytic ability. To add on, you will be able to identify the problem and finding a solution quickly. Moreover, you will develop the ability to install and manage the day-to-day configuration, and monitor cyber-attacks.
Benefits of the Certification
Being a Network Security Professional you will be required to safeguard an organization's files and network, install firewalls, create security plans, and monitor activity.
With the Vskills Network Security Certification, you will able to acquire the skills and knowledge to find employment in good companies. Also, you can work with the top companies such as IBM India Services, Cisco India, Capgemini, Accenture, TCS, and HCL Technologies.
Vskills being India's largest certification provider gives candidates access to top exams as well as provides after exam benefits. This includes:
The certifications will have a Government verification tag.
The Certification is valid for life.
Candidates will get lifelong e-learning access.
Access to free Practice Tests.
Test Details
Exam Duration: 60 minutes
Number of questions: 50
Maximum marks: 50
Passing marks: 25 (50%).
There is NO negative marking in this module
It is an online examination

Course Outline
LAN, MAN and WAN
Internet Protocol
Transport Layer
TCP/IP Applications
Security principles
Identification and authentication
Attack types
Social Engineering
Physical Security
Steganography
Security Planning and Policy
Security Planning
Security Policies and Guidelines
Security Models
Security Models
Trust Models
Access Controls
Cryptography
Evolution and Data Encryption Methods
Symmetric and Asymmetric Key Cryptography
Private and Public Key Exchange
Secret Key Cryptography
Message Authentication and Hash functions
Public Key Infrastructure
Electronic Signature
Hardware Security
Smart Card
Access Token
Biometrics
Router Hardening and ACL
Routing Process and Router Security
Create and Implement Access Control Lists (ACL)
Remove Unwanted Services and Router Logging
IDS
IDS Concepts and Types
Signature Detection and Log Analysis
Firewalls
Concept, Components and Types
Firewall Policy and Rule Sets
Proxy Server, Bastion Host, DMZ and Honeypot
Forefront TMG 2010 Server and iptables
Wireless Security
WAP and AP security
Wireless PKI
Wireless Security Solutions and Auditing
System Security
Desktop Security
Email Security
Web Security
VPN Types and Architecture
OS Security
OS Vulnerabilities, updates and patches
OS Integrity Checks
OS Hardening (Linux and Windows)
Trusted OS
Security Management
Network Management and SNMP
Incident Response
BCP and DR
Regulations and Compliance
Law and policies
IT Act, IPC and Copyright act
Privacy
Email policy
Web Security
Web Server Attacks
Web Application Attacks
Cloud Computing and Security
Identity Access Management
Preparatory Guide for Certified Network Security Professional
It is important to follow a proper exam guide and structure when comes to preparing for an examination. Therefore, for the Vskills Certified Network Security Professional, In conclusion, we have curated a preparation guide to ease your preparation. Let's get started:
Study Resource: Exam Objectives
Before preparing for any examination, it is important to know the exam related details and topics. This will help candidates to easily start preparing for the exam. Also, for the Vskills Certified Network Security Professional, the exam topics to refer to are:
Concepts of Networking & Security
Cryptography Firewall
Hardware Security
Web & Wireless Security
OS & System Security
Security Management
Refer: Vskills Certified Network Security Professional Brochure
Study Resource: Vskills E-Learning
For the Vskills Certified Network Security examination, our team has provided online study material. Also, this online material for this is regularly updated. Furthermore, e-learning is bundled with hard copy material which helps candidates to improve and update the learning curve for superior and better opportunities.
Refer: Vskills Certified Network Security Professional Sample Chapter
Study Resource: Reference Books
Books are man's best friend. It is important to prepare for the right books. To ease out your hunt for books we have provided a list of books which you can refer to:
Hacking Exposed 7: Network Security Secrets and Solutions by Stuart McClure, Joe Scambray, and George Kurtz
Information Assurance Handbook: Effective Computer Security and Risk Management Strategies – Corey Schou, Steven Henand
Applied Network Security Monitoring: Collection, Detection, and Analysis – Chris Sanders and Jason Smith
Study Resource: Practice Test
After studying for the examination, it is important to practice sample papers. Practicing sample test will help you analyze your weak areas and strengths. Moreover, you will be able to improve your answering skills that will result in saving a lot of time. So, make sure to find the best practice sources.

Job Interview Questions
Prepare for your upcoming job interview with Vskills latest online interview questions, these questions will help beginners and professionals. Checkout now !