The Certified Negotiation Manager certification validates your negotiating skills in business and financial deals in sales, human resources, legal and vendor management. This certification examines the candidates on different areas of negotiating, like, planning, distributive, bargaining, integrative negotiation, closing tactics interpersonal communication, sweetener, ethics power, influence, multiparty negotiation, individual differences, and other concepts that are focused on negotiation professionals. The Vskills Negotiation Manager certification will help you grab an edge over your competitors, with a benefitting career.
Negotiation is a process of combining divergent positions into a joint agreement under a decision rule of unanimity. It is aimed to resolve points of difference, to gain an advantage for an individual or collective, or to craft outcomes to satisfy various interests. It is often conducted by putting forward a position and making concessions to achieve an agreement. The degree to which the negotiating parties trust each other to implement the negotiated solution is a major factor in determining whether negotiations are successful. (Source: Wikipedia)
Roles and Responsibilities of a Certified Negotiation Manager
The responsibilities of a Negotiation Manager are given below –
Firstly, to prepare before negotiation and be clear of what is to be conveyed to other party.
Secondly, to exchange proper information on the particular deal
Then, the most significant stage is to carry out bargaining effectively and explaining the terms and conditions properly
Also, to make proper and convenient adjustments and closing the deal and placing trust on reliable parties
Last but not the least, to make relevant efforts for finalizing the deal and make proper commitments
Why become an Certified Negotiation Manager?
Companies are always looking for a skilled Negotiation professional and they are in huge demand by the firms. Several departments including the sales department, Human Resource, and legal vendor management departments, and also the private and public sectors are hiring Negotiation Manager Professionals. The certification will make your resume shine, making it very appealing to your potential employers. Moreover, Vskills being India's largest certification provider gives candidates access to top exams as well as provides after exam benefits. This includes:
The certifications will have a Government verification tag.
The Certification is valid for life.
Candidates will get lifelong e-learning access.
Access to free Practice Tests.
Candidates will get tagged as 'Vskills Certified' On Monsterindia.com and Shine.com.
Exam Details
Exam Duration: 60 minutes
Vskills Exam Code: VS-1138
Number of questions: 50
Maximum marks: 50
Passing marks: 25 (50%)
Exam Mode: Online
There is NO negative marking in this module.
Course Details
Introduction to Negotiation
Negotiation: Attitudes, Conflict and Approaches
Negotiation Strategy & Tactics
Developing Negotiation Skill
International Negotiation
Preparation Guide for Certified Negotiation Manager Exam
Time management with proper Guidance is necessary for any exam. This preparation guide can help you take proper steps for studies without any mishaps. Last-minute confusion always leads to unnecessary anxiety therefore to avoid this, a suitable strategy with suitable learning resources is a must. The following preparation will help you identify the best suitable resources to help you pass the exam.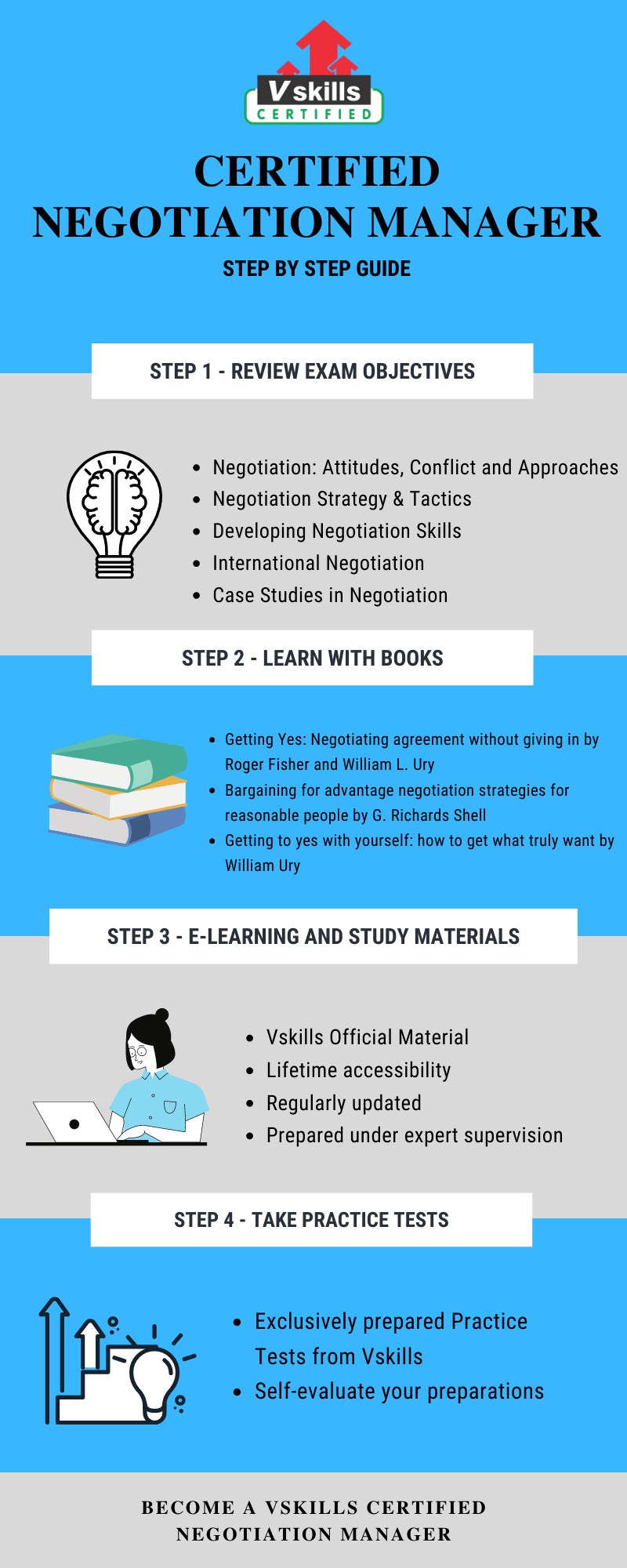 Step 1 – Review Exam Objectives
The first and foremost thing before you start preparing is to get well versed with the objectives of the exam. This will let you understand the way through which you will prepare for the exam and then help attain your certification. Below-mentioned are the objectives of the Certified Negotiation Manager Exam –
Firstly, Negotiation: Attitudes, Conflict, and Approaches
Secondly, Negotiation Strategy & Tactics
Also, Developing Negotiation Skills
Then, International Negotiation
Finally, Case Studies in Negotiation
Refer: Certified Negotiation Manager Brochure
Step 2 – Learning with Books
The next step is to take reference from the best suitable books for the exam. An advantage of learning through books is that they contain multiple concepts with multiple explanations. Books have always been a very essential part of our studying process. No matter how many types of online leaning sources we come across, books will always give an extra dose of knowledge. The books mentioned below are the top 3 books for Negotiation manager certification
Getting Yes: Negotiating agreement without giving in by Roger Fisher and William L. Ury – The book has myriads of concepts of negotiation to give a proper idea. It also has a process of negotiation mentioned in the book. The book explains the best alternatives to negotiate agreements
Bargaining for advantage negotiation strategies for reasonable people by G. Richards Shell – The book is one of the best sellers and highly recommended for the candidates. It has proven to be very helpful. It has misconceptions regarding the concept and overall look of the negotiation and bargaining process
Getting to yes with yourself: how to get what truly want by William Ury – The book is one of the Influential books on negotiation. It has deep insights on how to convince a Party by your arguments
Step 3 – E-learning and Study material
After books our first preference is E-learning because the matter available online eases the learning process. The availability of the variety of sources of knowledge helps us to understand the topics better. Vskills offers you its E-Learning Study Material and its hard copy as well, to supplement your learning experience and exam preparation. Moreover, this online learning material is available for a lifetime and is updated regularly.
Refer: Certified Negotiation Manager Sample Chapter
Step 4 – Check your Progress with Practice Tests
Practice tests are important to self-analyze our preparation level. To get ourselves familiar with the exam format and prepare accordingly, practice tests are necessary. You can assess yourself thoroughly with the help of practice tests and can focus on the area and concepts in which you are weak. So build your confidence with free practice tests Now

Job Interview Questions
Prepare for your next job interview with our latest expert created online interview questions, the questions are designed to enhance your skills and make you job ready.