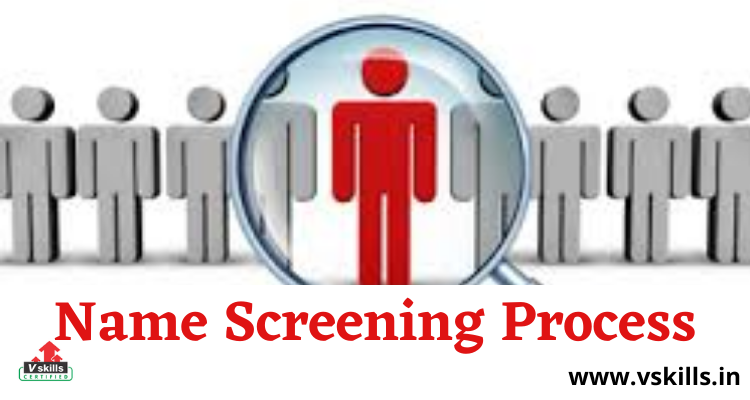 Name Screening
"Name screening refers to the process of determining whether any of the bank's existing or potential customers are part of any blacklists or regulatory lists". Under the risk-based approach, banks should also put in place procedures for conducting enhanced due diligence in dealings with customers under certain categories, who may be perceived to pose a higher risk from Money Laundering and Reputation Risk Perspective (e.g. Politically Exposed Persons (PEPs), person entities, located in high- risk locations, etc.). Name screening is used to identify such individuals also.
Purpose of Name Screening
RBI makes it mandatory for banks to conduct necessary checks before opening a new account so as to ensure that the identity of the customer does not match with any person with a known criminal background or with banned entities such as terrorist individuals or terrorist organizations.
RBI circular notifies that the banks need to monitor transactions of the customers for the purpose of reporting suspicious transactions to the FIU-IND in the specified format named as 'Suspicious Transaction Report (STR)'.
RBI Master Circular also advises Banks that before opening any new account it should be ensured that the name/s of the proposed customer does not appear in the consolidated list of terrorist individuals and entities circulated by RBI.
Further Banks should scan all existing accounts to ensure that no account is held by or linked to any of the entities or individuals included in the list.
In order to meet these regulatory objectives, the name-screening process is required to be embedded as an essential element of the effective customer due to diligence program.
Name screening is also required to be performed at the transaction monitoring or customer review mechanism.
Name screening processes is also a safety mechanism used to guard against reputation, operational or legal risks and to prevent themselves of being used as a channel for money laundering or terrorist financing purposes.
Scope of Screening
The name screening process should be performed for the following types of transactions:
New customers should be screened at the time of opening of accounts.
Screening of legacy customers, i.e. screening of the bank's existing customers at regular intervals.
Employees are required to be screened as a part of their pre-recruitment process, besides screening the existing employees at regular intervals
Counterparties to the cross-border transactions (i.e. remitters, beneficiaries, intermediary banks, other intermediaries, etc.) in remittance or trade transactions need to be screened.
It also needs to be a part of the enhanced due diligence for high-risk customers or suspicious transactions review.
Negative lists used for name screening
As per extant RBI guidelines, banks are required to ensure that before opening any new accounts, proposed customers do not appear in the United Nations' List under Security Council Resolutions (mainly1267 and such others as may be specified by RBI from time to time) and the terrorist lists circulated by RBI.
All the UN resolutions published by RBI should be made available at the branches or the relevant processing centers where the account opening takes place.
Other lists issued by enforcement agencies may also be included in the negative lists suite, such as Interpol Most Wanted, Central Bureau of Investigation, Lists issued under other Resolutions by United Nations, etc.
Banks may also follow a risk-based approach and depending upon jurisdictions they operate, they may include foreign regulators'/enforcement agencies' negative lists for name screening purposes.