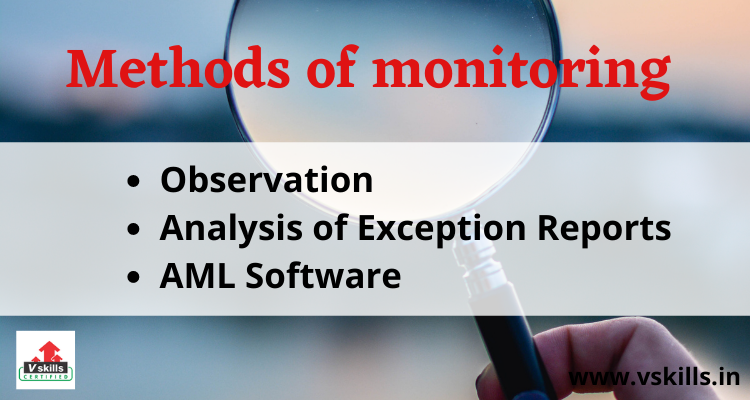 Methods of Monitoring
Banks need to have suitable mechanisms to identify suspicious transactions. The methods of monitoring may be broadly classified as follows
Observation
The staff at the bank's branches may at the time of processing the transaction or otherwise come across certain transactions not in line with the profile of the customer.
Certain behaviour displayed by the customer during their interactions with such customer may also lead to suspicion.
Banks may advise their branch staff to report such instances to the principal officers/ his representatives so that additional due diligence may be done on same.
Analysis of Exception Reports:
Banks may have in place a system of generation of exception reports at branches or at the central office to examine accounts based on certain threshold limits.
Suitable due diligence may be conducted for these accounts and accounts concluded to be suspicious may be reported to the FIU-IND through the principal officer.
AML Software:
Banks may have an AML software to generate alerts/ exceptions and then channel these alerts for suitable due diligence and reporting.
Alerts concluded to be suspicious might be reported to the FIU-IND through the principal officer.
One of RBI circulars requires banks to put in place an appropriate software application to throw alerts when the transactions are inconsistent with risk categorization and updated profile of customers.