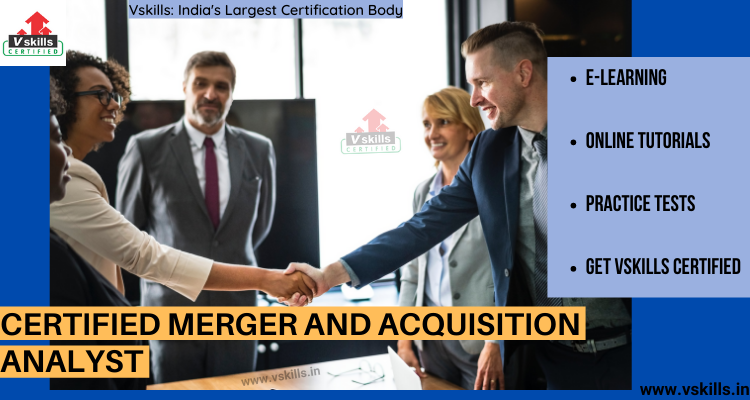 Mergers and acquisitions analysts are responsible for analyzing industry prospects by gathering information about growth, competitors, and market share possibilities. They also review company fundamentals and financial statements as well build a mosaic to help upper-level managers make decisions on a deal.
They conduct research on prospective firms and prepare customized presentations for business executive teams. Moreover, they also contact prospective mergers and acquisitions and prepare appointments for prospective businesses to meet with corporate leadership and senior management. Further, they keep track of key metrics and ensure that the data collected is accurate. Lastly, they work both with internal and external technology teams to define associated systems and business processes.
Vskills Certified Merger and Acquisition Analyst: Overview
Vskills Merger and acquisition analyst certification will provide a brief overview of the techniques and practices involved in the process of mergers and acquisitions. And, it will help candidates to learn the working of mergers and acquisitions work. Moreover, this course will impart students with an invaluable foundation in strategies, regulations, closing a deal, pricing, and valuation. This certification validates the candidates knowledge on various concepts that include selecting acquisition targets, valuation, and capability to handle complex processes. These processes may include identifying acquisition strategies, closing the deal, thinking through integration issues, etc.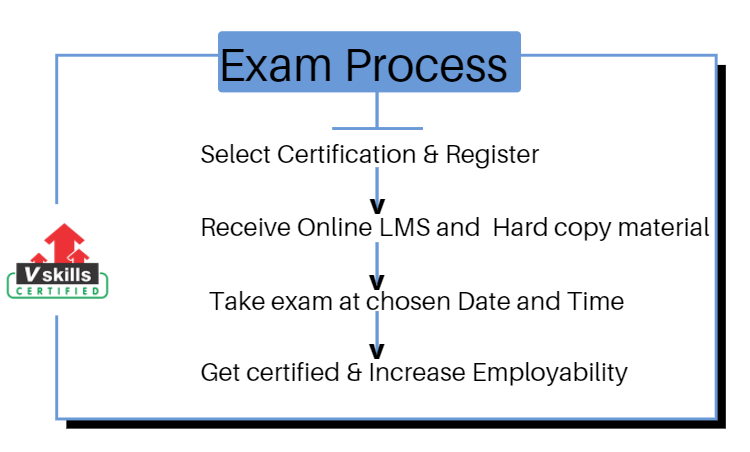 Vskills being India's largest certification providers gives candidates access to top exams as well as provides after exam benefits. This includes:
The certifications will have a Government verification tag.
The Certification is valid for life.
Candidates will get lifelong e-learning access.
Access to free Practice Tests.
Candidates will get tagged as 'Vskills Certified' On Monsterindia.com and 'Vskills Certified' On Shine Shine.com.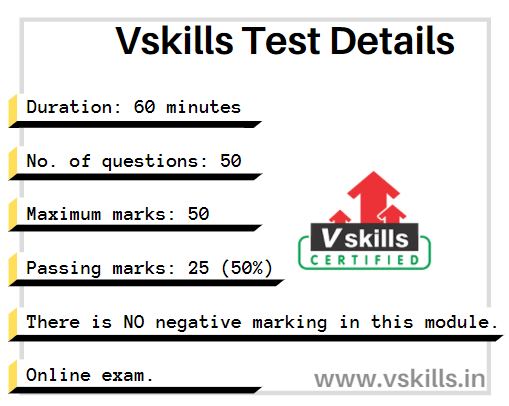 Course Outline for Certified Merger and Acquisition Analyst
Certified Merger and Acquisition Analyst covers the following topics –
Preparation Guide for Vskills Certified Merger and Acquisition Analyst
Before starting preparing for the examination, candidates should get all the exam related resources. This is done so that the candidates can start preparation in a proper manner. Moreover, doing this will not only help them understand things better but it will also help them to quickly complete the syllabus. Further, this will provide an advantage to better understand the concepts. However, in the Certified Merger and Acquisition Analyst exam preparation guide, we will discuss some of the most important resources to help you prepare well for the exam.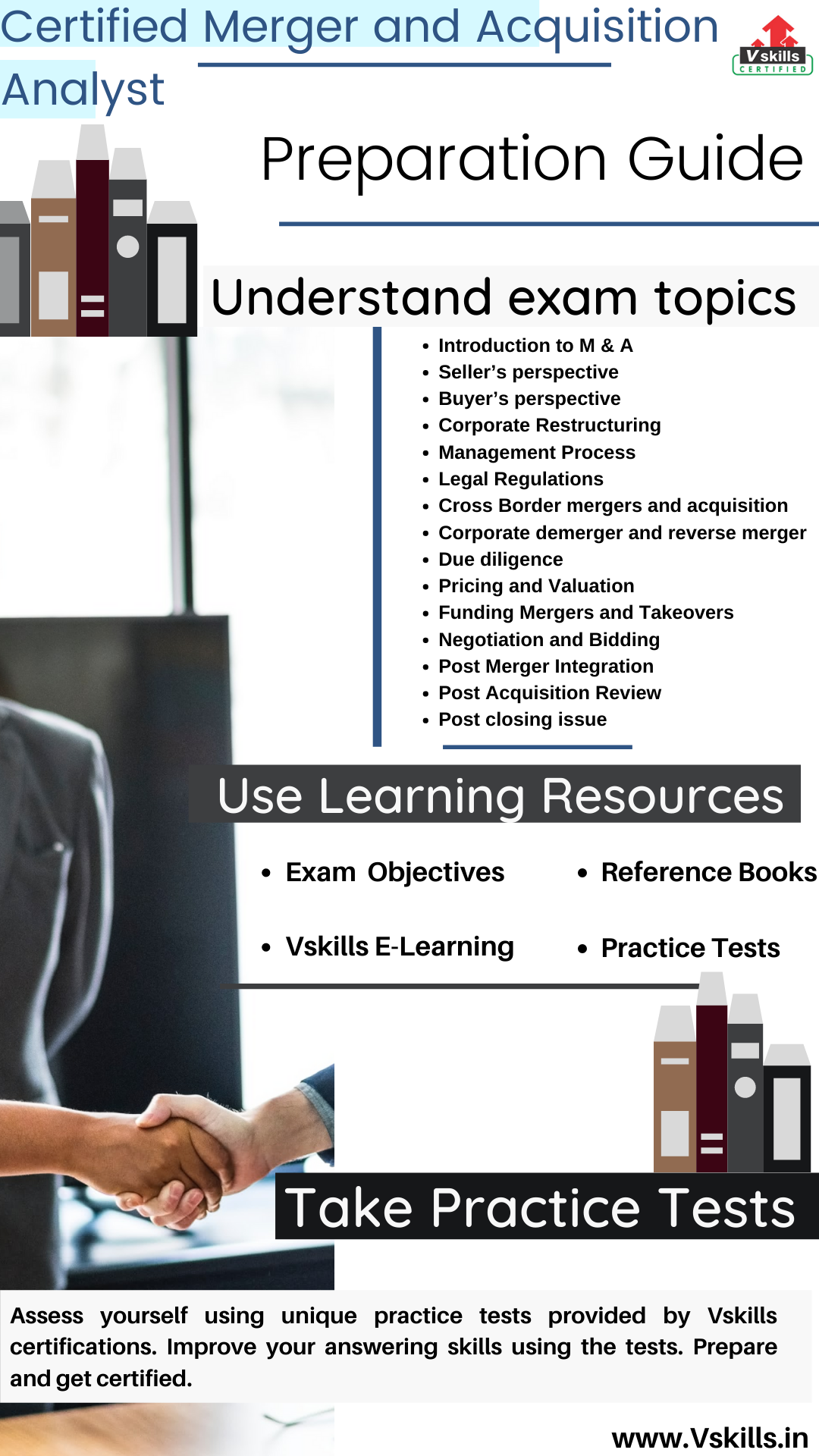 Study Resource: Exam Objectives
For any exam, understanding exam objectives provide a huge benefit to candidates during the preparation time. So, before starting preparing, the first task should be to get all the exam-related details that include the important contents and its resources. Doing this will help candidates to understand things more accurately. For the Certified Merger and Acquisition Analyst the topics include:
Introduction to M & A
Seller's perspective
Buyer's perspective
Corporate Restructuring
Management Process
Legal Regulations
Cross Border mergers and acquisition
Corporate demerger and reverse merger
Due diligence
Pricing and Valuation
Funding Mergers and Takeovers
Negotiation and Bidding
Post Merger Integration
Post Acquisition Review
Post closing issue
Study Resource: Vskills E-Learning
Vskills Certified Merger and Acquisition Analyst provides candidates access to prepare for the exam using the online learning material for a lifetime. The online material for this is regularly updated. Moreover, the e-learning that is provided comes with hard copy material for helping candidates to improve and update the learning curve for getting better opportunities.
Refer: Certified Merger and Acquisition Analyst Sample Chapter
Study Resource: Books for Reference
While preparing reference books can provide an advantage to learn and understand things more accurately. For the Certified Merger and Acquisition Analyst exam, there are various books available which you can find online or in libraries. Some of the books are as follows:
Mergers & acquisitions from A to Z Book by Andrew Sherman
Mergers & Acquisitions Integration Handbook Book by Scott C. Whitaker
Study Resource: Practice Test
After completing the topics for the Certified Merger and Acquisition Analyst exam, candidates should start assessing using practice tests. Using practice tests will help them for better preparation. By examining and assessing yourself with these tests candidates will know about their weak areas and improve them.

Prepare for Job Interview
Preparing for a role in Merger and Acquisition, then you must checkout these interview questions to prepare for the upcoming interview, these can prove handy in clearing the job interview, checkout for free !