The Certified GST Professional certification course covers GST or Goods and Services Tax is the new indirect tax system which will replace many central and state levies and merge them so as to provide a single system of indirect taxation on a pan-India basis by merging state and central taxes. The purpose of the Vskills Certified GST Professional course is to develop skills of various accounting, finance, and taxation professionals to make them GST Ready.
Why become a Certified GST Professional?
Candidates who wish to make their CV's strong and want to increase their job opportunities and earning potential must take the Certified GST Professional course. The course is designed to develop the skills of the candidates in the goods and service department, by teaching them the theoretical concepts and practical methods relating to Goods and Service taxes.
Roles and Responsibilities of a Certified GST Professional
Following are the responsibilities of a GST professional
To examine the complete list of taxpayers who are engaged in the account.
To provide details of inward as well as outward supplies.
To provide the monthly, quarterly, as well as annual return on behalf of your taxpayer client.
To generate a deposit for credit into the electronic cash ledger.
To file an application for his claim for refund
To permit to make changes in the profile of his taxpayer client like a place of his business, his contact details, his other business information.
To help the client to generate an e-waybill for various movements of his goods.
To assist your client in the issuance of tax invoices, delivery challan, a procedure for GST registration, cancellation, and any GST Updates.
To accept or reject the application as a consultant from a fellow taxpayer.
Benefits of taking Vskills Certification
Vskills being India's largest certification providers gives candidates access to top exams as well as provides after exam benefits. This includes:
The certifications will have a Government verification tag.
The Certification is valid for life.
Candidates will get lifelong e-learning access.
Access to free Practice Tests.
Candidates will get tagged as 'Vskills Certified' On Monsterindia.com and Shine.com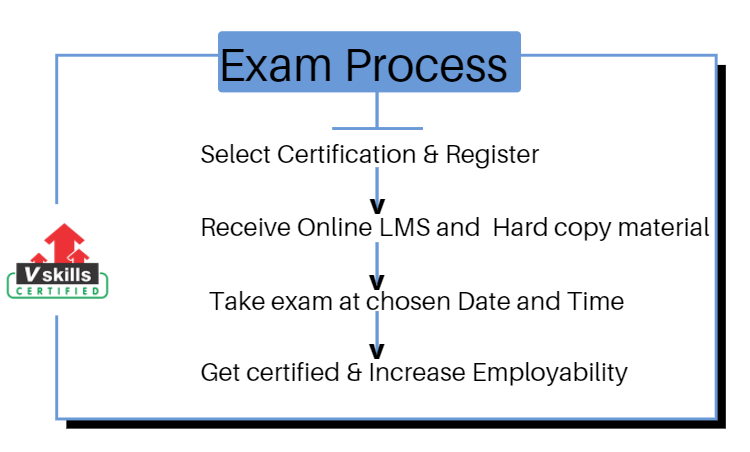 Exam Details
Exam Duration: 60 minutes
Vskills Exam Code: VS-1417
Number of questions: 50
Maximum marks: 50
Passing marks: 25 (50%)
Exam Mode: Online
There is NO negative marking in this module.
GST Professional Course Outline
Preparation Guide for Certified GST Professional Exam
The certification exams are not our quintessential or normal examination, it needs more than ordinary efforts that we invest in any exam. Therefore right Resources are the way to attain good results in the exam. This preparation guide will help you with it and decrease the burden of choosing suitable study resources for your exam prep.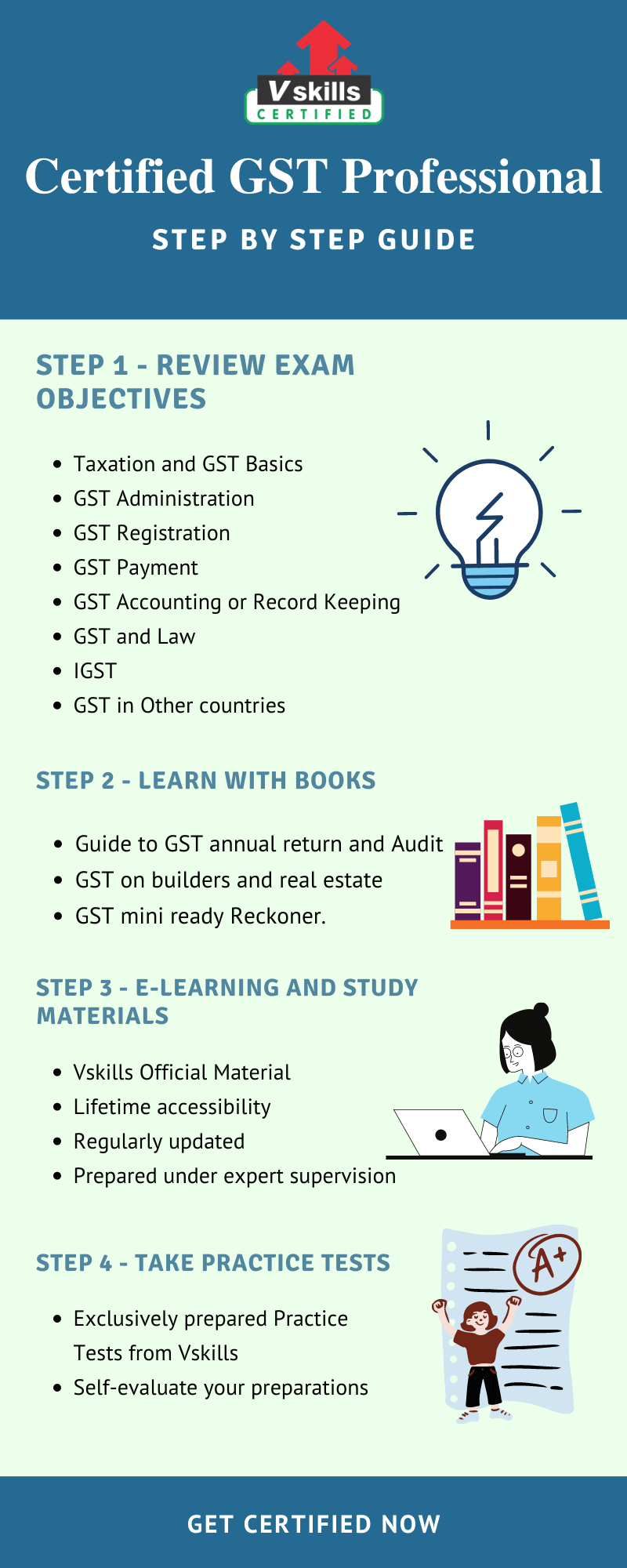 Step 1 – Review Exam Objectives
The first and foremost thing before you start preparing is to get well versed with the objectives of the exam. This will let you understand the way through which you will prepare for the exam and then help attain your certification. Below-mentioned are the objectives of the Certified GST Professional Exam –
Taxation and GST Basics
GST Administration
GST Registration
GST Payment
GST Accounting or Record Keeping
GST and Law
IGST
GST in Other countries
Refer: Certified GST Professional Brochure
Step 2 – Learning with Books
Books are a pragmatic approach of learning. Through books we will always gain practical knowledge, no matter about what field we are studying. Reading book leads us to new ideas and concepts. They help us think practically and give us a taste of the realistic side. Therefore learning from our traditional source is essential.
The top 3 books for the Certified GST Professional certification exam are mentioned below.
Guide to GST annual return and Audit. The book consists of a deep insight on how to manage audit and annual return.
GST on builders and real estate. The book explores the GST development on Builders and Real estate business as the book gives greater knowledge about The fundamental concepts of GST.
GST mini ready Reckoner. The book essentially highlights the internal aspects of GST and mini ready reckoner. The book explains all the topics and subtopics in detail.
Step 3 – E-learning and Study material
E-learning introduces us to new concepts at a single platform anytime and anywhere. It promotes critical and creative thinking and exposes us to the realistic experience in learning, provided by professionals. Moreover, the videos available helps gain knowledge immediately because of its visual content. Vskills offers you its E-Learning Study Material and its hard copy as well, to supplement your learning experience and exam preparation. Moreover, this online learning material is available for a lifetime and is updated regularly.
Refer: Certified GST Professional Sample Chapter
Step 4 – Check your Progress with Practice Tests
Practice tests tend to improve your stamina as it encourages us to work on our weak areas as we already know through practice test in which areas we have mastered. It saves time and improves focus, by removing our anxiety and boosting our confidence. So build your confidence with free practice tests Now

Make your resume shine by showcasing your talents and intelligence with the Vskills GST Professional Certification. Start Practicing Now

GST Interview Questions
Checkout these latest online interview questions on GST (Goods and Services Tax) to prepare for any job interview. The questions are created by domain experts, to help you to overcome the job interview obstacle.