Social Media Strategy in 5 Steps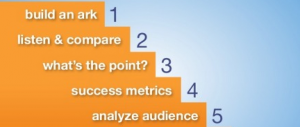 Step 1: Build an Ark
A social media strategy is for everybody to own together in an organization. Social impacts all corners of the company. Thus, the first step in the process is to create a cross-functional team to help conceive and operate the rest of the strategy.
Step 2: Listen and Compare
Listening is still good advice that is very often ignored. The reality is that your customers (and competitors) will give you a good guide to where and how you should be active in social media, if you broaden your social listening beyond your brand name.
Step 3: What's the Point?
Social media can be used to help accomplish several business objectives. But the best social media strategies are those that focus (at least initially) on a more narrow rationale for social. What do you primarily want to use social for? Awareness? Sales? Loyalty and retention? Pick one.
Step 4: Select Success Metrics
How are you going to determine whether this is actually making a difference in your business? What key measures will you use to evaluate social media strategy effectiveness? How will you transcend (hopefully) likes and engagement? Will you measure ROI?
Step 5: Analyze the Audiences
With whom will you be interacting in social media? What are the demographic and psychographic characteristics of your current or prospective customers? How does that impact what you can and should attempt in social media?