1. Take one topic idea then brainstorm it.
One of the easiest ways to have ideas for new blog content is to revisit some of the old posts that were created in order to see if there are any related topics that can be discussed. You might find numerous things to write about when you brainstorm the ideas that you previously researched and discussed. In many cases you will discover new and exciting things to write about just by briefly brainstorming a previous post that you created.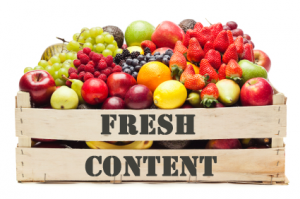 2. Update previous posts.
Another way that you can create fresh content for your blog is by revisiting old posts and making updates where necessary. You might find information that is out of date or incorrect when you re-visit past posts. This gives you the opportunity to update the information that is there and give your posts a fresh new look that your visitors and search engines will greatly appreciate.
3. Ask your readers to submit questions.
Another effective strategy for getting fresh new content to your blog or website involves asking your readers or visitors to submit questions of their own. By allowing them to do so you are gathering topics that you may or may not have thought about discussing. Chances are your readers or visitors will submit some unique questions that you can answer which will end up as great new content that you can add to your blog.
4. Allow guest posts.
Others can help when need fresh new content for the blog is needed. If guests are allowed to post on the blog, then they might have some of their own unique and interesting content to add. Writing everything on your own all of the time can become tiresome, which might not result in the best quality material for your blog. Allowing guests to post on your blog simply creates the opportunity of having new content created for your blog that you might not have written on your own.
5. Hire writers.
If an individual sees that he or she no longer has the desire to write the material for themself for any reason, then it is advisable to hire writers to create the new content. Hiring writers to create new blog content instead of doing it yourself gives you the opportunity to focus your efforts on other more important activities all while still posting great content to your blog.