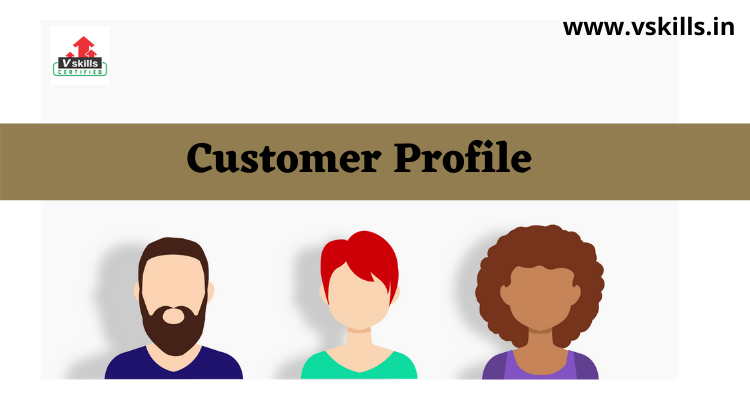 Customer Profile
Customer Profile
is basically  "customer types," that are created to show the typical users of a product or service, and are used to help make customer-focused decisions without confusing the scope of the project with personal opinion.
The CIP must contain risk-based procedures for verifying the identity of the customer within a reasonable period of time after the account is opened. The verification procedures must use "the information obtained in accordance with [31 CFR 103.121] paragraph (b)(2)(i)," namely the identifying information obtained by the bank. A bank need not establish the accuracy of every element of identifying information obtained, but it must verify enough information to form a reasonable belief that it knows the true identity of the customer. The bank's procedures must describe when it will use documents, non-documentary methods, or a combination of both.
Who is a customer?
The AML/CTF Rules set different identification and verification requirements for different types of customers:
individuals (including sole traders)
companies (both domestic and registered foreign companies)
trustees
partnerships
incorporated and unincorporated associations
registered co-operatives
government bodies.
For the purpose of KYC policy, a 'Customer' is defined as
A person or entity that maintains an account and/or has a business relationship with the bank

One on whose behalf the account is maintained

Beneficiaries of transactions conducted by professional intermediaries, such as Stock Brokers, Chartered Accountants, Solicitors etc. as permitted under the law and

Any person or entity connected with a financial transaction which can pose significant reputational or other risks to the bank say, a wire transfer or issue or a high-value demand draft as a single transaction
Need for Customer Profile
A reporting entity must verify a customer's identity before providing a 'designated service' to the customer. Designated services are listed in section 6 of the AML/CTF Act.
In special cases, an identification procedure may be carried out after providing a designated service. Currently, the Anti-Money Laundering and Counter-Terrorism Financing Rules Instrument 2007 (No. 1) (AML/CTF Rules) provide special circumstances for certain online gambling services.