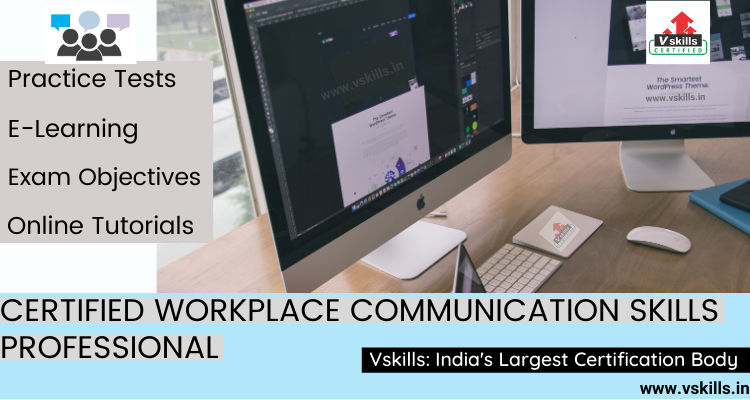 A Workplace Communication Professional has skills that helps businesses to manage all internal and external communication of a company. They represent the company to the outside world and also draft media statements, answer media inquiries, compile publications,etc.
Responsibilities
A Workplace Communication Professional develops communication strategy that includes media outreach and social media content creation.
They research as well as write press releases, and content for the company website. Moreover, they maintain a detailed knowledge of the company's policies, principles and strategies.
They also plan events and facilitate the resolution of disputes with external role-players.
Further, they develop effective corporate communication strategies and manage internal communications.
So, let's get started with the in-depth details and resources to become Certified Workplace Communication Skills Professional.
Vskills Certified Workplace Communication Skills Professional
Workplace communication is essential as every organization is on the lookout for people with good communication skills. However, candidates with good workplace communication skills will get a chance to explore more jobs. That is to say, Vskills Workplace Communication Professional Certification focuses on developing writing skills, emotional intelligence, negotiation skills, effective speaking and listening habits. Moreover, it will help candidates in career advancement by developing business communication skills.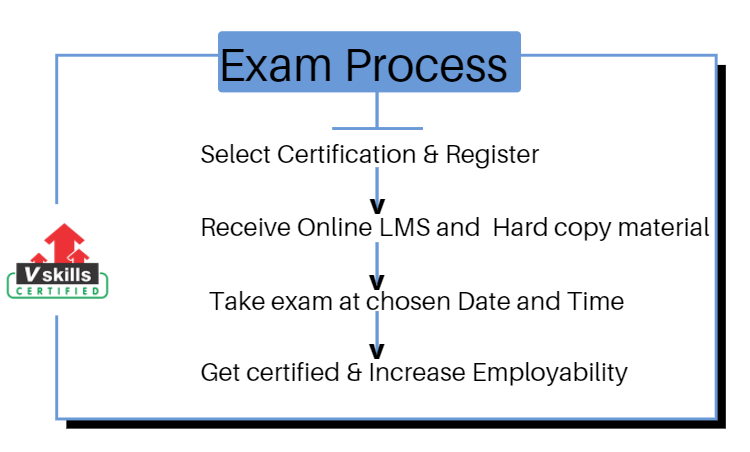 Vskills being India's largest certification providers gives candidates access to top exams as well as provides after exam benefits. This includes:
The certifications will have a Government verification tag.
The Certification is valid for life.
Candidates will get lifelong e-learning access.
Access to free Practice Tests.
Candidates will get tagged as 'Vskills Certified' On Monsterindia.com and 'Vskills Certified' On Shine Shine.com.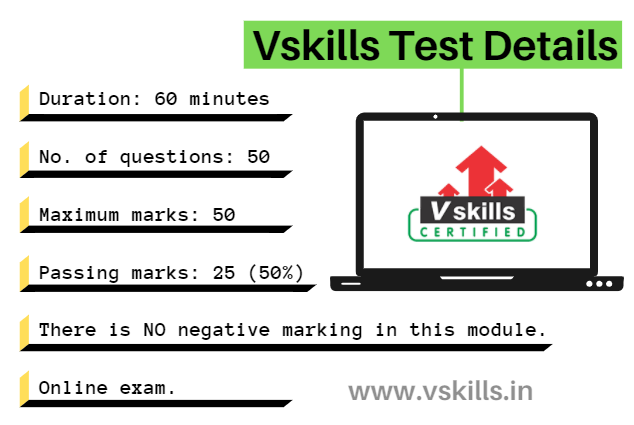 Course Outline
Certified Workplace Communication Skills Professional covers the following topics –
Introduction to Communication
Theory of Business Communication
Classification Of Communication
The Purpose Of Communication
The Process Of Communication
The Seven C's Of Communication In Verbal Communication
Universal Elements In Communication
Interaction With Social And Electronic Media
Diversity and Organizational Communication
Organizational Communication
Assumptions underlying early organizational communication
Communication Networks
Direction Of Communication
Interpersonal Communication
Communication Approaches Used In An Organization
Line And Staff Management (Lsm)
Intercultural Communication Skills
Cultural Sensitivity And Go Global
Effectiveness Of Intercultural Communication
Developing Cultural Intelligence
Improving Cross-Cultural Communication Skills
Some Examples of Cultural Diversity
Oral Communication
Oral Communication
Listening
Non Verbal Communication
Importance Of Non-Verbal Communication
History Of Non-Verbal Communication
Types Of Non-Verbal Communication
Functions of Non-Verbal Communication
How Non-Verbal Communication Helps
Written Communication
Written Business Communication
Types of Business Communication
Business Etiquettes
Modes Of Written Communication In Business Organisation
Types Of Communication Based On Style And Purpose
Keys To Effective Written Communication
The Importance Of Font Selection
How To Write A Good Business Letter
How To Write A Memo
E-MAIL
Report Writing
Organisation Politics
Overview of Organization Politics
Political Landscape of an Organization
The Political Players
Antecedents of Political Behaviour
Method of dealing with Organization Politics
Developing Negotiation Skill
Definition of Negotiation
Preparing for the Negotiation Process
The Seven Basic Steps in Negotiation
Negotiation Styles
Attitude and Negotiation
Negotiation Strategy & Tactics
Strategies for Negotiation
Best Alternative to a Negotiated Agreement (BATNA)
Approaches for Negotiation
Types of Negotiators
Tactics for Negotiation Process
Non-Verbal Communication
Emotions in the Negotiation Process
Top Ten Effective Negotiation Skills
Group Dynamics in Negotiation
Creative Methods to solve Negotiation Problems
Value Creation in Negotiations
Giving Feedback after Negotiation
Barriers to the Negotiation Process
Emotional Intelligence
Emotional Intelligence
EQ Domains
Self-Awareness
Self-Regulation
Social Skills
Improving Perception Competencies
Using Self-management and Social Skills
Emotional Maturity
Emotional Resilience
Preparation Guide for Vskills Certified Workplace Communication Skills Professional
Preparation Guide is the essential part of every exam that a candidate has to give most of the time. That is to say, without having the correct preparation resources will create difficulty while preparing for the exam. So, candidates need to do research and find the best resources available to get a better understanding of the exam. However, for the Certified Workplace Communication Skills Professional exam some of the resources Vskills provide the resources that will help to prepare in a good way. This include: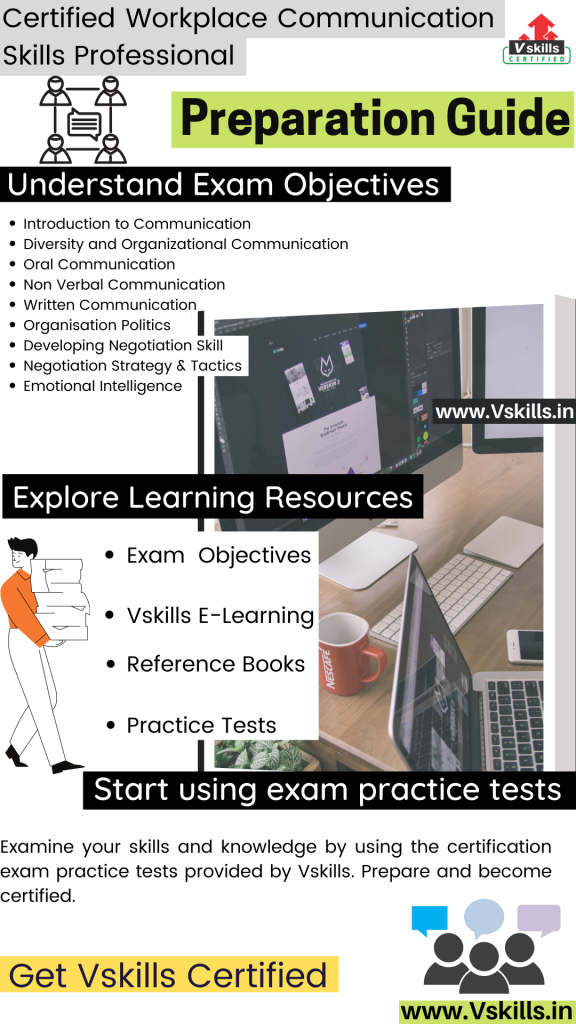 Refer Exam Objectives
Exam objectives are important as it provides brief about the exam by diving the syllabus into topics that include various sections and subsections. Candidates should be to get all the content and topics related to the exam. As it provides a benefit to candidates to understand better during the preparation time. Doing this will help them to understand things more accurately. The topics include –
Introduction to Communication
Diversity and Organizational Communication
Oral Communication
Non Verbal Communication
Written Communication
Organisation Politics
Developing Negotiation Skill
Negotiation Strategy & Tactics
Emotional Intelligence

Vskills E-Learning
With E-learning for Vskills Certified Workplace Communication Skills Professional, candidates will get a better understanding of the content using the online learning material for a lifetime. Moreover, Vskills provides hard copy material that will help them in improving skills and staying up to date with the learning curve for getting better opportunities.
Books for Reference
Candidates should start taking help from reference books as it can provide an advantage for understanding things more accurately. However, for the Certified Workplace Communication Skills Professional exam, there are various books available which you can find online or in libraries. Some of the books are as follows:
Effective Communication in the Workplace Book by Anthony Gutierez
Workplace communications Book by George J. Searles
Evaluate yourself with Practice Test
It is important to understand that to get full perfection practice is essential. That is to say, this will provide a clear view of where they stand and help them to improve more. Moreover, with this, they can learn about their weak areas as well as answering skills. So, get prepared and become certified.

Become Certified Workplace Communication Skills Professional