Robotics Process Automation (RPA) Professionals have skills and abilities to build, design, develop, and implement RPA systems using various RPA tools and technologies. They also set up and analyze automated processes as well as check whether they can be automated.
Responsibilities
RPA Professional use their skills to design automation processes according the organization needs,
They also script and code in any RPA tool for resolving automation issues. And, also review the code.
They provide expertise in the development, and integration of systems.
RPA Professional also configures new automation with efficient and easily understandable automation tools.
So, let's get started with the in-depth details and resources to become Certified Robotic Process Automation – RPA Professional.
Vskills Certified Robotic Process Automation – RPA Professional
Robotic process automation (or RPA) is the emerging technology that imitates and incorporates the actions of a human interacting within computer systems for performing a business process. The RPA process also automates labor-intensive workflow, infrastructure, and back-office processes. Moreover, this software bots interact with an application website as per the sequence of commands under a defined set of business rules similar to humans. So earning Vskills RPA Certification can provide candidates to get better opportunities as well as advanced skills to stand in today's competitive job market. However, the job Professionals and students who are looking for employment in these areas will be able to improve their skill set and make their CV stronger by holding this certification.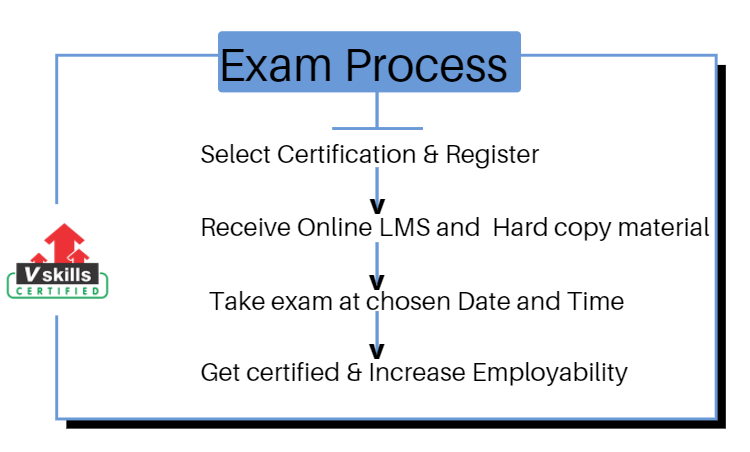 Vskills being India's largest certification providers gives candidates access to top exams as well as provides after exam benefits. This includes:
The certifications will have a Government verification tag.
The Certification is valid for life.
Candidates will get lifelong e-learning access.
Access to free Practice Tests.
Candidates will get tagged as 'Vskills Certified' On Monsterindia.com and 'Vskills Certified' On Shine Shine.com.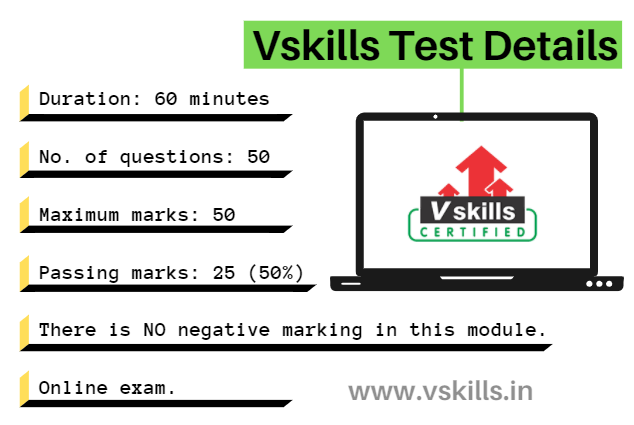 Course Outline
Certified Robotic Process Automation – RPA Professional covers the following topics –
Automation
What is Automation
Why to Automate
Desktop Automation
Web Automation
Back office automation
Process Automation
RPA Basics
What is Robotic Process Automation
Test Automation vs RPA
RPA Benefits and Challenges
RPA Risks
RPA Tools
Workflow Automation
Workflow Basics
Workflow Branching
Workflow Development
RPA Analysis
How Robotic Process Automation works
Process Analysis
Feasibility and Developing PoC
RPA Solution Architecture Patterns
Input Data Handling Solution Pattern
RPA Development
RPA Lifecycle
RPA Development Methodology
Implementing RPA
Project Implementation Basics
Data Manipulation with variables and arguments
Exception Handling
Transaction Logging
Monitoring and Reporting
Text & image automation
Windows Desktop RPA
RPA Security
Security Basics
RPA Credential Management
Secure Execution in RPA
RPA Risk Management
Risk Management Basics
RPA Risk Management
RPA Tools
Blue Prism
UiPath
Automation Anywhere
Preparation Guide for Vskills Certified Robotic Process Automation – RPA Professional
Preparation Guide is the essential part of every exam that a candidate has to give most of the time. That is to say, without having the correct preparation resources will create difficulty while preparing for the exam. So, candidates need to do research and find the best resources available to get a better understanding of the exam. However, for Certified Robotic Process Automation – RPA Professional exam some of the resources Vskills provide the resources that will help to prepare in a good way. This include: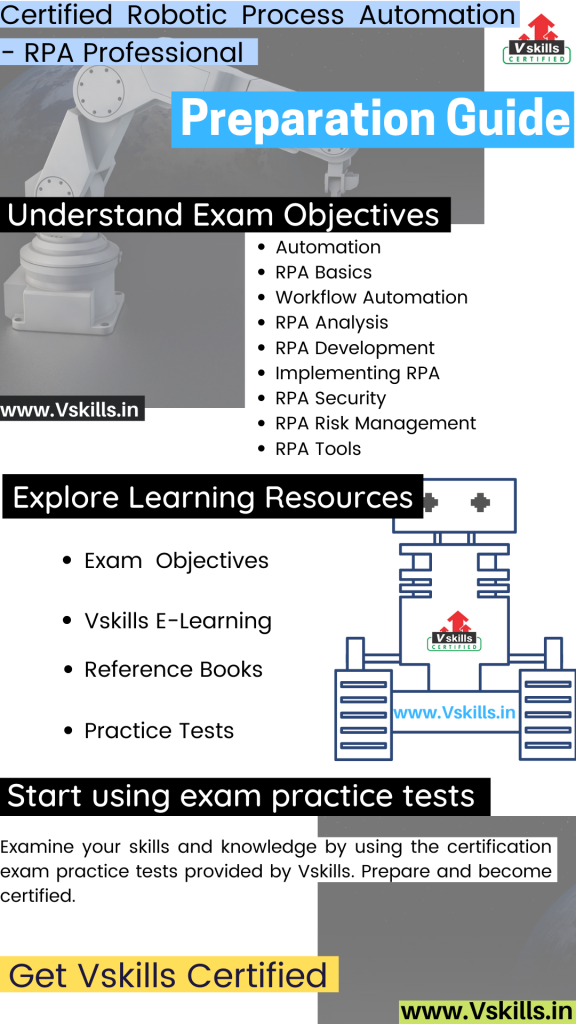 Refer Exam Objectives
Exam objectives are important as it provides brief about the exam by diving the syllabus into topics that include various sections and subsections. Candidates should be to get all the content and topics related to the exam. As it provides a benefit to candidates to understand better during the preparation time. Doing this will help them to understand things more accurately. For the Certified Robotic Process Automation – RPA Professional topics include –
Automation
RPA Basics
Workflow Automation
RPA Analysis
RPA Development
Implementing RPA
RPA Security
RPA Risk Management
RPA Tools
Vskills E-Learning
With E-learning for Vskills Certified Robotic Process Automation – RPA Professional, candidates will get a better understanding of the content using the online learning material for a lifetime. Moreover, Vskills provides hard copy material that will help them in improving skills and staying up to date with the learning curve for getting better opportunities.
Books for Reference
Candidates should start taking help from reference books as it can provide an advantage for understanding things more accurately. However, for the Certified Robotic Process Automation – RPA Professional exam, there are various books available which you can find online or in libraries. Some of the books are as follows:
The Robotic Process Automation Handbook Book by Tom Taulli
Learning Robotic Process Automation Book by Alok Mani Tripathi
Evaluate yourself with Practice Test
It is important to understand that to get full perfection practice is essential. That is to say, this will provide a clear view of where they stand and help them to improve more. Moreover, with this, they can learn about their weak areas as well as answering skills. So, get prepared and become certified.

Become Certified Robotic Process Automation – RPA Professional