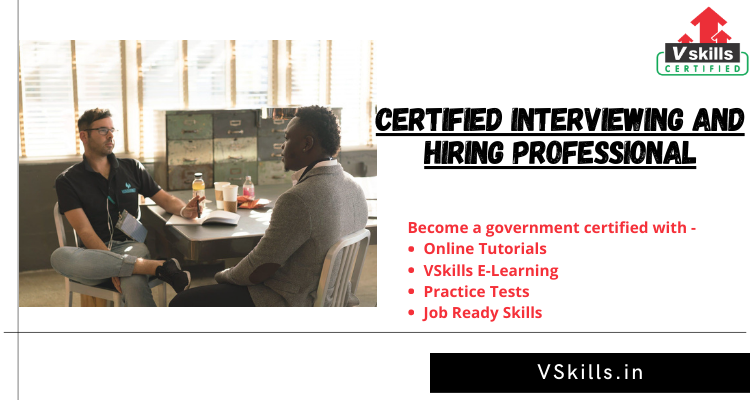 Vskills certification for Interviewing and Hiring Professional assess candidates in various skill areas. In this certification, you will learn the best techniques to hire the best resources for your organization. Manning an organization is the very important task and forms the backbone of management. Interviews, in this process helps to know and judge the candidate's behavior and communication skills to a certain extend.
HR professionals are very much demanded as companies now focus more on to hiring best possible human resources as possible. Certifications also help to prove your dedication and commitment towards your aim and profession. Let us get into details of this valuable certification.
Roles and responsibilities
A person in HR department is responsible for various tasks like HR Planning, staffing, hiring, training and development of employees etc. Vskills certification for Interviewing and Hiring assess candidates in various skill areas. After gaining this certification, you will learn and will be able to apply the best techniques to hire the best resources for your organization.
Content areas covered in the path include how to screen and review applicants' resumes effectively by using the job description as a guide, and how to prepare well for an interview. The path also describes how to carry out the actual interview, including a behavioral-based interview. Finally, it covers how to evaluate candidates in a structured and objective way.
Why to take this certification?
Vskills Certification in Interviewing and Hiring will provide foundational knowledge in the hiring and interviewing process. It focuses on developing an understanding of why effective hiring is key to any organization's success.
Intended Audience
Anyone who wants to develop or refine their hiring and interviewing skills, especially professionals working in hiring roles of an organization.
Benefits of Certification
Certification Process
Select Certification & Register
Receive a.) Online e Learning Access (LMS) b.) Hard copy – study material
Take exam online anywhere, anytime
Get certified & Increase Employability
Test Details
Duration: 60 minutes
No. of questions: 50
Maximum marks: 50, Passing marks: 25 (50%).
There is NO negative marking in this module.
Online exam.
Exam Objectives
This exam revolves around these following objectives –
Strategic Staffing
What is Strategic Staffing?
Comparison between Strategic and Traditional Staffing
Components of Strategic Staffing
Goals of Strategic Staffing
Functional Areas of HRM
Staffing Strategies
Business Strategies of a Firm
Talent Management
Strategic Staffing Decision
Interviewing Basics
What is a Interview
Interview Types
Why to Interview
Interviewing Biases
The Confirmation Bias
The First Impression Bias
The Halo and Horn Effect
The Contrast Bias
Ways to Become an Honest and Objective Interviewer
Screening Applicants
Understanding Screening
Why to Screen
CV or Resumes Screening
Application Form or Resumes
Rating Resumes
Relevance of Job Description
Identifying Red Flags during Screening
Best Practices
Preparing to Interview
Planning for the Interview
Interviewing Mistakes to Avoid
Active Listening
Taking Notes
Unfair Practices
Conducting an Effective Interview
Opening Effectively
The Right Questions
Conducting the Interview
Close an Interview Effectively
Behavioral Interview
Behavioral-based Interviewing
Behavioral Interview Questions
Preparing and Conducting a behavioral interview
Developing Behavioral-based Questions
The STAR Method
BARS (Behaviorally Anchored Rating Scales)
Applying Behavioral Questions
Selecting the Right Candidate
Candidate Evaluation
Checking Candidates' References
Offering the Job
Group Interviewing
What is a Group Interview?
Benefits and Disadvantages
Types of Group Interviews
Why to use Group Interview?
Skills to Assess in a Group Interview
Group Interview Questions
Tips for successful group interviews
Assessing Skills and Competencies
Assessment Methods
Assessing Soft Skills
Assess Planning Skills
Assess Conflict Resolution Skills
Assess Interpersonal Skills
Interviewing Trends and Future
Emerging Trends
Video Interviews
Social Recruiting
Recruitment Automation
Data-driven recruiting and HR Analytics
Virtual Reality
Gig Economy
Artificial Intelligence
Preparatory resources for Certified Interviewing and Hiring Professional
Cracking this exam can be difficult for the first time. But with the right set of resources and hard work you can ace the exam in one go. So, you should be very careful while choosing the resources. There are unlimited resources for preparation that you can use. Make sure to pick the apt resources out of the unlimited resources available, as they will determine how well will you pass the exam. Let us look at some resources that can be beneficial –
Step 1 – Review the exam objectives
Knowing about the objectives of the exam is very important as the whole exam is going to revolve around the objectives. The first and foremost thing before you start preparing is to get well versed with the objectives of the exam. Exam objectives let you define the framework for preparation and the path that has to be followed in order to pass with flying colors. This exam revolves around following objectives –
Strategic Staffing
Staffing Strategies
Interviewing Basics
Interviewing Biases
Screening Applicants
Preparing to Interview
Conducting an Effective Interview
Behavioral Interview
Selecting the Right Candidate
Group Interviewing
Assessing Skills and Competencies
Interviewing Trends and Future
Refer – Certified Interviewing and Hiring Professional Brochure
Step 2 – Hitting the books
You can choose the books that is comfortable to your reading habits and which you understand well. Books are the best valued resources and first resource that comes to our mind when we thin of preparing for any exam. You can find multiple books online or can refer to libraries and bookstores. There are even fantastic books online that can be very useful in preparation. Some books that you can refer are–
Interviewing And Selecting High Performers: A Practical Guide for Effective Hiring (Paperback – 1999)
Successful Interviewing And Recruitment
Step 3 – E-Learning and Study Materials
Vskills offers you its E-Learning Study Material to supplement your learning experience and exam preparation. They are prepared by the experts of the subject matter and are reliable enough. These online classes and instructor led courses are one of the most interactive ways of preparing the exam. Learning for the exam can be fun if you have right set of resources matching your way of studying. Many reliable sites provide with the very nice instructors and excellent content for the preparation. As we all are habitual of classroom teaching, these classes can serve as close substitute with an advantage of attending the class anywhere.
Refer – Certified Interviewing and Hiring Professional sample chapter
Step 4 – Evaluate yourself with practice tests
Your practice is an important determiner of how well you pass the exam. Take as many practice tests and test series as you can. They will help you in determining the level of your preparation, identify your loopholes and identify the weak portions you need to work more upon. There are so many reliable educational sites that provide with amazing content and help you in achieving excellence. Try a free practice test now!
Interviewing and Hiring Interview Questions
Checkout these latest online interview questions on Interviewing and hiring to prepare for any job interview. The questions are created by domain experts, to help you to overcome the job interview obstacle.
Boost your chances to become a Certified Interviewing and Hiring Professional. Start preparing and get a step closer to your Dream Job Now!