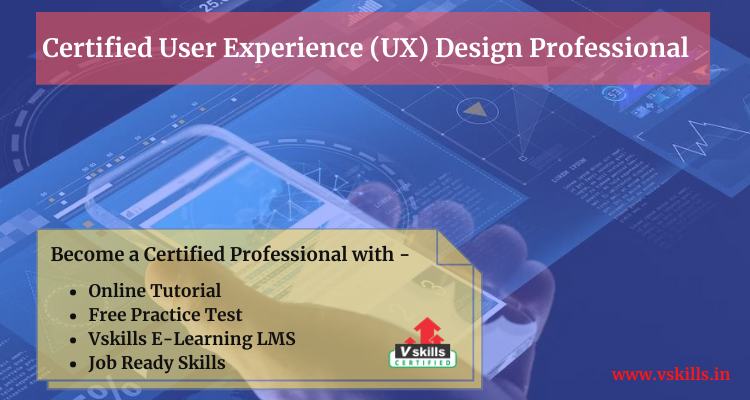 Presently, every IT enthusiast wants to excel as this field is fetching high salaries and is expected to grow at a faster pace in future. There are many companies which trust google cloud or other companies for smarter business solutions and functionalities. User Experience (UX) design is a theoretical understanding of how users interact with websites. It is the process of enhancing user satisfaction with a product by improving the usability, accessibility, and ease provided while interacting with the product. 
The industry is growing at a very fast pace and becoming all the more difficult to predict. But, together with technological changes and advancement, there is an ever-rising competition. Indeed you have to put a ton of extra efforts in order to grab the spotlight. So let's look into details of for getting into this field and available learning resources to prepare you better.
Vskills Certified User Experience (UX) Design Professional
In this certification, you will start your journey by looking at how to set up your UX design process and defining the set steps and interactions a user is engaging in. You will also learn ideation and sketching and explore business needs, idea grouping, and idea generation.
Then you'll learn the rules around the technology, its Interaction types, UI Sketching, explore UI patterns and finally review and iterate on your own sketches. Taking these sketches ahead, learn to build on them by creating a low-fidelity prototype. Explore the need for using these prototypes and Invision App, connecting prototypes via Invision App, and sharing.
This certification will help you to know how to set up your UX design process and defining the set steps and interactions a user is engaging in. You will also handle ideation and sketching and explore business needs, idea grouping, and idea generation.
Intended Audience
Job seekers looking to find employment in IT companies, students who want to learn and sharpen their User Experience (UX) skills.
Benefits of Certification
Certification Process
Select Certification & Register
Receive a.) Online e Learning Access (LMS) b.) Hard copy – study material
Take exam online anywhere, anytime
Get certified & Increase Employability
Test Details
Duration: 60 minutes
No. of questions: 50
Maximum marks: 50, Passing marks: 25 (50%).
There is NO negative marking in this module.
Online exam.
Content Outline
The exam has following testing parameters –
IDEATION AND SKETCHING
The Course Overview
User Needs + Business Need + Technology
User Scenario and How Might We
How Might We… Idea Generation
Idea Grouping
Idea Choice
LOW FIDELITY UI SKETCHING
Technology, Rules, and Interaction
User Interface Patterns
Identify Usable UI Pattern
Sketch a Solution Using a UI Pattern
Review Interaction Sketch and Iterate
LOW FIDELITY PROTOTYPING
Why Prototype – Invision and Others
Why Use Invision App
Prepare Prototype Screens
Upload Images
Connect Prototype
Iterate and Share
TEST LOW FIDELITY PROTOTYPES
Identify User Testers
Share Prototype via Invision App
Review Invision App Testing Feedback
Iterate Prototype and Track Changes
SKETCHING INTO WIREFRAMES
The Course Overview
Paper Sketch > Wireframe
Sketch App and Setup
Wireframe Assets
Wireframes Pages – Idea Choice
SKETCH WIREFRAMING SYMBOLS AND PROTOTYPING
User Interface and Sketch Symbols
Sketch Layers and Labels
PNG Exporting
Refreshing InVision Prototype
HIGH-FIDELITY PROTOTYPING
UI Styling and Sketch Symbols
UI Style Guide
Typography Styles H1- H6
Color Styles and Hex Code
Imagery and Composition
Headlines and Copy
PNG Exporting
Refreshing InVision
INTERACTION DESIGN AND MOTION STUDIES
Why Does Motion and Interaction Matter
Review Motion Patterns
Identify Areas That Need Animation
Define Interactions and Motion Prototypes
Separate Layers and Export Layer Assets
BUILD A MOTION PROTOTYPE
Set Up Principle by Mac
Upload/Import Assets
Animate Components
Iterate Animations and Re-Upload
Export Video and Review
Preparatory Guide for Certified User Experience (UX) Design Professional
There are unlimited resources for preparation that you can use. Cracking this exam can be difficult for the first time. But with the right set of resources and hard work you can ace the exam in one go. So, you should be very careful while choosing the resources. Make sure to pick the apt resources out of the unlimited resources available, as they will determine how well will you pass the exam. Let us look at some resources that can be beneficial –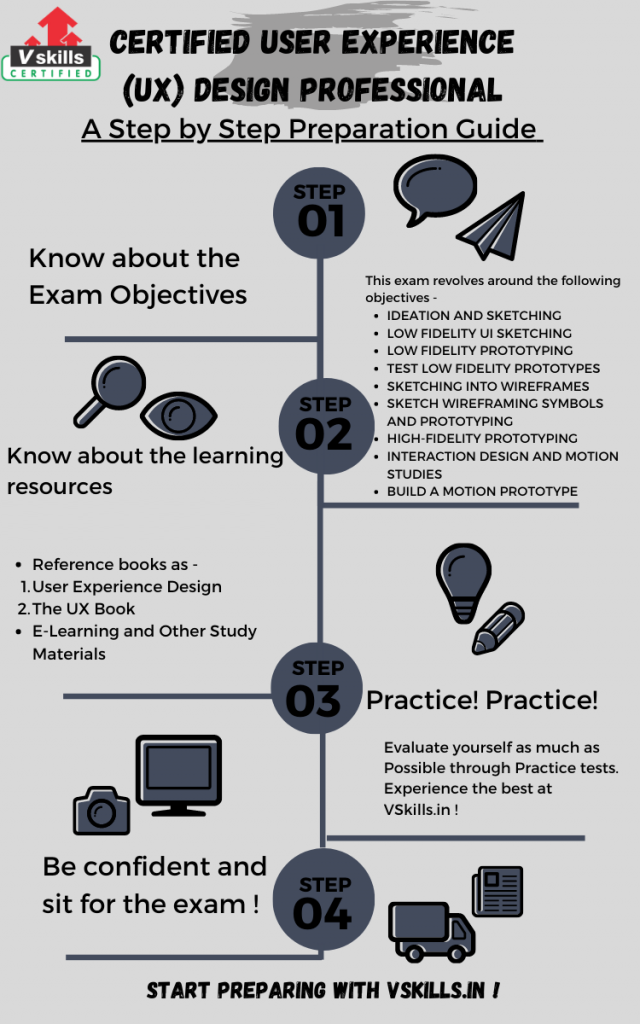 Step 1 – Review the exam objectives
The first and foremost thing before you start preparing is to get well versed with the objectives of the exam. Exam objectives let you define the framework for preparation and the path that has to be followed in order to pass with flying colors. Knowing about the objectives of the exam is very important as the whole exam is going to revolve around the objectives. This exam revolves around following objectives –
IDEATION AND SKETCHING
LOW FIDELITY UI SKETCHING
LOW FIDELITY PROTOTYPING
TEST LOW FIDELITY PROTOTYPES
SKETCHING INTO WIREFRAMES
SKETCH WIREFRAMING SYMBOLS AND PROTOTYPING
HIGH-FIDELITY PROTOTYPING
INTERACTION DESIGN AND MOTION STUDIES
BUILD A MOTION PROTOTYPE
Refer – Certified User Experience (UX) Design Professional Brochure
Step 2 – Hitting the books
You can choose books that are comfortable for your reading habits and which you understand well. Books are the best-valued resources and first resource that comes to our mind when we think of preparing for any exam. You can find multiple books online or can refer to libraries and bookstores. There are even fantastic books online that can be very useful in preparation. Some books that you can refer to are–
User Experience Design Second Edition by Gavin Allenwood and Peter Beare
The UX Book by Rex Hartson and Pardha Payla
Step 3 – E-Learning and Study Materials
These online classes and instructor led courses are one of the most interactive ways of preparing the exam. Learning for the exam can be fun if you have right set of resources matching your way of studying. Vskills offers you its E-Learning Study Material to supplement your learning experience and exam preparation. They are prepared by the experts of the subject matter and are reliable enough. Many reliable sites provide with the very nice instructors and excellent content for the preparation. As we all are habitual of classroom teaching, these classes can serve as close substitute with an advantage of attending the class anywhere.
Step 4 – Evaluate yourself with practice tests
Your practice is an important determiner of how well you pass the exam. Take as many practice tests and test series as you can. They will help you in determining the level of your preparation, identify your loopholes and identify the weak portions you need to work more upon. There are so many reliable educational sites that provide with amazing content and help you in achieving excellence. Try a free practice test now!