As an Apparel Designer, you are qualified to create and design clothing. It is your responsibility to display creativity and create unique and eye-catching designs. To add on, along with creative skills as an Apparel Designer, you are required to have a lot of skills and knowledge. Furthermore, they have to keep in mind the current trend and also, find ways to set up a new trend. It is not easy to become an Apparel designer but with the Vskills Certified Apparel Designer, you will be able to develop all the relevant skills and knowledge.
Roles and Responsibilities
An Apparel Designer work on designing and managing the clothing process from conception through to final styling. To add on, they are responsible for directly working with the clients and ensuring on-time delivery of the product. Furthermore, they assist the team and help them in achieving targets. It requires both technical and non-technical skills to become a successful Apparel Designer.
Vskills Certified Apparel Designer
The Vskills Certified Apparel Designer is designed to check a candidate's existing knowledge about apparel designing. To add on, this certification will help you in getting better employment opportunities. Also, you will be able to demonstrate a clear understanding and practical aspects and to get visible recognition. To add on, the purpose of the course is to develop skills related to apparel designing.
Vskills being India's largest certification provider gives candidates access to top exams as well as provides after exam benefits. This includes:
Become a Government Certified Professional.
The Certification is valid for life.
Candidates will get lifelong e-learning access.
Access to free Practice Tests.
Test Details
Exam Duration: 60 minutes
Number of questions: 50
Maximum marks: 50
Passing marks: 25 (50%).
There is NO negative marking in this module
It is an online examination
Course Outline
The Vskills Certified Apparel Designer covers the following topics:
Textile
Etymology
History
Textile Evolution
End Uses
Fashion and Textile Designers
Fiber Classification and Properties
Production Methods
Textile Treatments
Digital Printing
Digital Printing Methods
Digital Laser Exposure
Textile Design Introduction
Basics
Historic Figures
Textile Designer Role
Functions of Textile Designer
The Design Process
Design Principles and Elements
Design Elements
Principles of Design
Color Theory
Historical Background
Color Abstractions
Complementary Colors
Warm vs. cool colors
Achromatic Colors
Tints and shades
Split Primary Colors
Color Harmony
Current Status
Basic Techniques for Creating Color Schemes
Fashion Designing
What is Fashion
Apparel Design
The Apparel Design Elements
Apparel Fashion Terms
Fashion Design
Fashion Cycle
Dress Design
Stitching
Common Stitches
Embroidery Stitches
Straight Stitches
Back stitches
Chain stitches
Feather Stitches
Cross Stitches
Knotted Stitches
Seam
Introduction
Types
Finishes
Position
Dart
Pleats
Fullness
Types
Pleat Application
Tucks
Tuck Basics
Tuck Types
Spaced Tucks
Pin Tucks
Blind Tucks
Fasteners
Fastener Basics
Fastener Physics
History of Clothing Fasteners
Button
Buckle
Hook & Eye
Snap
Zipper
Hook & Loop (or VELCRO®)
Darning
What is Darning
Darning Cloth
Darning Tools
Pattern Darning
Apparel Production
Apparel Production Process
Garment Production Systems
Costing
Garment Cutting
Sewing Machine
Fusing Machine
Material Safety Data Sheet
GPT and FPT
EPI and PPI
Legal Perspectives
Introduction
Intellectual Property Law in India
Patents
Trademarks
Copyrights
Copyright Act, 1957
Industrial Design
Designs Act, 2000
Preparation Guide for Vskills Certified Apparel Designer
For the Vskills Certified Apparel Designer, we have curated a preparation guide to ease your preparation. Let's get started: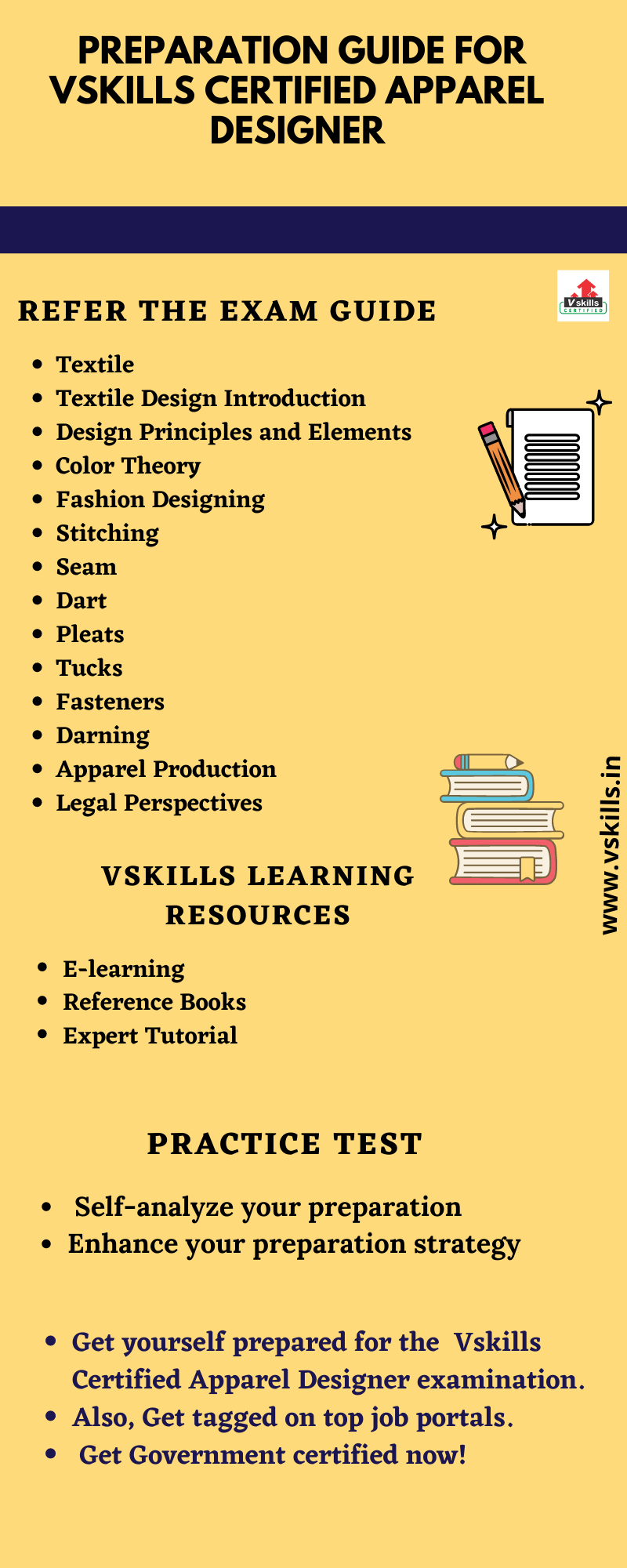 Exam Objectives
It is important to know the exam related details and topics. This will help candidates to easily start preparing for the exam. Also, for the Vskills Certified Apparel Designer, the exam topics to refer to are:
Textile
Textile Design Introduction
Design Principles and Elements
Color Theory
Fashion Designing
Stitching
Seam
Dart
Pleats
Tucks
Fasteners
Darning
Apparel Production
Legal Perspectives
Refer: Vskills Certified Apparel Designer Brochure
Vskills E-Learning
For the Vskills Certified Apparel Designer examination, our team has provided online study material. Also, this online material is regularly updated. Furthermore, e-learning is bundled with hard copy material which helps candidates to improve and update the learning curve for superior and better opportunities.
Reference Books
To ease out your hunt for books we have provided a list of books which you can refer to:
The Fashion Design Reference & Specification Book: Everything Fashion Designers Need to Know Every Day by Jay Calderin
The Apparel Design and Production Hand Book: A Technical Reference by Fashiondex Incorporation
Evaluate yourself with Practice Test
After studying for the examination, it is important to practice sample papers. Practising sample papers will help you analyze your weak areas and strengths. Moreover, you will be able to improve your answering skills that will result in saving a lot of time. So, make sure to find the best practice sources. Therefore, practice more and achieve more.

Make your resume stand out and become a Certified Apparel Designer. Try free practice tests here! Get Certified now!