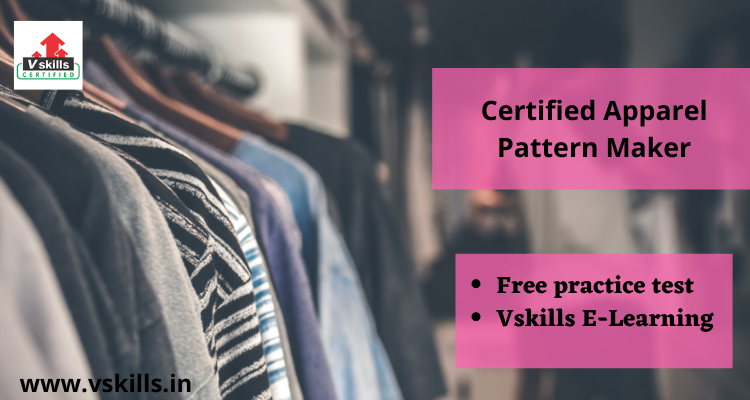 An Apparel Pattern Maker is a skilled designer or technician who is responsible for creating and designing templates and samples which can be used as a sample for further production and manufacturing of products. To add on, just like it is necessary to have a blueprint of anything, it is important to have a blueprint of clothing as well. To become a successful Apparel Pattern Maker you are required to have lots of skills and knowledge. Along with that, you need to be creative enough to develop and create unique designs.
Roles and Responsibilities
As an Apparel Pattern Maker, you will be responsible for designing rough-draft templates using computer drafting software and freehand techniques. Therefore, it is necessary that one should have basic computer knowledge as well, To add on, you will be directly communicating with the designers and client and it will be your responsibility to ensure quality and on-time delivery of the designs. Also, you will be responsible to meet the client's expectations and delivering the product as per their requirements and demands.
Vskills Certified Apparel Pattern Maker : Exam Overview
The Vskills Certified Apparel Pattern Maker is designed to help you develop all the relevant skills and knowledge. Also, it aims to enhance your creativity skills which are one of the essential skills required to become a successful Apparel Pattern Maker. To add on, the purpose of the course is to develop skills related to apparel pattern making. This course covers topics like pattern engineering, pattern grading, fabric preparation, pattern drafting, draping, sleeve, collar, and pattern making tools. It will help you in getting job opportunities as well.
Vskills being India's largest certification provider gives candidates access to top exams as well as provides after exam benefits. This includes:
Become a Government Certified Professional.
The Certification is valid for life.
Candidates will get lifelong e-learning access.
Access to free Practice Tests.
Test Details
Exam Duration: 60 minutes
Number of questions: 50
Maximum marks: 50
Passing marks: 25 (50%).
There is NO negative marking in this module
It is an online examination
Course Outline
The Vskills Certified Apparel Pattern Maker covers the following topics:
Apparel Pattern Making Basics
What is Pattern Making?
Who is a Patternmaker?
What is the role of a Patternmaker?
Methods of Pattern Making
Pattern Engineering
Pattern Grading
Measuring Techniques
Understanding of Body & Its Measurements
Method of Measuring a Dress Form
Methods of Measuring
Fabric Preparation
Preparation of Fabric for Cutting
Grain and its Types
Importance of Grain in Cutting and Construction
Steps in Preparing the Fabric for Cutting
Tools
Tools of Pattern Making
Other Pattern Aids
Terminology
Symbols and Abbreviations
Pattern Drafting
Introduction to Pattern Drafting
Principles of Pattern Drafting and Pattern Details
Dart Manipulation
Dart Introduction
Styles Created by Shifting Blouse Darts
Draping
Introduction to Draping
Preparation of Body Form
Basic Bodice Front
Basic Back Bodice
Basic Sleeve
Garment Fitting
Introduction to Fit
Elements of Fit
Evaluating Fit
Other Factors in Fit
Methods of Fitting
Sleeve & its Types
Introduction to Sleeves
Sleeve Types
Sleeve Cap Height
General Principles
Sleeve Styles
Collar & Types
Collar Terms to Know
Collar Types
Collar Styles
Determining Collar Stand
Standards for Collars
Interfacing
Making a Collar
Preparatory Guide for Certified Apparel Pattern Maker
Our team has curated this guide in a step-by-step manner to move forward with your preparation. Let's discuss step by step-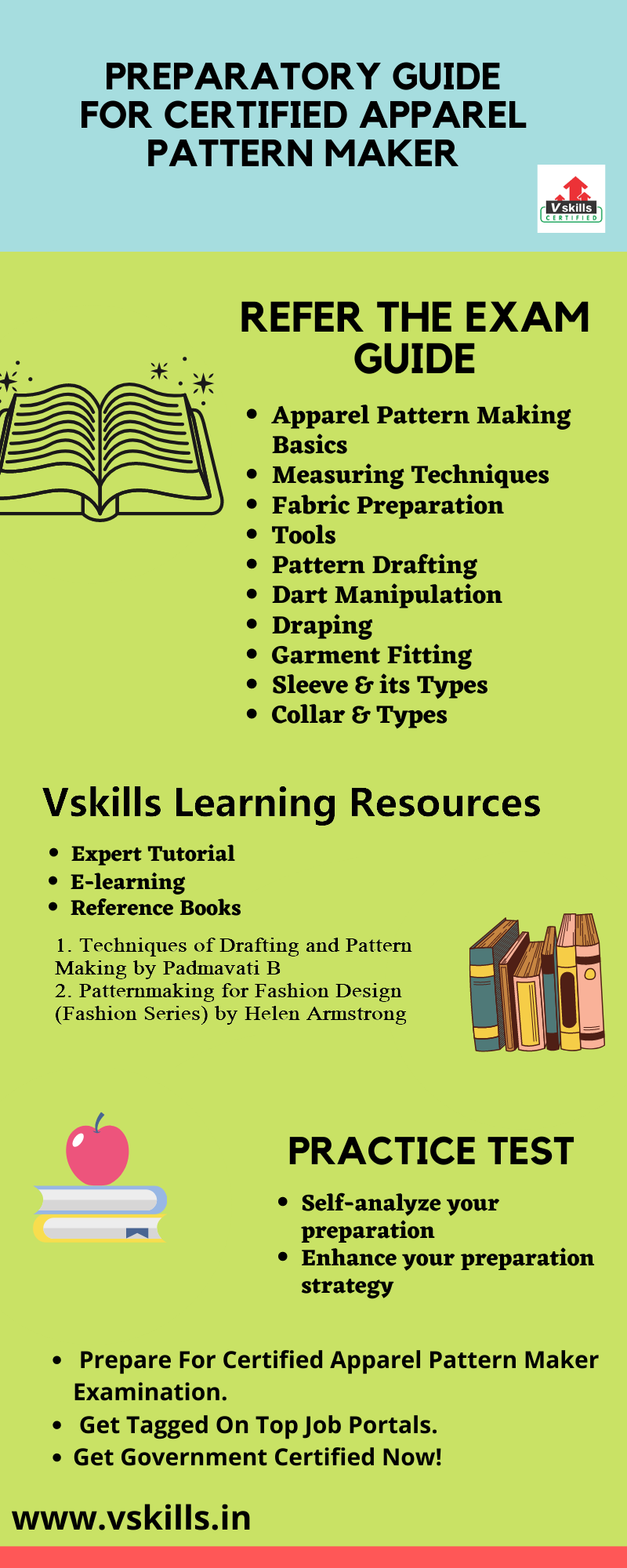 Exam Objectives
Before moving towards your preparation for the examination, it is important to get yourself familiar with the main objectives of the exam. Also, for the Vskills Certified Apparel Pattern Maker, the exam topics to refer to are:
Apparel Pattern Making Basics
Measuring Techniques
Fabric Preparation
Tools
Pattern Drafting
Dart Manipulation
Draping
Garment Fitting
Sleeve & its Types
Collar & Types
Refer: Vskills Certified Apparel Pattern Maker Brochure
Vskills E-Learning
For the Vskills Certified Apparel Pattern Maker examination, our team has provided online study material. Also, this online material is regularly updated. Furthermore, e-learning is bundled with hard copy material which helps candidates to improve. These E-Learning and Study Materials provide you lifetime accessibility.
Reference Books
Books help you gain in-depth clarity about the exam domains. Most important of all, you can find real-time examples of the different concepts you learn for this certification exam. For this examination you can refer:
Techniques of Drafting and Pattern Making by Padmavati B
Patternmaking for Fashion Design (Fashion Series) by Helen Armstrong
Evaluate yourself with Practice Test
After studying for the examination, it is important to practice sample papers. Practicing sample test will help you analyze your weak areas and strengths. Moreover, you will be able to improve your answering skills that will result in saving a lot of time. So, make sure to find the best practice sources. To add on, they provide you with self-evaluation of your own preparations and help you in strengthening your domains. Solving Practice tests can provide you with the confidence you need to be stress-free.