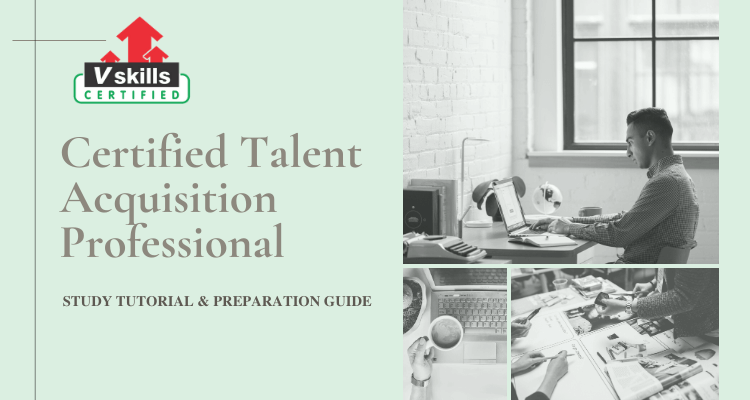 The Certified Talent Acquisition Professional certification is to provide you with a thorough understanding of the business requirements, embedded employer brand across the applicant's experience, leverage talent market channels effectively, and deploy talent analytics to grow as a professional advisor to the business. Various organizations have been demanding Talent Acquisition Professionals, owing to the increasing competition in the market. Companies need Acquisition Professionals who can deliver them the talents they need for their firms.
Why become a Certified Talent Acquisition Professional?
This course develops a candidate's skills as per organisations requirements, this certification will not only enhance your skills but will also act as a platform to review the candidate. Following are the topics that this certification covers
Talent acquisition strategy
Talent acquisition planning
Employee Churn
Employee retention
Employee expertise
Employee branding
Recruitment analytics
Who will benefit from this certification?
Employees who are at the position of Human Resource professional manager, senior executive, HR analyst, project manager, this certification will give them advantage and help them get their desired role in the organisation.
Roles and responsibilities of a Certified Talent Acquisition Professional
One of the most important things to know before achieving any certification or profession is what a practitioner of that niche undertakes after Getting qualified for the job. The list is below.
To plan and develop strategies for the organisation functioning
To evaluate candidates and hire, on-board the best talent in the talent acquisition.
To develop employee satisfaction and communicate with them
To concentrate on a long term vision of filling the positions in the Organization with the suitable candidate.
To make strategies for the product development and estimate the manpower based on the Business plans within a reasonable budget.
To bring the best talent into the Business to progress together to meet the Organizational goals.
Benefits of taking Vskills Certification
Vskills being India's largest certification providers gives candidates access to top exams as well as provides after exam benefits. This includes:
The certifications will have a Government verification tag.
The Certification is valid for life.
Candidates will get lifelong e-learning access.
Access to free Practice Tests.
Candidates will get tagged as 'Vskills Certified' On Monsterindia.com and Shine.com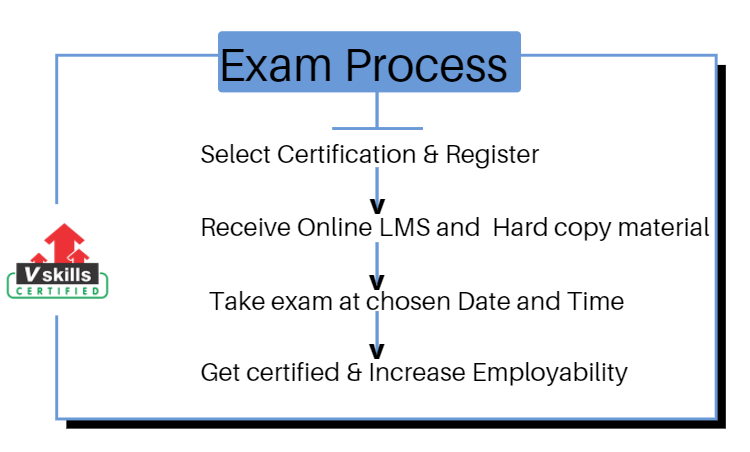 Exam Details
Exam Duration: 60 minutes
Vskills Exam Code: VS-1600
Number of questions: 50
Maximum marks: 50
Passing marks: 25 (50%)
Exam Mode: Online
There is NO negative marking in this module.
Course Details
Talent Acquisition Strategy
Business Strategies of a Firm
Talent Management
Strategic Hiring Decision
Recruitment and Talent Acquisition
Talent Acquisition Planning
Introduction
The Process of Talent Planning
Forecasting and Planning Talent Demand and Supply
Managing Talent Demand and Supply Gap of a Firm
Recruitment of the Right Resources
Job Analysis
Job Design
Job Description
Job Specifications
Job Evaluation
Quality of Work Life and Quality Circle
Recruitment
Recruitment Process
Recruitment Approaches
Social Media and Recruitment
Harnessing LinkedIn
Employee Value Proposition
Employee Induction
Compensation Management
System of Wage Determination
Incentives
Fringe Benefits
Employee Stock Options
Employee Churn
Employee Churn Analysis
Combating Employee Churn
Employee Retention
The Cost of Turnover
Herzberg's Theory
Equity Theory
Retention Programs
Retention Tools and Resources
Employee Engagement
Employee Engagement Theories
Drivers of engagement
Measure Employee Engagement
Employee Experience (EX)
What is Employee Experience (EX)?
Employee Experience Relevance
Employee Experience vs Employee Engagement
Employee Experiences Domains
Employee Journey
Employee Experience Milestones
Designing EX
Assessing EX
Employer Branding
Employer Branding Basics
Why to Brand as an Employer?
Employer Value Proposition (EVP)
Employer Branding Process
Managing Employer Brand
Using LinkedIn for Employer Branding
Recruitment Analytics
Workforce Capability
HR Analytics Basics
Talent Life Cycle
HR Data Collection
HR Data Analysis
Recruitment and Talent Acquisition Metrics
Talent Acquisition Trends and Future
Emerging Trends
Video Interviews
Social Recruiting
Recruitment Automation
Data-driven recruiting and HR Analytics
Virtual Reality
Gig Economy
Artificial Intelligence
Preparation Guide for Certified Talent Acquisition Professional Exam
Follow the right roadmap towards your success which indicates the right steps, for that you need a preparation guide or study guide mentioning all the essential resources. Hard Work is a must but make sure you put your efforts in the right direction using the appropriate resources, Hence before examination always take the support of a preparation guide that has quality information mentioned in it.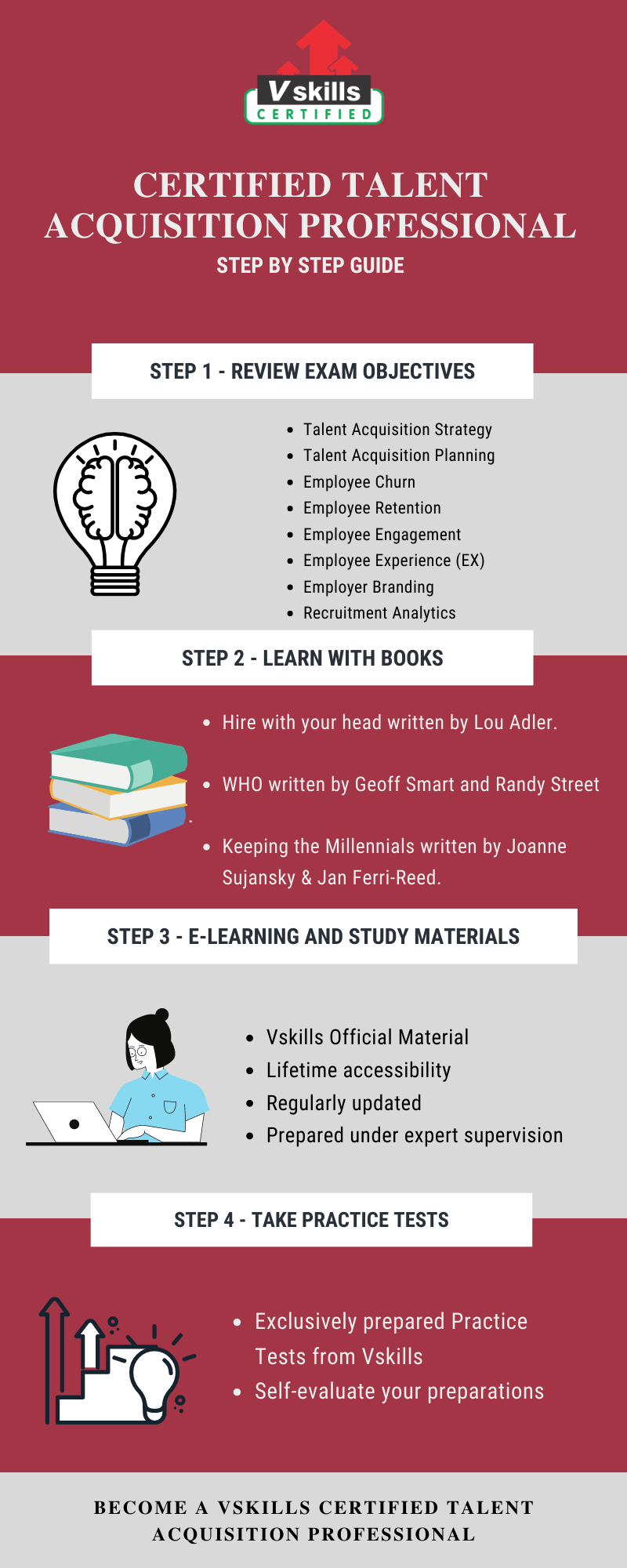 Step 1 – Review Exam Objectives
Exam objectives can be called competency levels, as they give you an overview regarding the domains that you are about to learn in the particular course. Every expert will recommend you to go through the exam objectives before beginning the preparation for the exam as it sets an advantage for the candidate.
Talent Acquisition Strategy
Talent Acquisition Planning
Employee Churn
Employee Retention
Employee Engagement
Employee Experience (EX)
Employer Branding
Recruitment Analytics
Refer: Certified Talent Acquisition Professional Brochure
Step 2 – Learning with Books
To learn the basics and to gain the foundation knowledge of any domain, a candidate should always go through the best books of that domain. The books are written by different authors and their perspectives differ from each other which makes the content more knowledgeable and different. It is an easy way to gain knowledge and easily accessible anytime.
The top 3 books for Certified Talent Acquisition Professional are mentioned below.
Hire with your head written by Lou Adler. This book refers to all the changes that a recruiter goes through while recruiting anybody for the organization. It will give you enough knowledge regarding the recruitment practice and mentions all the essential rules that need to be followed by the practitioners.
WHO written by Geoff Smart and Randy Street. This book reveals the mystery of the Human Resource department and its effectiveness under the corporation. How to make things work out with a new employee and much more knowledge on that topic.
Keeping the Millennials written by Joanne Sujansky & Jan Ferri-Reed. Complete knowledge on how to analyze a person's attitude while hiring them. This book will give you wide knowledge of the rapid pace of technological change and makes the reader understand the difference between millennials and baby boomers.
Step 3 – E-learning and Study material
Explore different methods of online learning that will help you to adapt skills and update you about different information regarding your certification exam. There is different comprehensible information on websites that educate you on your topics and prepare you for the examination. Another method of online learning is studying through study materials, without wasting any time you can go through notes and learn better. Vskills offers you its E-Learning Study Material and its hard copy as well, to supplement your learning experience and exam preparation. Moreover, this online learning material is available for a lifetime and is updated regularly.
Refer: Certified Talent Acquisition Professional Sample Chapter
Step 4 – Check your Progress with Practice Tests
Assess yourself before the examination to know about your weaker areas and the topics that you have already mastered. The only way of self evaluation is practice test. Practice tests help you gain confidence before exam and present better in the examination. This is the last step and which has to be followed before attempting the real examination.

Get ready to qualify and become a Certified Talent Acquisition Professional. Start Practicing Now!