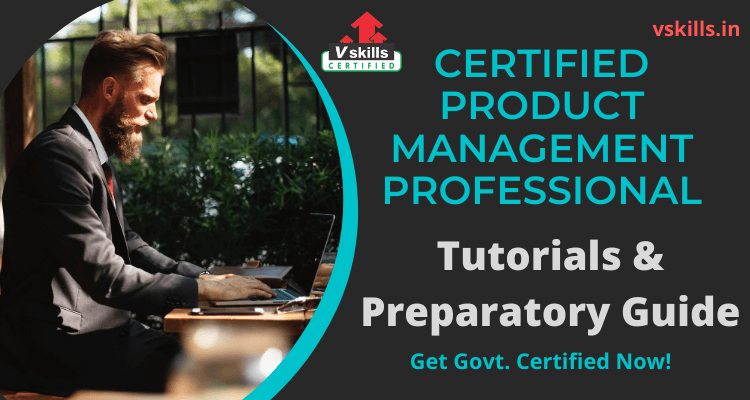 Want to guide the success of a product? Do you have the aspirations to lead a product management team? Then you are at the right place. The Certified Product Management Professional certification is definitely your way ahead. This certification will enhance your employability and bridge the gap to your dream job. Moreover, organisations around the globe are looking out for certified professionals who will integrate people, data, processes and business systems. These certified professionals ensure that the products delivered are in line with the market requirements while maintaining that the overall corporate goals are met at each stage of the product lifecycle
Roles and Responsibities of a Certified Product Management Professional
Certified Product Management Professionals lead cross-functional teams from a product's conception to its launch. They should possess sound leadership skills. They perform various roles in an organisation ranging from analyse market and competitive conditions, laying out a product vision to marketing and forecasting. Moreover, they are responsible for:
Firstly, they should set out the product vision, roadmap, and strategy.
Then, they must specify the research needed to gather market information for determining and representing the needs of customers.
Also, they should provide insights and perspective on product portfolio planning.
Further, review product specifications and requirements and evaluating new product ideas.
Moreover, work with marketing, sales, engineering, and support to ensure the fulfilment of business case goals and customer satisfaction.
Subsequently, they should define the objectives for product marketing communication. 
Finally, they must prepare short-term and long-term forecasts, reports, and analyses on product sales. 
Vskills Certified Product Management Professional Overview
Vskills Certification for Product Management Professional validates your skills and expertise as per the companies need for product management professionals. Product management is an organizational lifecycle function within a company dealing with the planning, forecasting, and production, or marketing of a product or products at all stages of the product lifecycle. This certification assess your knowledge in various areas of product strategy, competitor analysis, product definition, design, prototyping, product development, usability testing, minimum viable product, product marketing and analytics.
Why become a Certified Product Management Professional?
Becoming a Certified Product Management Professional can open the door to increased visibility, better opportunities and new jobs in your industry. In today's highly competitive environment, certification differentiates you as a professional who is serious about applied learning, making you an asset to a prospective employer. Moreover, earning a Vskills Certification comes with the following benefits:
This certification will have a Government verification tag.
Also, the Certification will have lifetime validity.
Further, you will get Lifelong e-learning access.
Moreover, you get access to Free Practice Tests.
Additionally, You will get tagged as 'Vskills Certified' On Monsterindia.com and 'Vskills Certified' On Shine.com.
Exam Details
Exam Code: VS-1577
Duration: 60 minutes
No. of questions: 50
Maximum marks: 50
Passing marks: 25 (50%).
There is NO negative marking
This is an Online exam
Exam Process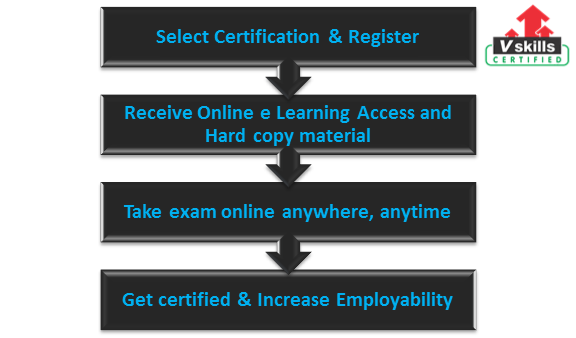 Course Outline: Certified Product Management Professional
This certification exam covers the following topics:
Product Management Basics
What is a Product
The Product Life Cycle
What is Product Management?
Stages of Product Management
Product Manager Role
Product Manager Skills
Product Strategy – Market Analysis
Marketing Research
Market Segmentation
Market Targeting
Market Positioning
Branding
Defining Product Strategy
Kano Model Analysis
Competitor Analysis
What is Competitor Analysis?
Environmental Analysis
Pestle Analysis
SWOT Analysis
Value Chain Analysis
The BCG Matrix
Product Definition – User Requirements Research
Factors influencing consumer behaviour
Major Psychological Processes
Consumer Buying Decision Process
Organisational Buying
Customer Data Collection and Analysis
Voice of Customer (VOC)
User Requirements
Conducting User Interviews
User or Focus Groups
Decision Making for Product Definition
Specifying the Product Definition
Product Design – User-Centered Design
What is User- Centered Design or UCD
UCD Characteristics
UCD Principles
User-Centered Design Process
User-Centered Design and Agile
ISO 9241 Human-Centred Design Principles
Product Design – Prototyping
What is a wireframe?
What is a prototype?
What is a mockup?
Prototype Categories
Prototype vs. a final product
Why to Prototype
Prototyping Components and Techniques
Product Development
User Personas
User stories
Scenarios
Product Requirements Document or PRD
Performing Affinity Mapping
Creating Storyboards
Product Testing – Usability Testing
Usability Testing Basics
Usability Testing Types
Planning a Usability Test
Usability Testing Methods
Pilot Usability Test and Moderation
Conducting Usability Test
Best Practices for Usability Testing
Heuristic Evaluation
Minimum Viable Product
Minimum Viable Product Basics
Purpose of MVP
MVP Elements
MVP Benefits
Developing Minimum Viable Product
Validating Minimum Viable Product
Product / Market Fit
Product Marketing
Product Marketing Basics
Need for Product Marketing
How to Market a Product
Product Marketing Strategy
Pricing Concepts
User Engagement
Growth Hacking
Product Analytics
A/B Testing
Segmentation and Funnel Analysis
Multivariate Testing
Google Analytics
Cohort Analysis
Web Analytics
Product & Engagement Analytics
Preparatory Guide: Certified Product Management Professional
The key to crack an exam is by preparing right. Preparations demand consistency and determination. We present you our specially curated study guide to help you achieve the Certified Product Management Professional certiffication.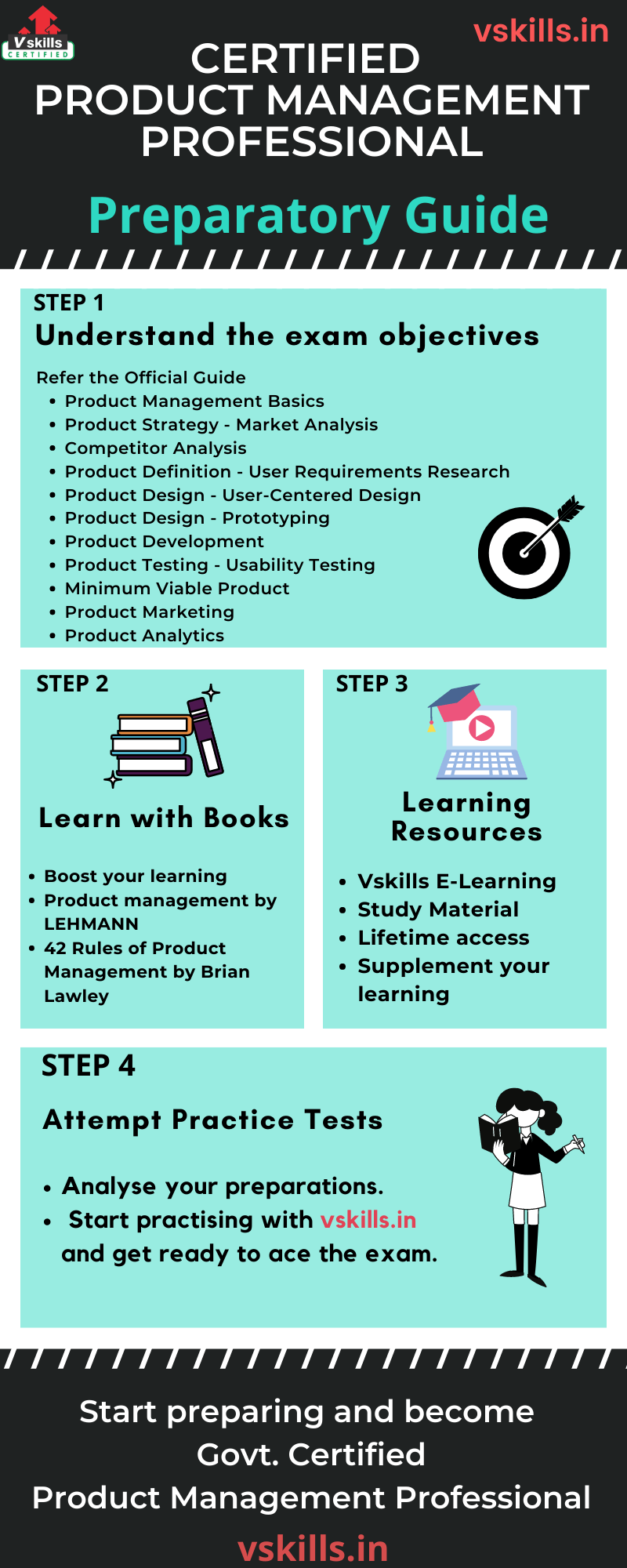 Step 1- Always Start with the Exam Objectives
The first and foremost step in your preparatory guide is to start with the exam objectives. Familiarise yourself with all the objectives and course domains of the exam. Devote enough time to each topic and have in depth knowledge of the subject. Also, tailor your study plan around the course domain to excel the exam. The exam objectives are:
Product Management Basics
Product Strategy – Market Analysis
Competitor Analysis
Product Definition – User Requirements Research
Product Design – User-Centered Design
Product Design – Prototyping
Product Development
Product Testing – Usability Testing
Minimum Viable Product
Product Marketing
Product Analytics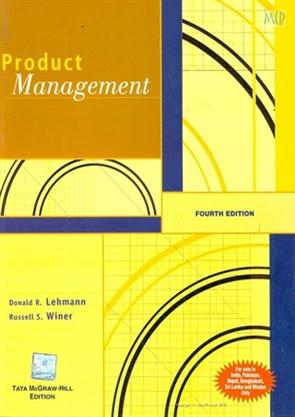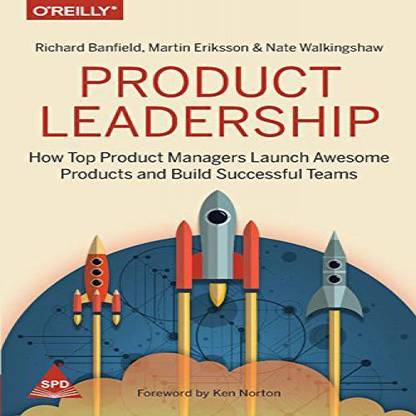 Step 2- Learn with Books
Books are the most important ingredient of the preparation. There are a vast variety of books available in the market which you can use to prepare for the Therefore, our suggestion to you would be to find books for the exam from genuine sources. You should include the following books in your preparation journey:
PRODUCT MANAGEMENT by LEHMANN
42 Rules of Product Management by Brian Lawley Greg Cohen
Product Management in Practice by Lemay Matt
Product Leadership: How Top Product Managers Launch Awesome Products and Build Successful Teams by Richard Banfield
Step 3- Refer the Right Resources
Finding the right learning resources will allow you to understand each and every concept covered in this exam. You should choose the right resources as they determine your preparation level. Moreover these learning resources should be from authentic sources. Vskills offers its own official resources to help you prepare for this exam. The E-Learning and Study Material by Vskills is offered with lifetime access. Additionally, these resources are constantly updated to provide you with latest information.
Step 4- Check your progress with Practice Tests
Practice tests are really significant to check your preparations. They provide you with insights about your strengths and weaknesses. Strengthening your weakness will help you ace the exam. Attempt as many practice papers as you can and try to perform better than the previous one each time. Most importantly, all the practice tests are designed to encounter the real exam environment around you. To check your progress, Start Practising Now!

Enhance your skills and knowledge and become Certified Product Management Professional. Start Preparing Now!