Predictive analytics can be a huge discriminator for business decision-making. Its application in marketing and sales, finance, HR, risk management and security, and business strategy might help in driving revenues, reducing costs, and providing a competitive advantage to businesses. Vskills Certified Predictive analytics Professional course will help you to learn predictive analytics, key tools, and their application at the intermediate to advanced level to a wide variety of business and technical users at all levels in the organization.
Vskills certifications help you stand out in the crowd as you will be professionally working in the domain you are most interested. But, nothing in the world comes for free. You have to put a lot of hard work along with the right set of resources to ace the examination. Let us get into details of this certification.
Roles and Responsibilities
A Certified Predictive Analytics Professional is responsible for handling predictive analytics, key tools, and their application at the intermediate to advanced level to a wide variety of business and technical users at all levels in the organization.
Vskills Certified Predictive Analytics Professional
Vskills Certification is intended for professional and graduates wanting to excel in their chosen areas. It is also well suited for those who want to learn key predictive analytics and modelling concepts, common tools and algorithms, and most importantly business applications of predictive analytics. The online training course itself is software-independent and will be using one or several of these software tools including Excel, Minitab, R, and RapidMiner.
Intended Audience
Job seekers looking to find employment in IT or software development departments of various companies, students generally wanting to improve their skill set in predictive analytics and make their CV stronger and existing employees looking for a better role can prove their employers the value of their skills through this certification.
Benefits of Certification
Certification Process
1. Select Certification & Register
2. Receive a.) Online e Learning Access (LMS) b.) Hard copy – study material
3. Take exam online anywhere, anytime
4. Get certified & Increase Employability
Test Details
Duration: 60 minutes
No. of questions: 50
Maximum marks: 50, Passing marks: 25 (50%).
There is NO negative marking in this module.
Online exam.
Content Outline
This Certified Predictive Analytics Professional exam covers the following topics –
Predictive Analytics & Big Data
Predictive Analytics and Big Data
Predictive Analytics Evolution
Process & Application
Applications of Predictive Analytics
Predictive Analytics Process and Technology
Practice: Identifying the Type of Analytics

Key Statistical Concepts
Importance of Statistics in Analytics
Overview of Probability Theory
Using Statistics in Predictive Analytics

Correlation & Regression
Introduction
Practice: Applying Statistical Approaches

Data Collection & Exploration
Data Needs and Sources
Data Collection and Exploration
Data Mining, Data Distributions, & Hypothesis Testing
Data Mining and Analytics
Data Distributions and Hypothesis Testing
Practice: Data Mining Methods

Data Preprocessing
Data Reduction & Exploratory Data Analysis (EDA)
Data Reduction with PCA and Factor Analysis
Tools for Exploratory Data Analysis (EDA)
Practice: Using PCA for Feature Selection

A/B Testing, Bayesian Networks, and Support Vector Machine
A/B Testing
Naïve Bayes and Bayesian Belief Networks
Support Vector Machines
Practice: Applying Predictive Approaches
Artificial Neural Networks
K-Nearest Neighbor (k-NN)
K-Nearest Neighbor (k-NN) & Artificial Neural Networks
Clustering Techniques
Using Clustering Techniques
K-Means Clustering
Hierarchical Clustering and DBSCAN
Linear and Logical Regression
Linear Regression
Logistic Regression
Practice: Linear Regression Inference
Text Mining & Social Network Analysis
Text Mining
Social Network and Media Analytics
Time Series Modeling
Introduction to Time Series
Time Series Forecasting Models
Practice: Time Series Modeling Concepts
Machine Learning, Propensity Score, & Segmentation Modeling
Machine Learning
Propensity Score and Segmentation Modeling
Random Forests & Uplift Models
Random Forests
Uplift Models
Practice: Advanced Predictive Tools
Model Life Cycle Management
Introducing Model Life Cycle Management
Model Development, Validation, & Evaluation
Model Building
Model Considerations and Validation
Model Evaluation
Practice: Classification Model Performance
Preparation Guide for Vskills Certified Predictive Analytics Professional
You should be very careful while choosing the resources as they will determine your actual progress and results. There are a lot of resources that can be used for preparation. But cracking the certification becomes difficult when the set of resources chosen is not apt. Let us have a look at some useful resources –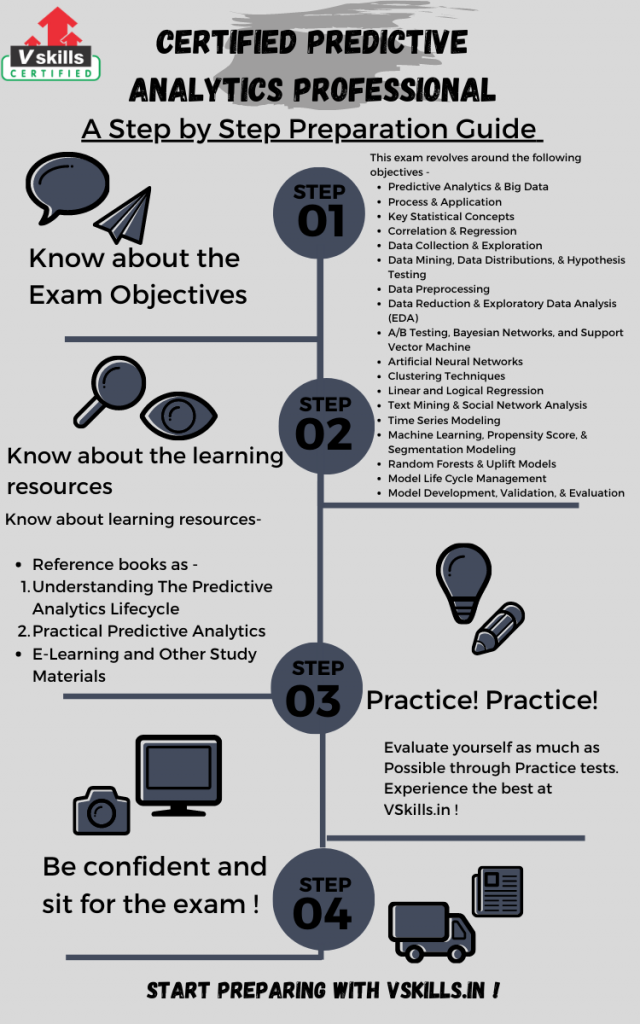 Step 1 – Review the Exam Objectives
The first and foremost thing before you start preparing is to get well versed with the objectives of the exam. Knowing in detail about the exam objectives will let you understand the way through which you will prepare for the exam and then help to pass that with the flying colors. Knowing about the exam objectives is very important step as this bridges the gap between where you are and where you want to go.
Refer – Certified Predictive Analytics Professional Brochure
Step 2 – Reference Books
Make sure that the books you select have all the necessary concepts that will be asked in the exam. You can refer to as many books as you want and can get them from bookstores or libraries. Books are the most valuable and reliable source for collecting information relating to the theoretical concepts of the syllabus. Also, the book should offer maximum practice exercises that will help to understand better and learn the things for a long time. Some books that you can refer to are –
Understanding The Predictive Analytics Lifecycle by Ralph Winters
Practical Predictive Analytics by Ralph Winters by Alberto Cordoba
Step 3 – Refer E-Learning and Study Materials
Learning for the exam can be fun if you have the right set of resources matching your way of studying. Vskills offers you its E-Learning Study Material to supplement your learning experience and exam preparation. This online learning material is available for a lifetime and is updated regularly. You can also get the hardcopy for this material, so, you can prefer either way in which you are comfortable.
Refer – Certified Predictive Analytics Professional Sample Chapter
Step 4 – Evaluate yourself with Practice Tests
Practices make a man perfect. You can also find the problems you are facing in your strategy. We all are quite well versed with this saying and also with the truth in this. Practice papers and test series help you in identifying the loopholes in the preparation. Practising as much as you can help in identifying various parts of the syllabus that need more attention and that are fully prepared. This is the best way to know your level of preparation. Start practising now!