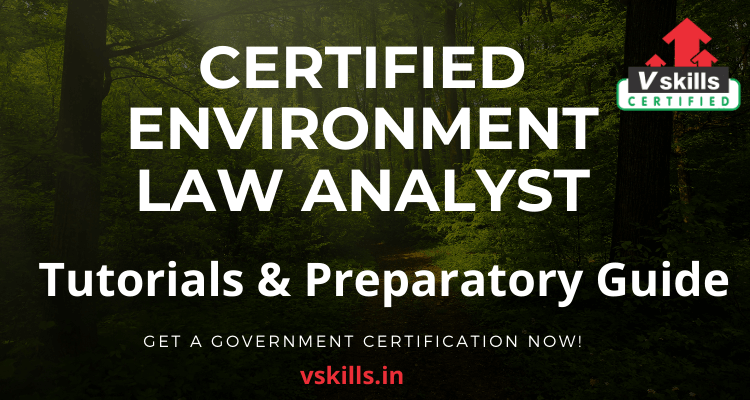 The demand for Certified Environment Law Analyst is accelerating given the increased public awareness and interest. Organisations are on a lookout for certified professionals to help them comply to the environmental laws. Also, due to implementation of new, complex laws and regulations the need for Certified Environment Law Analyst is high. This certification helps you elevate your career by validating your knowledge and expertise.
Role and Responsibilities of a Environment Law Analyst
A Certified Environment Law Analyst determines the environmental impact of their companies policies and practices. They have to ensure regulatory compliance with the environmental laws. Also, they are responsible for:
Firstly, collecting and interpreting data and analysing the impact
Then, using scientific principles to minimise the negative influence and creating solutions
Also, develop alternative solutions to environmental hazards
Moreover, recommending policy creators about the solutions and impact
Vskills Certified Environment Law Analyst : Exam Overview
Vskills Certified Environment Law Analyst certification assess the candidates as per company's need for compliance to environmental laws and assistance in environmental cases. This certification tests the candidates in various areas including industrial pollution, hazardous substances law, legislative measures, enforcement machinery, pollution control boards, national environment tribunal, Indian judiciary, corporate environmental liability and statutory relief .
Who should take this certification?
This certification is designed for professionals who aspire to work in companies specializing in environment protection & legal related services. It is also intended for candidates who are already working in this field and want to validate their skills and expertise.
Why become a Vskills Certified Environment Law Analyst?
A Vskills Certified Environment Law Analyst is a much valued credential makes your academic records shine. It helps you broaden your employment opportunities and helps you grab higher paying jobs. Also, various public and private companies hire these analyst for their legal department. The major recruiters of Vskills Certified Environment Law Analysts are MNCs like Yamaha Motors, Samsung, KPMG, PwC, E&Y. Moreover, earning a Vskills Certification guarantees the following:
Firstly, a Government verification tag
Also, this certification will have lifetime validity.
Further, you will get Lifelong e-learning access.
Moreover, you get access to Free Practice Tests.
Additionally, You will get tagged as 'Vskills Certified' On Monsterindia.com and 'Vskills Certified' On Shine.com.
Exam Details
Exam Code: VS-1156
Duration: 60 minutes
No. of questions: 50
Maximum marks: 50
Passing marks: 25 (50%).
There is NO negative marking
This is an Online exam
Exam Process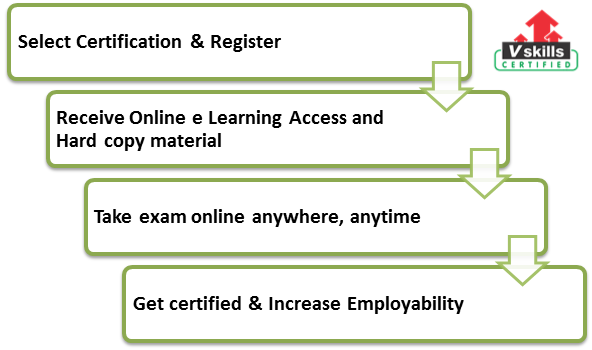 Course Outline: Certified Environment Law Analyst
This exam covers the following topics:
Introduction
Environmental Crisis
Environmental Imperatives
Constitutional Response to International Urge
Industrial Pollution
Magnitude of the Problem
Hazardous Industries and Environmental Pollution
Industrial Pollution and Health Hazards
Legal Control of Hazardous Substances and Process
Proliferation of Chemicals
Law Relating to Hazardous Substances
Legal Control of Hazardous Processes
Rules on Hazardous Substances
Law Relating to Water Pollution
Water Pollution
Civil Law Actions
Legislative Measures
The Water (Prevention and Control of Pollution) Act,
Industrial Air Pollution and Law
Industrialization and Air Pollution
Civil Law Actions
Statutory Provisions
Enforcement Machinery
Administrative Efforts to Combat the Hazards of Pollution
Central Pollution Control Board
State Pollution Control Boards
Supreme Court Decisions and the Directions
Pollution Control in Highly Polluting Industries
Coordination Activities of Pollution Control Boards
Penal Provisions and Effectiveness of Enforcement Machinery
Financial Constraints and Assistance
The National Environment Tribunal
Environmental Issues and Judicial Trend
Environmental Pollution and Courts' Concern
Public Nuisance Environmental Hazards
Right to Wholesome Environment and Ecological Balance
Right to Carry on Trade vis-a-vis Duty to Protect Environment
Right to Information about Hazardous Installations
Public Access to Environmental Justice
Doctrine of Mass Justice and Emergence of Public Interest Litigation
Public Interest Litigation and Access to Environmental Justice
Role of Indian Judiciary
Environmental Concerns of the Indian High Courts
Basis for Entertaining the Environmental Petitions
Liberalized Standing Rules vis-a-vis Restraints on Public Interest Petitions
Conclusion
Corporate Environmental Liability
Tortuous Liability for Pollution Accidents
Pollution Accidents and Victim
Rules of Strict and Victims
Rules of Strict and Absolute Liability
Responsibility of Executives
Quantification of Compensation
Bhopal Settlement
Bhopal Act
Statutory Relief for Pollution Victims
Public Liability Insurance Act
Liability of the Owner
Settlement of Claims
Environment Relief Fund
Limitation and Scale of Relief
Regulatory and Penal Provisions
Advisory Committee
Preparatory Guide for Certified Environment Law Analyst
Now that we have all the details in hand lets move further and gather all expert resources to begin our preparation. This preparatory guide is designed to set you on the right track. Follow the guide to kick start your preparations and achieve this much valued credential.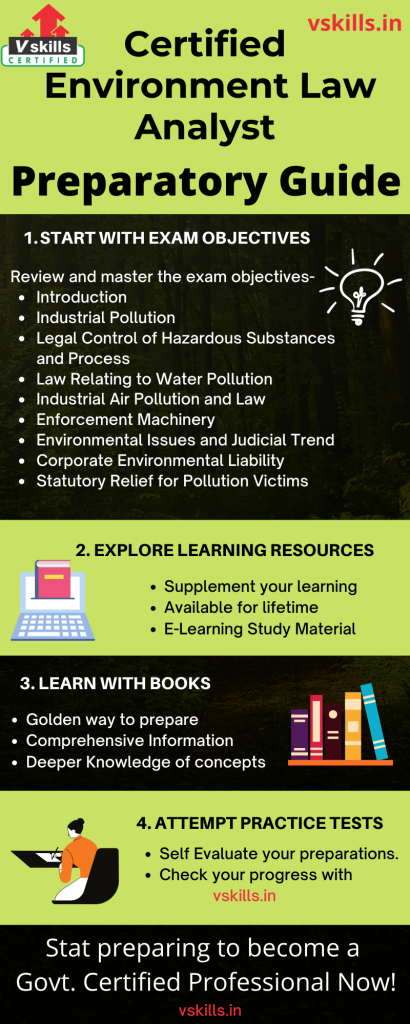 Start with the Exam Objectives
You should always start your preparations by analysing the exam objectives. Course Outline is the most crucial part of the examination. It covers descriptive details about the exam objectives This is to help candidates prepare for the exam by identifying specific content within each topic that may be tested. This certification exam includes the following topics:
Introduction
Industrial Pollution
Legal Control of Hazardous Substances and Process
Law Relating to Water Pollution
Industrial Air Pollution and Law
Enforcement Machinery
Environmental Issues and Judicial Trend
Corporate Environmental Liability
Statutory Relief for Pollution Victims
Explore the right learning resources
You should be very careful while choosing the resources as they will determine actually how well you will pass the exam. There are numerous resources that can be used for preparation. Making a wise choice is often difficult. Vskills offers you its own E-Learning and Study material to assist your preparations Moreover, it offers lifetime access to these resources. Also, they are constantly updated to provide you with the latest exam updates. Vskills also offers candidates their hard copy material that will help them in improving skills and enriching their knowledge.
Refer: Vskills Certified Environmental Lawa Sample Chapter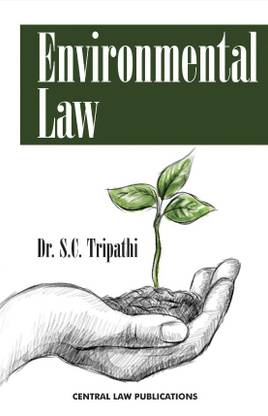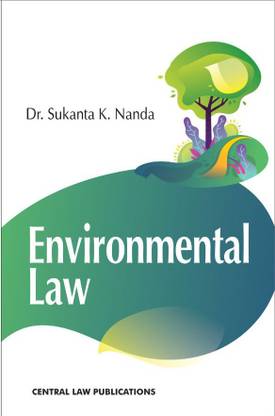 Books your Ultimate Rescue
Books have been the go-to resource while preparing for exams. Books offer comprehensive information about the exam. Also, they provide detailed explanation of the exam concepts. Moreover, you can find real-time examples of the different concepts covered in this exam. You should refer the right books to gain in depth knowledge about the exam concepts. Therefore, select relevant and credible books by expert authors for your exam preparations. Here are some books that you should include in your preparation journey:
Environmental Law by Sukanta K. Nanda
Environmental Law in India by P. Leelakrishnan
Environmental Law by SC Tripathi
Self-Evaluate with Practice Tests
Your practice is an important determiner of how well you pass the exam. Also, Take as many practice tests and test series as you can. They will help you in determining the level of your preparation, identify your loopholes and identify the weak portions you need to work more upon. The more often you sit for a practice test, the more natural it will feel the day of the actual test. . Moreover, attempting multiple practice tests will boost your confidence. Try outperforming yourself with each subsequent test. Get Ready to Self Evaluate your preparations with Practice Tests!

Job Interview Questions
Prepare for your next job interview with our latest expert created online interview questions, the questions are designed to enhance your skills and make you job ready.

Enhance your skills and knowledge and become Certified Environment Law Analyst. Start Preparing Now!