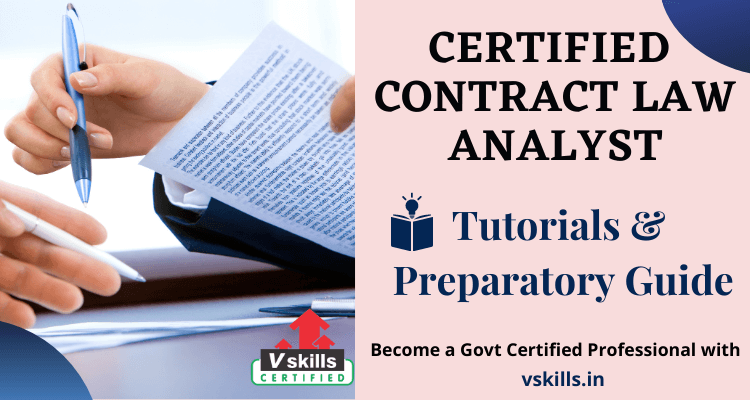 Want to become a Certified Contract Law Analyst? Do you aspire to have a career in the legal field? Then you are at the right place. All companies around the world enter into various contracts with their employees, clients or other businesses. To prevent contractual disputes companies hire Certified Contract Law Analyst. They look over the contract and ensure agreements are in the company's best interest. This certification will help you bridge the gap for your dream job. Also, it provides you recognition and competitive advantage.
Roles and Responsibilities of a Contract Law Analyst
The key role of a Certified Contract Law Analyst in an organisation is to avoid contractual disputes. They must have extensive knowledge of contact law. They have the following responsibilities:
Reviewing contracts to prevent potential disputes
Then, analysing contract clauses, stipulations, obligations, and liabilities.
Also, reviewing contract terms and conditions.
Further, recommending and drafting contract provisions and amendments.
Moreover, negotiating contract terms, payment structures, and reimbursement with other parties.
Additionally, ensuring that contract terms comply with legal requirements and policies.
Finally, advising internal departments on innovative and cost-effective ways to comply with contractual obligations.
Contract Law Career Path
Contract law specialize in drafting agreements between two parties, whether to settle a dispute or to set up a commercial transaction. Completing a juris doctor degree and passing the state bar exam are two criteria for becoming a contract lawyer. Let us know about Contract Law Career Path!
Vskills Certified Contract Law Analyst Overview
Vskills Certified Contract Law Analyst exam assesses the candidates as per industries need for managing contract related matters. It tests candidates on various areas in agreement formation, consideration, promissory estoppel, misrepresentation, fraud, coercion, undue influence, void contract, contingent contract, contract discharge, restitution, breach and damages.
Benefits of this certification
The certification exam for Contract Law Analyst helps you validate your knowledge and expertise. Moreover, this certification can open the door to increased visibility, better opportunities and new jobs in your industry. It differentiates you as a professional who is serious about applied learning, making you an asset to a prospective employer.
Vskills is India's largest certification provider and gives candidates access to top exams as well as offers after exam benefits. This includes:
This certification will have a Government verification tag.
Also, the Certification will have lifetime validity.
Further, you will get Lifelong e-learning access.
Moreover, you get access to Free Practice Tests.
Additionally, You will get tagged as 'Vskills Certified' On Monsterindia.com and 'Vskills Certified' On Shine.com.
Who should take this certification?
This exam is intended for professionals who aspire to work in law, finance or project management departments of various companies. Also, for candidates already working in this domain and are looking for better role. Major recruiters of Vskills Certified Contract Law Analyst include top MNC's and organizations like Adecco, Bosch, Godrej, Tata Group, KPMG, PwC, CPA Global.
Exam Details: Certified Contract Law Analyst
Exam Code: VS-1158
Duration: 60 minutes
No. of questions: 50
Maximum marks: 50
Passing marks: 25 (50%).
There is NO negative marking
This is an Online exam
Exam Process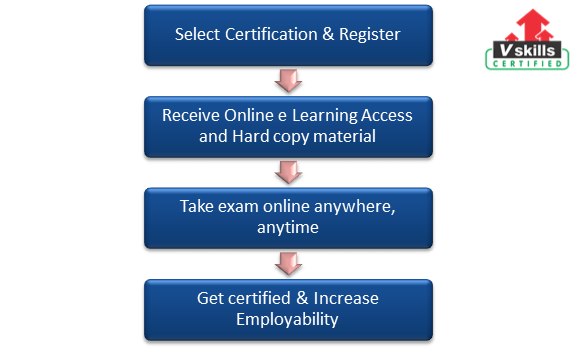 Course Outline: Certified Contract Law Analyst
This exam covers the following topics:
Introduction
Overview
Contract Definition
Contract Elements
Indian Contract Act
Contract Formation
Agreement
Classification of contracts
Offer and Acceptance
Valid Offer
Offer Lapse
Acceptance
Valid Acceptance
Communication of offer and acceptance
Revocation of Offer and Acceptance
Intention
Consideration
Essentials of Consideration
No consideration No Contract
Stranger
Contract Writing
Contract Contents
Capacity of Parties
Capacity to contract
Minor
Persons of unsound mind
Persons disqualified by other laws
Free Consent
Coercion
Undue Influence
Misrepresentation
Fraud
Mistake
Unconscionability
Contract Legality
Legality of object
Unlawful Consideration and Unlawful Object
Illegality
Common Law and Illegality
Wagering, Contingent, Quasi and Performance of Contracts
Wagering Agreement
Contingent contract
Quasi contracts
Performance of contract
Discharge
Introduction to Discharge
Discharge by performance
Discharge by mutual agreement
Discharge by breach
Discharge by operation of law
Discharge by lapse of time
Discharge by Impossibility of Performance
Exceptions to the Doctrine of supervening impossibility:
Breach of Contract and Remedies
Breach of Contract
Anticipatory Breach
Remedies
Damages
Equitable remedies
Specific Relief Act
Special Contracts
Contract of indemnity and guarantee
Contract of Guarantee
Rights of Surety
Contract of Bailment and Pledge
Lien
Finder of lost goods
Pledge or Pawn
Contract of agency
Duties and Rights of an Agent
Sale of Goods Act 1930
Sale and bailment
Conditions and warranties
Transfer of ownership in goods:
Sale by non owners
Unpaid Seller
Indian Contract Act, 1872
PREAMBLE
Chapter I Of the communication, acceptance and revocation of proposals
Chapter II Of contracts, violable contracts and void agreements
Chapter III Of contingent contracts
Chapter IV Of the performance of contracts – Contracts which must be performed
Chapter V Of certain relations resembling those created by contract
Chapter VI Of the consequences of breach of contract
Chapter VII Sale of goods
Chapter VIII Of indemnity and guarantee
Chapter IX Of bailment
Chapter X Agency, Appointment and authority of agents
Chapter XI Of partnership
International Contract Law
International Contract Basics
The Internationalisation of contract law
Contractual Disputes
UN – CISG
INCOTERMS 2010
UNCITRAL
Contract of Carriage of Goods
International Insurance
International Payment
World Trade Organization (WTO)
Regional Trade Blocs
Anti-Dumping and Countervailing
International Commercial Litigation
Preparatory Guide for Certified Contract Law Analyst
Preparing for an exam is the real task. Consistency and determination are the two most essential keys to unlock your certification. Access to the right tools and resources can help you prepare effectively. This preparatory guide is your information goldmine that will definitely kick start your progress.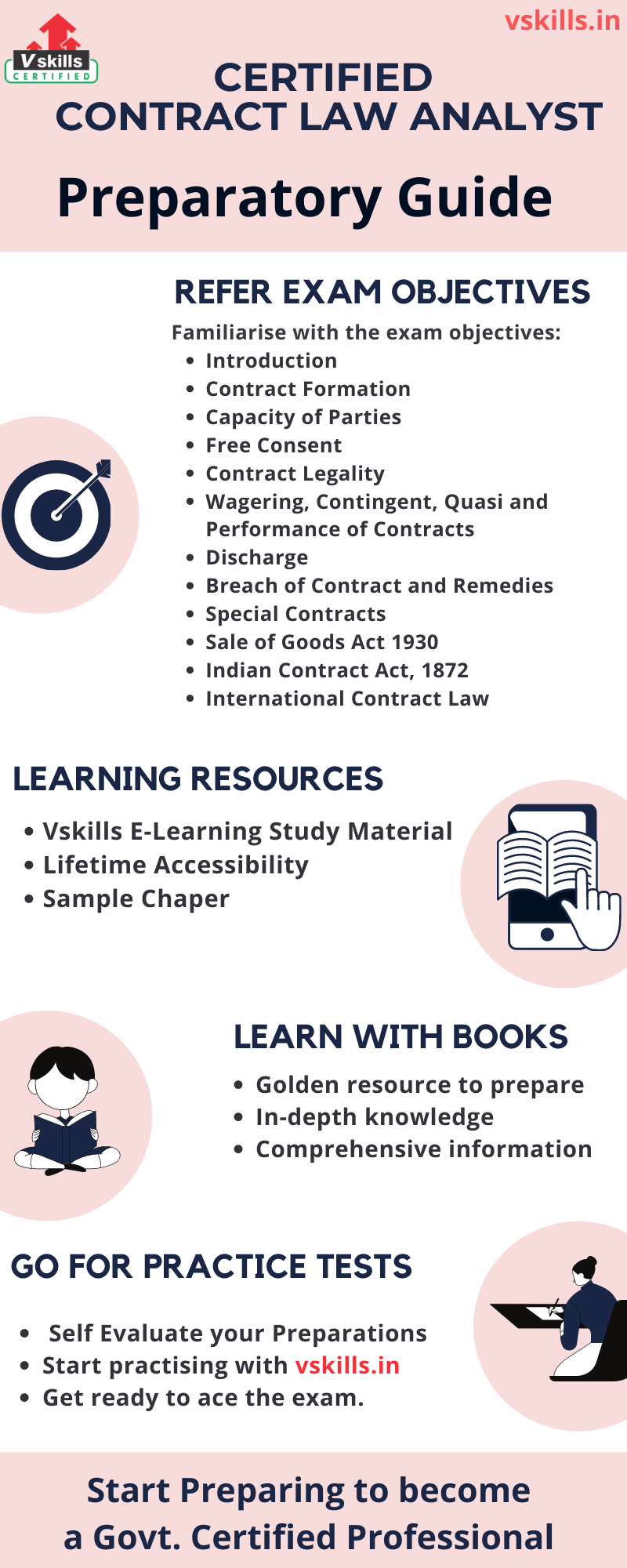 Step 1- Deeply Analyse the Exam Objectives
Before, venturing on any journey, one must have a clear idea of what he/she is putting themselves into. With that being said, reviewing each and every exam objective becomes the most important part of your preparation. A thorough analysis will let you align yourself more deeply with the chief objectives if the exam. This exam covers the following topics:
Introduction
Contract Formation
Capacity of Parties
Free Consent
Contract Legality
Wagering, Contingent, Quasi and Performance of Contracts
Discharge
Breach of Contract and Remedies
Special Contracts
Sale of Goods Act 1930
Indian Contract Act, 1872
International Contract Law
Step 2- Refer the Learning Resources
You can find numerous resources around you which can be used for preparation. But, clearing this certification exam is only possible with the right set of resources. So, you should be very careful while choosing the resources as they will determine how well you pass the exam. Vskills offers you its own E-Learning and Study Material to assist your exam preparations. these resource provide you latest insights about the exam as they are constantly updated. Moreover these resources are designed to supplement your learning experience.
Refer: Certified Contract Law Analyst Sample Chapter
Step 3- Learn with Books
Preparation for any exam without books seems unreasonable and unproductive at the same time. So, you should also search for relevant and credible books by expert authors for your exam preparation. As a result, you can strengthen your knowledge about the application of different concepts:
Contract Law by Pathak Akhileshwar
Contracts: The Essential Business Desk Reference
The Law of Contracts and the Uniform Commercial Code
Contract Law for Legal Professionals
Also, Examples & Explanations for Contracts
Step 4- Check your progress with practice tests
Mistakes are inevitable, but surely, they can be limited. When it comes to exams, practice papers help a lot in limiting the mistakes. Moreover, training the brain is very essential. Practice papers give that simulation in which the brain needs to get used to the actual exam. Other than knowledge, there are many factors that can affect your performance in the exam. Also, these include confidence, speed, understanding the marking scheme, physical and mental alertness and concentration, and more. Thus, going through practice tests helps you find your strengths and iron out your weaknesses. They make you understand the areas you're lacking behind and work upon them. Most importantly, make sure that you are going through practice tests once you have gone through the whole syllabus. Get Ready to Self Evaluate your preparations with Practice Tests!

Job Interview Questions
Prepare for your next job interview with our latest expert created online interview questions, the questions are designed to enhance your skills and make you job ready.

Upgrade your knowledge and enhance your skills with Certified Contract Law Analyst exam. Start your preparation Now!