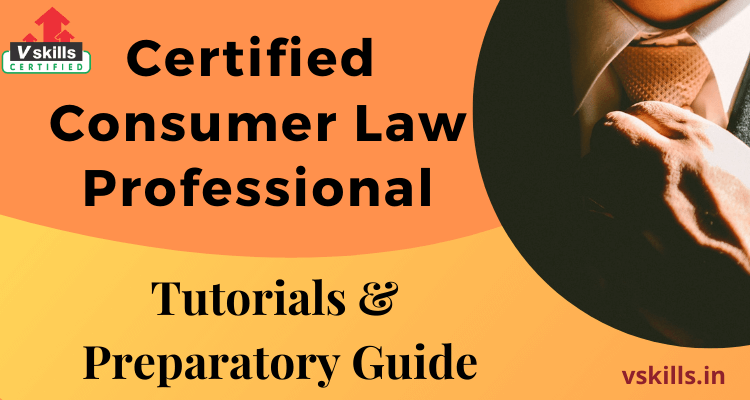 Consumer Law provides protection to the consumer from any kind of exploitations like fraud when they purchase a product or service. Consumer Protection laws are a form of government regulation which aim to protect the rights of consumers. Consumer Law Professionals. Certified Consumer Law Professionals play a key role in managing the consumer law related matters of a company. This certification will proves your professional commitment and validates your expertise.
Roles and Responsibilities
The role of a consumer law professional in an organisation is wide ranging and they deal with various issues. They advise on consumer credit which includes drafting credit agreements, acting in court proceedings and representations at hearings. Moreover, they provide advice concerning consumer contracts to see that organisation comply with the relevant Acts with regards to standard terms and conditions. Additionally, they are responsible for dealing with designers, manufacturers, importers, retailers and consumers regarding product safety and liability. Diligence and high attention to work is required when working as a consumer law professional. High intellectual ability to absorb a wealth of information is preferred by employers while recruiting these professionals.
Vskills Certified Consumer Law Professional Overview
Vskills Certification for Consumer Law Professional assess your competence as per company's need for managing consumer law related matters. The certification tests you on various areas in consumer acts, consumer protection councils, consumer disputes redressal agencies, state commission¸ national commission and miscellaneous matters.
Why become a Vskills Certified Consumer Law Professional?
Certified Consumer Law Professionals are in great demand. Companies specializing in law or consumer affairs constantly hire skilled Consumer Law Professionals. Various public and private companies also need Consumer Law Professionals for their legal or consumer affairs departments. Earning a Vskills Certified Consumer Law Professional certification will help you differentiate yourself in today's highly competitive job market. It will help you broaden your employment opportunities by displaying your advanced skills and grab higher paying jobs. Additionally, earning a Vskills Certification comes with various benefits like:
Firstly, the certifications will have a Government verification tag.
Then, this Certification is valid for life.
Also, Lifelong e-learning access.
Moreover, Access to Free Practice Tests.
Eventually, you will get tagged as 'Vskills Certified' On Monsterindia.com and 'Vskills Certified' On Shine.com.
Who should take this certification?
This certification is intended for job seekers who are looking for employment in the legal and consumer affairs department of various companies. Also, for professionals and graduates who wish to excel in their chosen domains. It is well suited for those who are already working in this field and want to expand their knowledge horizon. Vskills Certified Consumer Law Candidates find employment in Top MNC's and organizations like KPMG, PwC, Deloitte, Accenture, DLF.
Exam Details
Duration: 60 minutes
No. of questions: 50
Maximum marks: 50
Passing marks: 25 (50%).
There is NO negative marking
This is an Online exam.
Career in Consumer Law
Consumer law refers to a set of laws that protect the general public against deceptive and exploitative commercial activities. Consumer protection laws safeguard the public against unethical corporate practices. Let us know about Career in Consumer Law!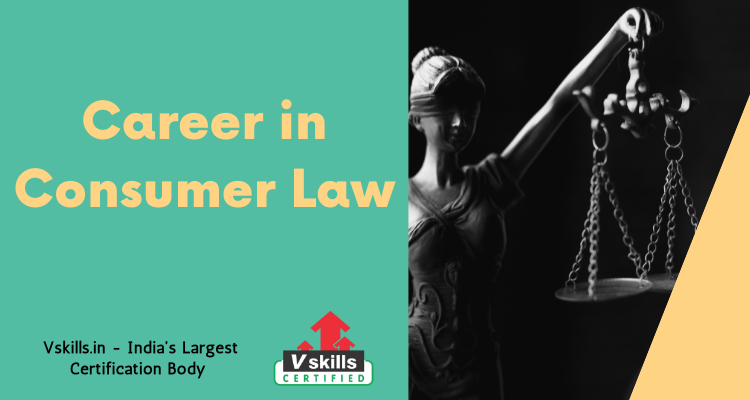 Exam Process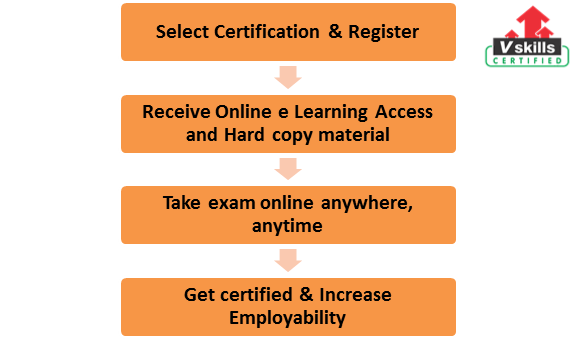 Course Outline : Certified Consumer Law Professional
This exam covers the followng topics:
Consumer Acts
Consumer Protection in Sale of Goods
Objects and Reasons for Enactment of Consumer Protection Act, 1986
Statement of Objects and Reasons
Amendments to the Consumer Protection Act,1986
Constitutional Validity of Consumer Protection Act, 1986
Applicability of the Consumer Protection Act, 1986
Meanings of Different Words and Expressions used in the Act, section 2
Consumer Protection Act, not in Derogation of Other Law (Section 3) No bar to establish parallel forum
Consumer Protection Councils
Central Consumer Protection Council
Objects of Central Council
State Consumer Protection Councils
Objects of State Council
District Consumer Protection Council
Objects of District Council
Consumer Disputes Redressal Agencies
District Forum
Establishment of District Forum
Composition of District Forum
Transfer and Removal of President/Members of District Forum
Constitution of Consumer Forum
District Forum
Jurisdiction of District Forum
Manner of Marking Complaint (Section 12)
Procedure on Admission of Complaint (Section 13)
Finding of District Forum (Section 14)
Appeal (Section 15)
State Commission
Composition of State Commission (Section 16)
Jurisdiction of State Commission (Section 17)\
Transfer of Cases (Section 17 A)
Circuit Benches (Section 17 B)
Procedure Applicable to State Commission (Section 18)
Appeals (Section 19)
Hearing of Appeal (Section 19A)
National Commission
Composition of National Forum (Section 20)
Jurisdiction of National Commission (Section 21)
Power and Procedure of National Commission (Section 22)
Power to set-aside Ex President Order (Section 22A)
Power to Transfer Cases (Section 22B)
Circuit, Benches (Section 22 C)
Vacancy in the Office of President (Section 22D)
Appeal (Section 23)
Finality of Orders (Section 24)
Limitation Period (Section 24A)
Administrative Control (Section 24B)
Enforcement of Order of District Forum, State Commission or National Commission (Section 25)
Dismissal of Frivolous or Vexatious Complaints (Section 26)
Penalties (Section 27)
Appeal against Order Passed under section 27 (Section 27A)
Miscellaneous Matters
Action was taken in Good Faith (Section 28)
Service of Notice (Section 28A)
Power of Central Government to Remove Difficulties (Section 29)
Vacancies or Defects in Appointment not to Invalidate Order (Section 29A)
Power to make Rules (Section 30)
Power of National Commission to make Regulations (Section30A)
Rules and Regulations to be Laid before Each House of Parliament (Section31)
Specimen Forms of Complaints, Appeals and Revision before consumer Redressal Fora
Defenses to Consumer Complaints and Appeals
General defense
Specific defenses
Preparatory Guide: Certified Consumer Law Professional
It important to kick start your preparations and have the knowledge of all preparatory resources. Don't worry, we have done the tedious task of summarising the preparatory resources and here provide you with our study guide. Therefore, follow the step by step guide to excel in this exam.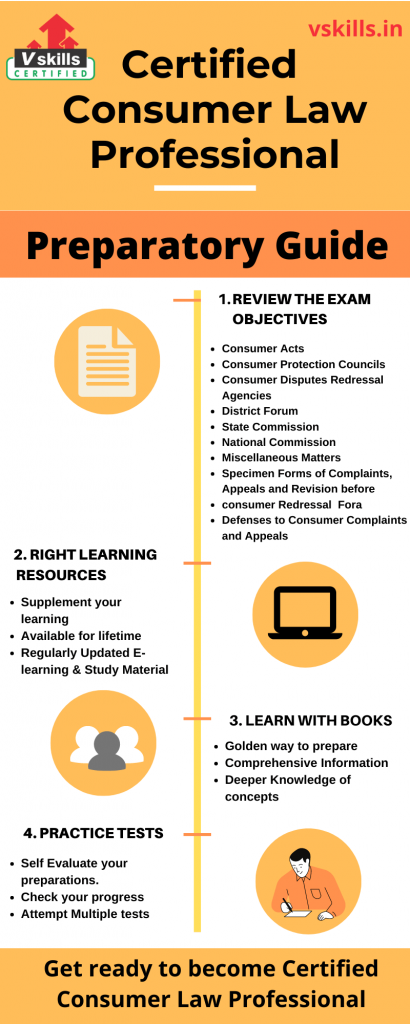 Step 1- Review the exam objectives
Firstly, start off with the exam objectives. Refer the Course Outline as it is the most crucial part of the exam. This will unquestionably put you on the right track. Familiarising with the exam objectives will provide you utmost clarity and help you devise your study plan. The exam objectives are:
Consumer Acts
Consumer Protection Councils
Consumer Disputes Redressal Agencies
District Forum
State Commission
National Commission
Miscellaneous Matters
Specimen Forms of Complaints, Appeals and Revision before consumer Redressal Fora
Defenses to Consumer Complaints and Appeals
Step 2- Explore Learning Resources
Learning Resources determine how well you pass the exam. Therefore choosing the right and authentic ones is very important. Given the wide variety of resources available in the marketplace it is difficult to make a wise choice. Therefore Vskills offers its own Learning resources to help you prepare for this exam. Vskills provides Lifetime access to its E-learning and Study Material. Moreover, these resources are constantly updated to provide you latest insights about the exam. They are designed to supplement your learning experience and exam preparations.
Step 3- Books to your rescue
Books are the go-to resource while preparing for any exam. They provide detailed explanation of the exam concepts. Moreover books cover various examples that help you relate the exam topics with real life business scenarios. All in all they provide you with comprehensive information to gain utmost clarity about the exam. We suggest you to include the following books in your preparation journey:
To begin with, The Law of Consumer Protection by Justice D P Wadhwa & N L Rajah
Then, Consumer Protection Law & Practice
Also, Consumer Protection Act by R.K. Bangia
Additionally, Consumer Protection Law by Dr. S.R. Myneni
Step 4- Attempt Practice Tests
Reviewing your preparations is an important step in your journey towards the exam. Through mock tests you can gain the real time experience of the exam. They make you understand the areas you're lacking behind and work upon them. Most importantly, make sure that you are going through practice tests once you have gone through the whole syllabus. It will help you in your evaluating your performance as well as building your confidence. Ready to check your preparations, try free practice test now!

Job Interview Questions
Prepare for your next job interview with our latest expert created online interview questions, the questions are designed to enhance your skills and make you job ready.
Boost your learning to become a Certified Consumer Law Professional. Start your preparations Now!