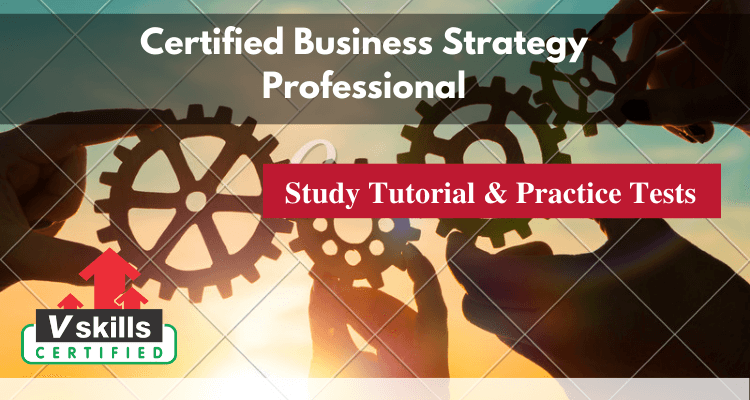 For business professionals like executives and business leaders, strategic information is mandatory for them. To direct a firm in the right direction, strategic management skills are a necessary skill that has to be learned by a business leader. The Vskills Certified Business Strategy Professional course will inculcate skills in strategic decision making, innovation management, change management, business ethics, corporate governance, and corporate social responsibility and sustainability which is essential knowledge for a Business strategy professional.
Why become a Business Strategy Professional?
The Business Strategy Professional course is designed with an aim to develop and manage team management skills for becoming a capable and effective leader of the organization. The certification evaluates a candidate's leadership skills and helps to improve their knowledge regarding management.
Who should take this certification?
Employees who are team leaders, middle level managers and senior level managers this course is for such practitioners. The Business Strategy Professional certification will help you to get better positions in the firm and earn higher potentials.
Roles and Responsibilities of a Certified Business Strategy Professional
The whole point of attempting for a certification is to learn about the tasks that we have to undertake on a daily basis. Following are the duties of a Certified Business Strategy Professional.
They evaluate and choose strategies
They implement and control short-range and medium planning
They undertake from an industrial to a knowledge-based society
They make strategies according to the company's market position
They create different innovative ideas for their firm's product
They manage employees and give them tasks according to their ability
Benefits of taking Vskills Certification
Vskills being India's largest certification providers gives candidates access to top exams as well as provides after exam benefits. This includes:
The certifications will have a Government verification tag.
The Certification is valid for life.
Candidates will get lifelong e-learning access.
Access to free Practice Tests.
Candidates will get tagged as 'Vskills Certified' On Monsterindia.com and Shine.com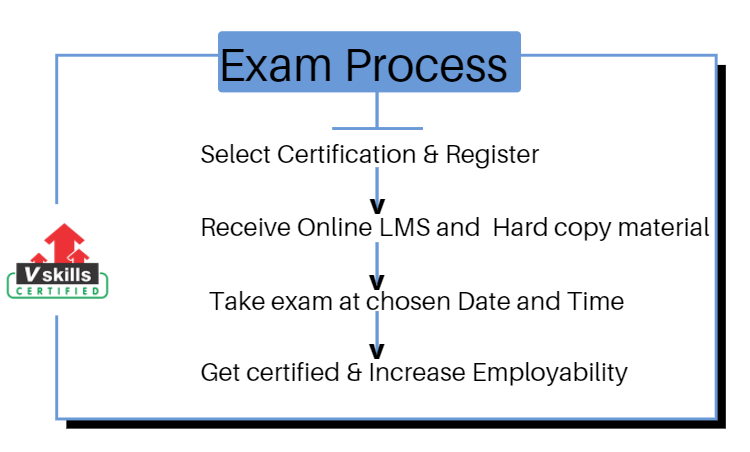 Exam Details
Exam Duration: 60 minutes
Vskills Exam Code: VS-1436
Number of questions: 50
Maximum marks: 50
Passing marks: 25 (50%)
Exam Mode: Online
There is NO negative marking in this module.
Course Details
Strategic Management
What is Strategy
Strategic Management Processes
Environmental Analysis
Pestle Analysis
SWOT Analysis
Value Chain Analysis
Competitor Analysis
Strategic Decision Making
What is Decision Making
Decision Making Process
Decision Making Strategies
What is Strategic Decision Making
Strategic Decision Making Models
Innovation Management
Pillars of Innovation
Crucial Questions for Innovation
Types of Innovation
What is a Business Innovation Culture
Building an Innovative Culture
Characteristics and Actions of an Innovation Leader
Change Management
Overview of Change Management
Recognizing Obstacles to Change
Introducing Change
Managing Change
Eight-Step Change Management Process
Strategies for Effective Implementation of Change
Leading Change
The CHANGE Model
Leading through Change
Business Ethics
History
Ethical Principles
Ethical Theories
Functional Business Areas
Value Integrity
Corporate Governance
What is Corporate Governance?
Principles Of Corporate Governance
Corporate Governance Models
Legal Environment – General
Sarbanes-Oxley Act of 2002
Codes and Guidelines
OECD Principles
Corporate Social Responsibility
CSR Approaches
Cost-Benefit Analysis (with RBV)
Social Accounting, Auditing and Reporting
Potential Business Benefits
Developing an Engagement Plan
Types of CSR Actions
Criticisms and Concerns
Public Policies
Crises and Their Consequences
Industries Considered Void of CSR
Sustainability
What is Sustainability
Pillars of Sustainability
Organizational Sustainability
Strategic Sustainability
Product Sustainability
Personnel Sustainability
Financial Sustainability
Preparation Guide for Certified Business Strategy Professional Exam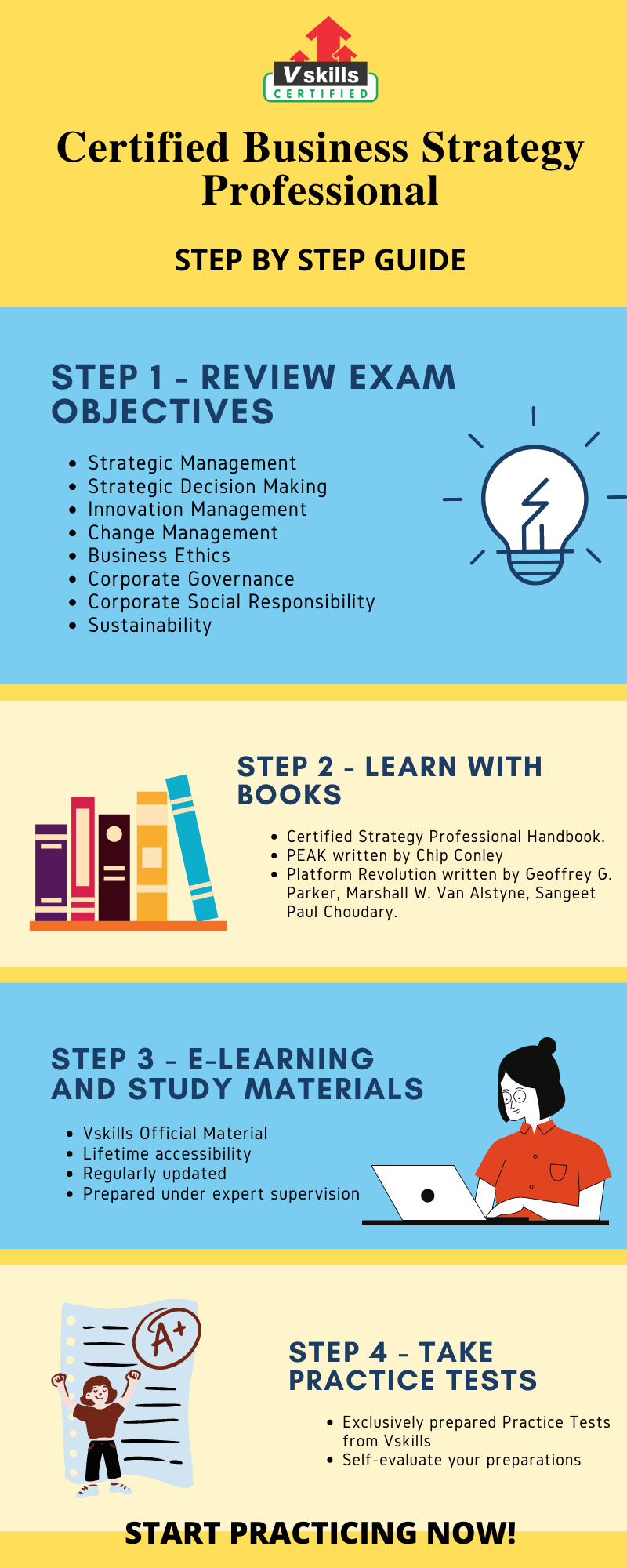 Step 1 – Review Exam Objectives
Exam objectives can be called as a competency levels, as they gives you an overview regarding the domains that you are about to learn in the particular course. Every expert will recommend you to go through the exam objectives before beginning the preparation for the exam as it sets an advantage for the candidate.
Strategic Management
Strategic Decision Making
Innovation Management
Change Management
Business Ethics
Corporate Governance
Corporate Social Responsibility
Sustainability
Refer: Certified Business Strategy Professional Brochure
Step 2 – Learning with Books
Books keep your mind active and help develop new ideas. It gives us endless knowledge and information about any content. Books help us to understand and determine concepts more clearly. It maintains your concentration and sharpens your mind. Therefore our next source is learning through books. Now let's take a look at the top 3 books for this certification.
Certified Strategy Professional Handbook. For various reasons, this book is highly recommended, but primarily the reason is that this book covers all the topics of management. There is a brief knowledge about how to apply logical and critical thinking during the management of the firm.
PEAK written by Chip Conley. One of the most popular books and known as well. Because of its brief insight on depth examples of real-world PEAK companies. This book also mentions how you can make your way to success for your firm through strategies and management.
Platform Revolution written by Geoffrey G. Parker, Marshall W. Van Alstyne, Sangeet Paul Choudary. This book is a pragmatic guide to the new economy and transformation of management. Book also highlights topics concerning security, regulation, and consumer trust, while assessing markets that may be ripe for a platform revolution, including healthcare, education, and energy.
Step 3 – E-learning and Study material
The E-learning platform is the next essential resource that you should know about. To explore and discover new methods of learning one must go for online learning during the preparation for the exam. E-learning is time efficient and suggests new ideas as per requirement. Vskills offers you its E-Learning Study Material and its hard copy as well, to supplement your learning experience and exam preparation. Moreover, this online learning material is available for a lifetime and is updated regularly.
Refer: Certified Business Strategy Professional Sample Chapter
Step 4 – Check your Progress with Practice Tests
Sample tests or mock tests' aim is to improve your performance. It is one of the best resources to self evaluate performance. As there is a massive availability of sample tests online, one can attempt multiple tests and assess their performance before the exam. The practice test will help you recognize your mistake and improve them, which is why you should never forget to attempt practice tests before the real exam. So build your confidence with free practice tests Now

Elevate your chances to grab brighter career opportunities, by becoming a Certified Business Strategy Professional. Start Practicing Now!