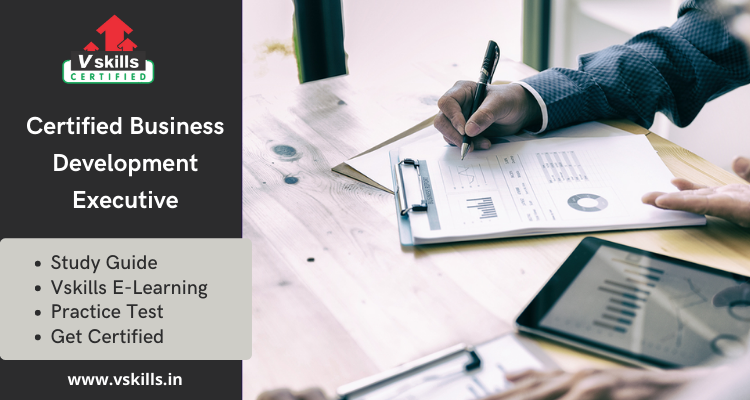 Business development executives are in huge demand across the industry due to their role in advancing the growth of the business. There is increased demand for the professionals, especially with the startups being the new industry taking shape. Vskills certifications can add a lot of benefit to your resume and can help you fetch a lot of fortune.
This kind of certifications are quite challenging as they help you in figuring the right direction for you. They help you stand out in the crowd as you will be professionally working in the domain you are most interested. But, nothing in the world comes for free. You have to put a lot of hard work along with right set of resources to ace the examination. Let us get into details of this certification.
Roles and Responsibilities
Business development executives are responsible for development of business and sales related activities in a business. Business development executives are in huge demand across the industry due to their role for advancing the growth of business.
Vskills Business Development Executive
The certification provides an assurance to employer on business development skills of the candidate. The certificate acts as a proof of knowledge in concepts, tools, techniques and processes of business development.
Intended Audience
The certification is immensely beneficial to students of sales or marketing domain. The certification is suitable for interns, entry level executives or experienced business development professionals with experience. Companies like Amadeus India, Intelenet Global, Amazon India, Myntra are known for hiring Business development executives offering good packages.
Benefits of Certification
Certification Process
Select Certification & Register
Receive a.) Online e Learning Access (LMS) b.) Hard copy – study material
Take exam online anywhere, anytime
Get certified & Increase Employability
Test Details
Duration: 60 minutes
No. of questions: 50
Maximum marks: 50, Passing marks: 25 (50%).
There is NO negative marking in this module.
Online exam.
Content Details
This exam revolves around these following objectives –
Business Development Basics
What is Business Development
Business Development and Other Departments
Skills for Business Development
Business Development Drivers
Business Development Process
Sales Basics
What is Sales
Sales Responsibilities
Sales Techniques
Sales Cycle
Types of Orientation
Markets Analysis
Factors influencing consumer behaviour
Major Psychological Processes
Buying Decision Process
Organisational Buying
Business Buying Decision Process
Procurement Process
Managing B2B Customer Relationships
Customer Handling
Understanding Customer Behaviour
Customers Expectations
Building Customer Relationship
Client Management
Making Sales Strategies
Lead Generation
Client Acquisition
Sales Proposal
Filing Tenders
Client Retention
Client Relationship Management
Developing Sales skills
Skills Development
Public Speaking
Personality Development
Self Grooming Tips
Positive Attitude
Positive Behaviour
Behaviour for Successful Sale Person
Listening Skills
Vocal Skills
Negotiation Skills
Negotiation Basics
Preparing for the Negotiation Process
The Seven Basic Steps in Negotiation
Best Alternative to a Negotiated Agreement (BATNA)
Tactics for Negotiation Process
Telephone Skills
Telephone Manners
Telephone Etiquettes
Managing Telephone Calls
Voice Mail Etiquettes
Stress Management Skills
Consequences of Stress
Reason/Causes of Stress
Signs of stress
Techniques of Stress Management
Time Management Skills
Time Management Techniques
Office Communications and Mailing Skills
Mailing Services
Addressing Envelopes
Effective Office Meetings
Office memos
Incoming Mail
Outgoing Mail
Fundamentals activities of mail handling department
Mail Automation
Managing Office Records
Filing and Record Keeping
Purpose of Record Management
Features of Effective Record Management
Information Types
Information Access
Type of Files
Procedure of Classification
Methods of Filing
Systems of Filing
Arranging Client Meetings
Types of Meetings
Type of Committees
Meeting Arrangement
Meeting Terminologies Glossary
Meeting Management
Meeting Room Arrangements
Planning and Scheduling Meeting
Meeting Minutes
Word Processing – MS-Word 2013
MS-Word Basics
Working With Documents
Customize the Word Environment
Editing a Document
Formatting Text
Formatting Paragraphs
Styles
Graphics
Proofing a Document
Page Formatting
Macros
Lists
References and Citations
Track Changes
Spreadsheet – MS-Excel 2013
Excel 2013 Basics
Workbook and Worksheet
Manipulating Data
Worksheet Formatting
Page Properties and Printing
Excel Formulas
Sort and Filter
Charts
Macros
Presentation Software – MS-PowerPoint 2013
MS-PowerPoint 2013 Basics
PowerPoint Presentation
Slide Formatting
Slide Effects and Slide Show
Printing and Publishing
Networking and Internet
Networking Concepts
Network types
Windows Networking terms
Sharing Local Printer
Connecting to a Network Printer
Internet
Web Browser
Uploading and download files
E-mail
Managing E-mail Accounts
Sending an E-mail from Outlook
Web based E-mail or Gmail
Digital Signature
Future Developments
Business Development and SEO
Social Media and Business Development
E-Commerce
Big Data
Internet of Things (IoT)
Automation and AI
Preparation Guide for Certified Business Development Executive
You should be very careful while choosing the resources as they will determine your actual progress and results. There are a lot of resources that can be used for preparation. But cracking the certification becomes difficult when the set of resources chosen is not apt. Let us have a look at some useful resources –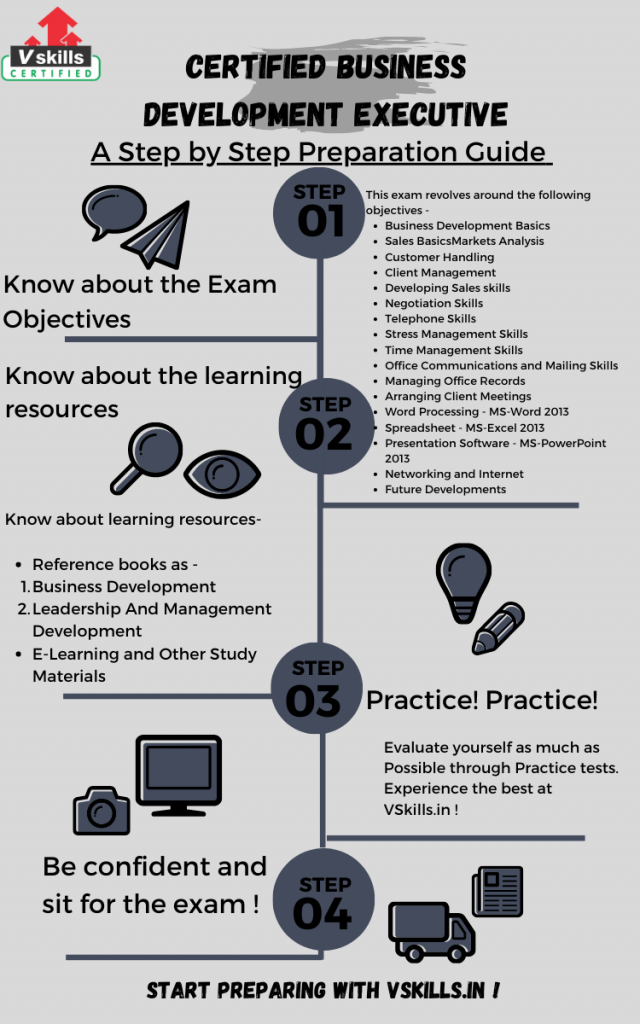 Step 1 – Review the Exam Objectives
The first and foremost thing before you start preparing is to get well versed with the objectives of the exam. Knowing in detail about the exam objectives will let you understand the way through which you will prepare for the exam and then help to pass that with the flying colors. Knowing about the exam objectives is very important step as this bridges the gap between where you are and where you want to go. The exam revolves around the following objectives –
Business Development Basics
Sales Basics
Markets Analysis
Customer Handling
Client Management
Developing Sales skills
Negotiation Skills
Telephone Skills
Stress Management Skills
Time Management Skills
Office Communications and Mailing Skills
Managing Office Records
Arranging Client Meetings
Word Processing – MS-Word 2013
Spreadsheet – MS-Excel 2013
Presentation Software – MS-PowerPoint 2013
Networking and Internet
Future Developments
Refer – Certified Business Development Executive Brochure
Step 2 – Reference Books
Make sure that the books you select has all the necessary concepts that will be asked in the exam. You can refer to as many books as you want and can get them from bookstores or libraries. Books are the most valuable and reliable source for collecting the information relating to the theoretical concepts of the syllabus. Also, the book should offer maximum practice exercises that will help to understand better and learn the things for a long time. Some books that you can refer are –
Business Development
Leadership And Management Development
Step 3 – Refer E-Learning and Study Materials
Learning for the exam can be fun if you have the right set of resources matching your way of studying. Vskills offers you its E-Learning Study Material to supplement your learning experience and exam preparation. This online learning material is available for a lifetime and is updated regularly. You can also get the hardcopy for this material, so, you can prefer either way in which you are comfortable.
Refer – Certified Business Development Executive Sample Chapter
Step 4 – Evaluate yourself with Practice Tests
Practices makes a man perfect. You can also find the problems you are facing in your strategy. We all are quite well versed with this saying and also with the truth in this. Practice papers and test series help you in identifying the loopholes in the preparation. Practicing as much as you can will help in identifying various parts of the syllabus that need more attention and that are fully prepared. This is the best way to know your level of preparation. Start practicing now!

Give a boost to your career by becoming the Certified Business Development Executive. Try a free practice test now!