Managing a team is the most challenging thing for a team leader, and this certification's aim is to instill the skills of how to manage a team. There is a huge demand in every firm for a Team Manager who is attaining all the skills in team management hence this certification can be a turning point in your career. The Vskills Certificate in Team Management builds the foundation of management skills like building influence, motivating the team members, conflict management, negotiation, and group decision making to manage and coordinate with a team.
Why take the Certificate in Team Management?
This certification enlightens upon the main characteristics of a team manager like how to improve and develop team management skills for becoming an effective team manager. This certification validates and identifies team management skills of the candidate under the evaluation process during this certification program.
Who should take this certificate?
Employees who are in the position of team leaders, middle level managers and senior managers who want to develop their skills for becoming an Effective and Skilful Team manager. This certification is highly recommended for such practitioners.
Roles and Responsibilities of a Team Manager
Our very first concern before taking up any job is what are the activities that a particular Professional has to do after the certification. Let's take a look at the duties of a Team manager.
To manage all the responsibilities and activities within a team.
To plan strategies and decide and how to approach a task and create a firm plan to make it a success.
To responsibly distribute information to team members and stakeholders.
To keep an eye on the tasks, employees, and documents
To give responsibilities to the employees according to their capabilities.
To determine their goals that the employees will work for.
Benefits of taking Vskills Certification
Vskills being India's largest certification providers gives candidates access to top exams as well as provides after exam benefits. This includes:
The certifications will have a Government verification tag.
The Certification is valid for life.
Candidates will get lifelong e-learning access.
Access to free Practice Tests.
Candidates will get tagged as 'Vskills Certified' On Monsterindia.com and Shine.com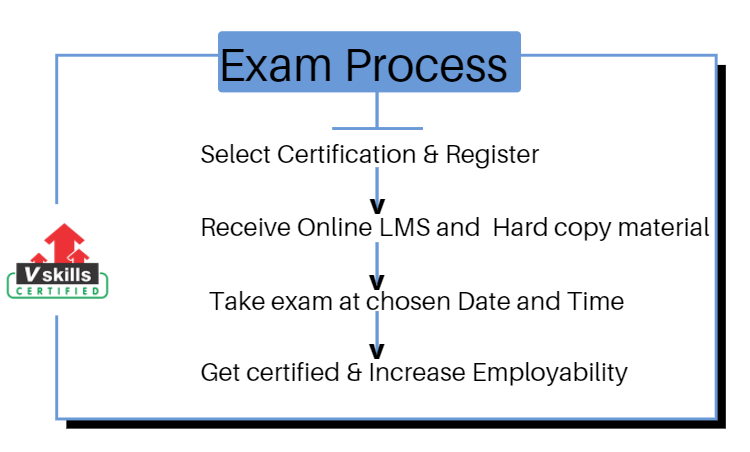 Exam Details
Exam Duration: 60 minutes
Vskills Exam Code: VS-1433
Number of questions: 50
Maximum marks: 50
Passing marks: 25 (50%)
Exam Mode: Online
There is NO negative marking in this module.
Course Details
Preparation Guide for Certificate in Team Management Exam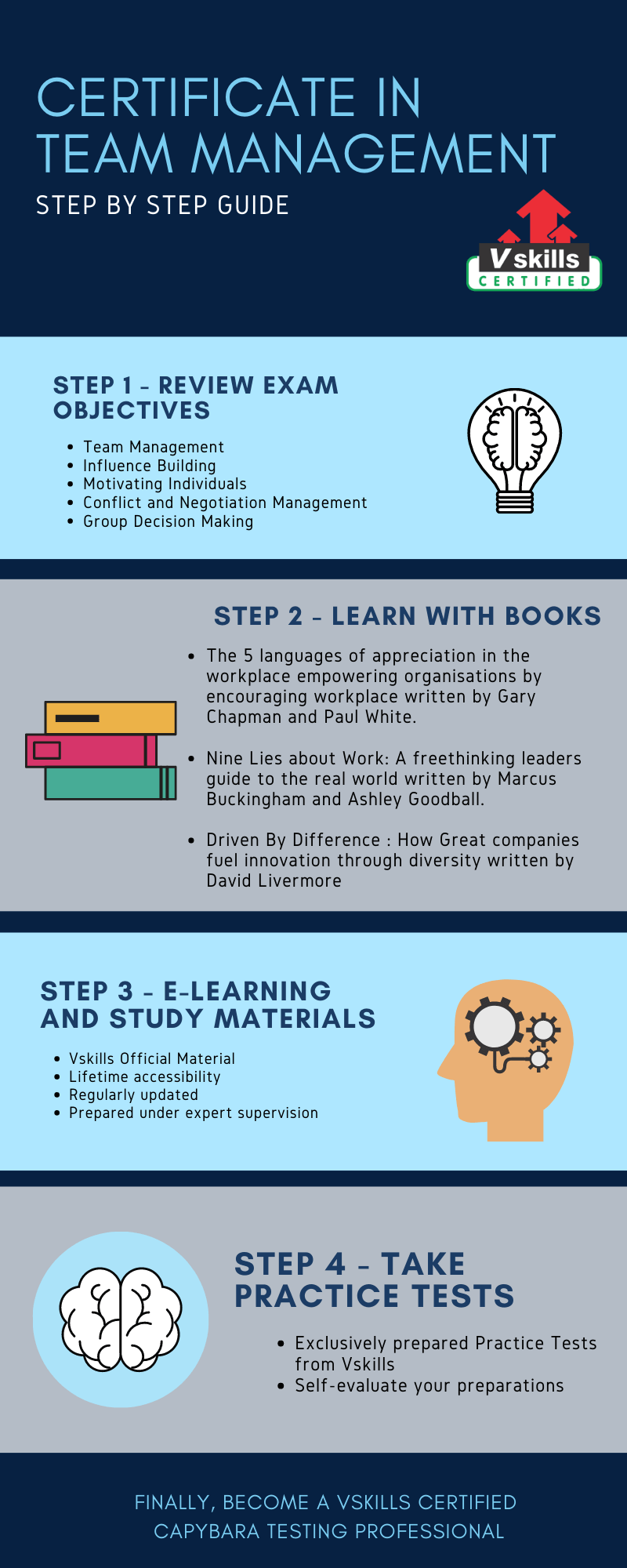 Step 1 – Review Exam Objectives
It is very essential to get an insight on the exam objectives. Every exam objective will show you what you are about to learn and what needs to be improved according to your weaknesses. Preparation gets a little easy after you know the syllabus which you are supposed to prepare and brings improvement in your performance.
Team Management
Influence Building
Motivating Individuals
Conflict and Negotiation Management
Group Decision Making
Refer: Certificate in Team Management Brochure
Step 2 – Learning with Books
Books develop a different understanding compared to any other resources. Referring to a book before examination makes us aware of the key Points that we must remember before examination. These are the top 3 books referred for this certification exam.
The 5 languages of appreciation in the workplace empowering organisations by encouraging workplace written by Gary Chapman and Paul White. This book will teach you how to improve your staff's morale, and how to create a positive work environment by effective communication.
Nine Lies about Work: A freethinking leaders guide to the real world written by Marcus Buckingham and Ashley Goodball. The book describes essential truths that freethinking leaders will recognize immediately. It will also teach you about how to recognise the strengths of your employees.
Driven By Difference : How Great companies fuel innovation through diversity written by David Livermore. This book explains how to effectively manage a team and how to minimise conflicts within the teams. Also this book shows the diversity that plays an important role within a team.
Step 3 – E-learning and Study material
Across the globe, E-learning is a preferable source of gaining knowledge. The human brain easily remembers and relates to the things that he/she has seen visually. Therefore there is so much demand for e-learning. E-learning holds the attention for a longer period of time, an individual does not get bored from visual learning soon hence this is an advantage and this benefit can be used for studying as well. Availability of study material has decreased the burden of making notes, it is very easily available on genuine websites and it is designed by professionals. Vskills offers you its E-Learning Study Material and its hard copy as well, to supplement your learning experience and exam preparation. Moreover, this online learning material is available for a lifetime and is updated regularly.
Refer: Certificate in Team Management Sample Chapter
Step 4 – Check your Progress with Practice Tests
If you want to discover your weak areas and evaluate yourself, your best option is a practice test. Practice tests assess your performance after your preparation before exams and update you about the weak areas and the areas that you have already mastered and don't need effort now. This is an effective method of bettering yourself before the examination. Therefore before this certification exam, attempt multiple practice tests to improve your performance and attain your desired goal.

Make your resume shine by showcasing your talents and intelligence with Vskills Certificate in Team Management. Start Practicing Now