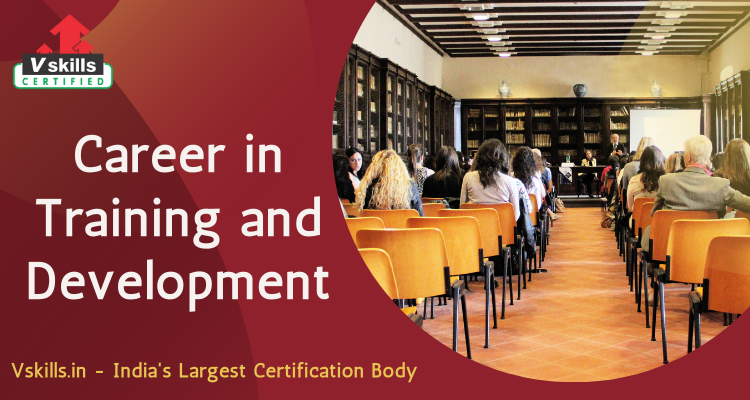 Organizations have teams committed to finding and resolving issues of employee ability gaps. There are members of the human resource club who concentrate on talent management – aligning the organization's needs with the talent that makes up the workforce. This group has been designated as Learning and Development. A bachelor's degree is required for training and development specialists. There are many career advancement options in this field.
Let us investigate the career prospects in Training and Development!
What is training and development?
Employee training and growth refers to educational programs within an organization that are designed to improve employees' knowledge and abilities while also offering information and advice about how to execute particular tasks more effectively. Training is a reactive, short-term method for operatives and process, while production is a proactive, continuous process for executives. Employees' goals in training and growth are to develop additional abilities and a complete personality.
In Training and Growth, there are two general career paths:
Individual contributor route is for people who have a lot of knowledge in a specific field but don't want to be in charge.
This management path is designed for people who want to work in management.
What are the responsibilities of Training and Development Specialists?
The following is a standard list of what training and development professionals do:
Surveys, staff interviews, or meetings with supervisors or teachers may all be used to determine training needs.
Build instructional materials such as manuals, online learning modules, and course materials.
Examine and choose suitable training materials from a range of sources.
Employ a range of educational methods to provide training to workers.
Assist with training program evaluations.
Perform administrative tasks such as cost tracking, class scheduling, system and equipment setup, and registration coordination.
Training and development professionals assist companies and associations in developing, administering, and delivering training programs. To do so, they must first determine an organization's needs, after which they must create personalized training programs that take place in classrooms or training facilities. Computers, tablets, and other hand-held devices are constantly being used to provide training programs.
Lectures, group presentations, team drills, hands-on examples, and other formats are used by training and development experts to coordinate or provide training sessions. A film, self-guided instructional manual, or online application may all be used to provide training. Training can be done in a group setting, which allows for more flexibility.
Career options for Training and Development Specialists
This field is an omnipresent field, which means that you can see its applicability in almost every sector. You can fit into every domain, you just need to have the required skills. Some of the fields you can get into are –
Career and educational training specialists – Teachers in career and technical education teach students about a variety of technical and vocational topics, including auto repair, healthcare, and culinary arts. They teach academic and technical content to equip students with the skills and knowledge they'll need to succeed in their chosen field.
Compensation and benefits planners – Compensation and benefits plans are managed by compensation, benefits, and work analysis experts. They even look at job descriptions and figure out things like classification and pay.
Human Resources Managers – Human resources managers are in charge of planning, directing, and coordinating an organization's administrative functions. They are in charge of sourcing, interviewing, and hiring new hires, as well as consulting with top executives on strategic strategy and acting as a link between management and employees.
Human Resources Specialists – Human resources professionals are in charge of hiring, screening, interviewing, and placing employees. Other human resources tasks, such as labor relations, salaries and benefits, and training, are often delegated to them.
Instructional coordinators – Curriculum and teaching requirements are overseen by instructional coordinators. They create instructional materials, work with teachers and principals to incorporate them, and evaluate their effectiveness.
Some other job roles are –
Training specialists
Job training specialists
Skills training specialists
Workforce development specialists
How Can you start your career in Training and Development?
To be acceptable at something, it is critical to have a good start with appropriate assets and learning material. As a result, your first steps toward learning must be appropriate in order for you to be a pro in this field. Let's take a look at some steps you can take to start your learning process –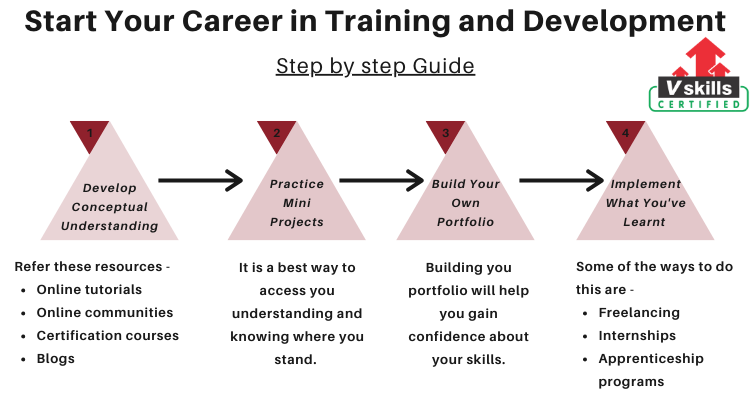 Step 1 – Learn about the basics and Develop Conceptual understanding
Before being an expert in any area, it is important to have a strong base. You must have sufficient applied knowledge even before you get your hands on the practical labs. It is necessary for everyone to begin somewhere. You must begin small if you want to have a good career in this area. You can get full information and a complete conceptual understanding by using the tools mentioned below –
Firstly, Online Tutorials for Training and Development
Also, Certification Courses from verified sources such as Vskills, Coursera, Udemy and so on.
In addition, Online communities
Moreover, Blogs and study material from experts in this field and many more.
Vskills also provide Online tutorials, certification courses and free practice tests for the same. You can check them out on our official site.
Step 2 – Practice different Projects
You must practice if you want to be good. It's also the most effective way to access one's understanding and know where you're headed in terms of putting what you've learned into practice. Getting some experience in practical aspects such as applying Training and Development in projects will help you stand out from the crowd.
You can supplement your learning with the help of reading the blogs and tutorials by various sites which will help you to grasp a better understanding of the practical aspects.
Step 3 – Build Your Portfolio
Building your portfolio will help you gain trust in your abilities while also providing a forum for learning. Your portfolio reflects your ability to execute and schedule various logics, as well as how well you do in the areas of Training and Development. These responsibilities should include a variety of projects and encourage readers to learn a lot.
Step 4 – Implement your skills in Real world
Execution of the ability you've mastered is vital because that's why you learned in the first place – to perfect the skill! You must also remain up to date with latest technical developments and continue to work and improve your own skills. Any of the technical courses can also be used to show that you have a comprehensive understanding of advanced skills. You can put your talents to use in a variety of ways, including:
Freelancing
Internships
Apprenticeship programs
Above mentioned steps will help you to get started in this domain. However, there is a long way to go. You can take up an advanced course to take your skills to a new level.
Average salary
Training and growth professionals earn a median annual salary of $61,210. Half of the workers in a given profession earned more than that amount, while the other half earned less. The bottom 10% of earners paid less than $32,680, while the top 10% earned more than $104,200.
The following are the median annual salaries for training and growth professionals in the top industries where they work:
| | |
| --- | --- |
| Professional, scientific, and technical services | $70,880 |
| Finance and insurance | $63,380 |
| Educational services; state, local, and private | $61,660 |
| Healthcare and social assistance | $55,250 |
| Administrative and support services | $53,150 |
Source – CollegeGrad.com
During normal business hours, most training and development professionals work full time. Some employees work over 40 hours a week.
Training and development specialists can progress to positions such as training and development manager or human resources manager. To progress, workers usually need several years of experience. Some companies demand that managers have a master's degree in a specific field.
Market Demand
Over the next ten years, employment of training and development specialists is expected to rise by 9%, far faster than the average for all occupations. Many jobs require employees to take continuing education and skill development courses during their careers, generating a need for staff who oversee training.
As businesses create and integrate digital media and technology into their training systems, employment of training and development specialists is expected to expand in many industries. Training approaches and learning technologies can continue to evolve over the next ten years. Almost every big company is eager to hire people in this role to train their personnel.
Conclusion
According to BLS.gov, their growth in the United States is expected to be 11% by 2026. This career transition can be very comfortable, with an annual median pay of about $61k. Training professionals work an average of 40 hours a week, allowing for a good work-life balance. They do, however, travel a lot and share their knowledge.
If you want to pursue this profession as a career, you should study the industry in which you want to specialize.
Get started and discover the career opportunities in the field of Training and Development. Hurry up and try free practice tests now offered by Vskills.in!