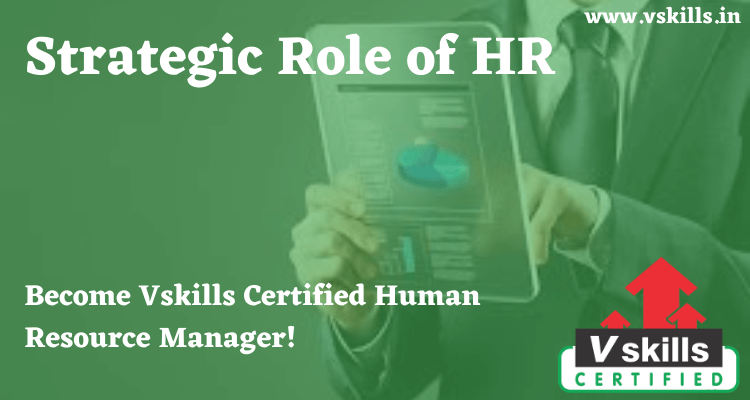 Strategic Role of HR– In every organization, motivation, and incentives should be attached with a goal to work on. A needs assessment and HR development strategies should be deployed focused on accomplishing the organization's mission. Such needs assessment and HR development and their effective planning lead to improved productivity. It is then implemented by using macro tools, such as Management by Objectives at the individual level, and Total Quality Management at the group level.
The human resource which used to be a record-keeping department of employees of an organization has evolved into an important strategic asset for an organization in an ever-competitive world.
Various factors emphasizing the strategic role of HRM are:
Newer technological changes
Increasing globalization 
Changing manpower demographics
Increased profitability focus
Due to these factors, HRM provides sustained competitive advantage to the organization by making provision of productive manpower and enabling a nourishing environment to nourish, encourage, and grow it. Noticeable financial returns have been observed in organizations where HRM systems have excelled operationally and synchronized with business goals.
Strategic Human Resource Management (SHRM) is based on a strategy-focused, decision-focused, content-focused, and implementation-focused approach. Out of these approaches, the implementation-focused approach has gained share.
Aligning HRM systems to the business strategy can be considered as a one-way vertical fit.
The real benefits of strategic planning can only be well utilized if individuals learn how to implement it and know its value. In a cosmopolitan, knowledge-based organization, strategic planning is basically referred to as strategic human resource planning. The empirical research studies revealed that strategic human resource management affects organizational performance. Some of the common HR practices include formal training systems, career structure, result-oriented performance evaluation, employee participation, employment security, detailed job profiles, and reward-based compensation, which form the basis of the theory of strategic human resource management and contribute significantly to organizational success. 
Apply for Vskills Govt. Certification in HR