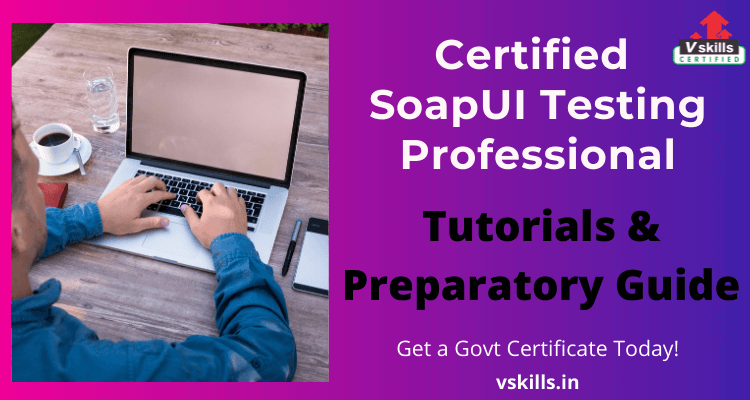 SoapUI is an open-source web service testing application for service-oriented architectures and representational state transfers. Its functionality covers web service inspection, invoking, development, simulation and mocking, functional testing, load and compliance testing. A Certified SoapUI Testing Professional play a critical role in organisations. Earning a professional certification will open new opportunities in your career.
Roles and Responsibilities of a Certified SoapUI Testing Professional
Application Programming Interfaces or APIs are the centre of software development, connecting and transferring data and logic across disparate systems and applications. Certified SoapUI Testing Professionals are responsible for testing these APIs to improve the efficiency. This helps in delivering software faster than ever. They must have experience on database testing, Ecommerce Application testing and Payment testing. Moreover, they should possess great communication and leadership skills. Additionally SoapUI Testing Professional should possess basic understanding on Services and testing with SOAPUI.
Vskills Certified SoapUI Testing Professional Overview
Vskills certification for SoapUI Testing Professional validates your skills and knowledge as per the industries standards. It test you on various areas of web technology basics, software testing topics, API basics and API testing, SoapUI basics, SoapUI API testing, load testing, security testing, automation in SoapUI, mocking in SoapUI. This certification is intended for candidates who wish to work in software testing or application development departments of various companies.
Benefits of this Certification
Given today's highly competitive world, becoming a certified professional is a must! Professional certifications open the door to increased visibility, better opportunities and new jobs in your industry. Moreover, the demand for Certified SoapUI Testing Professional has increased in the recent years due to increase in use of web-based APIs. Therefore earning this certification enhances your employability and displays your advanced skills.
Vskills is India's largest certification provider and gives candidates access to top exams as well as offers after exam benefits. This includes:
Become a Government Certified Professional
Also, the Certification will have lifetime validity.
Get Lifelong e-learning access.
Get access to Practice Tests and Sample Papers.
Get tagged as 'Vskills Certified' on Top Job Portals – Monsterindia.com and Shine.com.
Exam Details
Exam Code: VS-1582
Duration: 60 minutes
No. of questions: 50
Maximum marks: 50
Passing marks: 25 (50%).
There is NO negative marking
This is an Online exam
Exam Process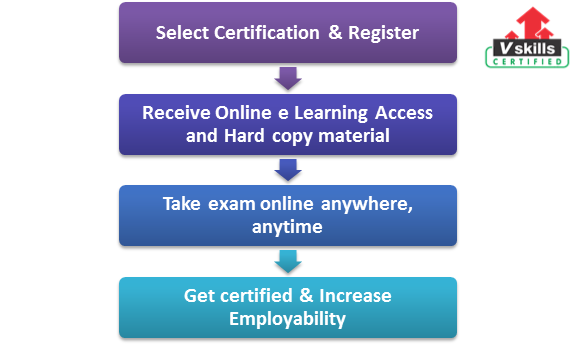 Course Outline: Certified SoapUI Testing Professional
This exam covers the following topics:
Preparatory Guide
Passing the exam can be easy if you choose the right set of resources for yourself. This Preparatory Guide is designed to help you get ready for the exams. It will walk you through all the learning resources and provide detailed steps to clear the exam.
Always Start with the Exam Objectives
The first step is to deeply understand and analyse all the exam objectives. Before heading towards your preparation journey, you must get yourself familiar with the main concepts of the exam. This will provide you complete clarity. Further, you should tailor your study plan around these topics to enrich your learning. This exam covers the following topics:
Web Technology Basics
Software Testing Topics
API Basics and API Testing
SoapUI Basics
SoapUI API Testing
Load Testing
Security Testing
Automation in SoapUI
Mocking in SoapUI
Books are your best friends!
Books have been the most preferred way to prepare for any exam. They provide in-depth understanding of the exam concepts. Moreover, you find real life scenarios to help you comprehend these exam topics more clearly. Here are some books that will supplement your learning and preparation process:
Web Services Testing with soapUI by Charitha Kankanamge
Mastering SoapUI by Pranai Nandan
SoapUI Cookbook by Rupert Anderson
Choose the right resources
Achieving this certification becomes difficult when the set of resources chosen is not apt. You should be very careful while choosing the resources as they will determine how well you will pass the exam. There are numerous resources that can be used for preparation. Remember to refer authentic and genuine sources only.  To help you out Vskills offers its own E-Learning resources and Study Material. You will get Lifelong E-Learning access and these resources are regularly updated. Moreover, these e-learning resources also come with hard copy study material that expands your knowledge horizon. Make sure you learn with Vskills Official resources to ace this exam.
Evaluate yourself with Practice Tests
Lastly, practice or mock tests can be one of the advantageous tools which can back you up for the exam. Practice or mock tests are somewhat similar to the actual exam. Moreover, the main aim of designing practice tests is to provide the candidate with the real exam environment. Thus, going through practice tests helps you find your strengths and iron out your weaknesses. They make you understand the areas you're lacking behind and work upon them. Most importantly, make sure that you are going through practice tests once you have gone through the whole syllabus. It will help you in your evaluating your performance as well as building your confidence. Start Practising Now!

Get ready to qualify and become a Certified Soap UI Testing Professional. Start your Preparations Now!