Six Sigma Black Belt role refers to the most active and valuable role. Black belt professionals are experienced and well-trained, having skills and knowledge for project management, statistical analysis, financial analysis, meeting facilitation, prioritization, and a whole host of other value-added capabilities. They led several projects, coached, and mentored various green belts. Moreover, they understand how to define a problem in order to quickly drive towards a solution. Black belt professionals also investigate project history and any existing data. They arrange meeting logistics and formulate an initial agenda. And, work closely with the coach to identify and initialize necessary training. Further, they provide appropriate teaching and coaching, develop, update, and execute the project plan as well as identify problems and risks and address them, plan tee meetings. Lastly, they also ensure the team is trained and equipped for their work.
Vskills Certified Six Sigma Black Belt Professional
Vskills Six Sigma Black Belt Professional certification examines candidates according to the company's need for deploying, managing, and maintaining quality systems. Moreover, the certification validates the candidate's skills and knowledge in various areas that include lean and six sigma principles, DMEA, QFD, collecting and summarizing data, statistical analysis, and process control.
Certification Benefits
Getting Vskills Certified Six Sigma Black Belt Professional certification will help candidates to gain conceptual knowledge as well as prepare for a career in Quality Control. Black Belts considered as the team leader in a project that requires a strong understanding of the business concepts and statistical analysis. Related to this, candidates will get to understand and learn about Six Sigma tools for applying them to solve quality problems after analyzing them. Successful candidates holding the certification with skills will get a chance to get placed in good companies that include Oracle India, KPMG, Accenture, TCS, GE, Genpact, Vmware, etc.
Vskills being India's largest certification providers gives candidates access to top exams as well as provides after exam benefits. This includes:
The certifications will have a Government verification tag.
The Certification is valid for life.
Candidates will get lifelong e-learning access.
Access to free Practice Tests.
Candidates will get tagged as 'Vskills Certified' On Monsterindia.com and 'Vskills Certified' On Shine Shine.com.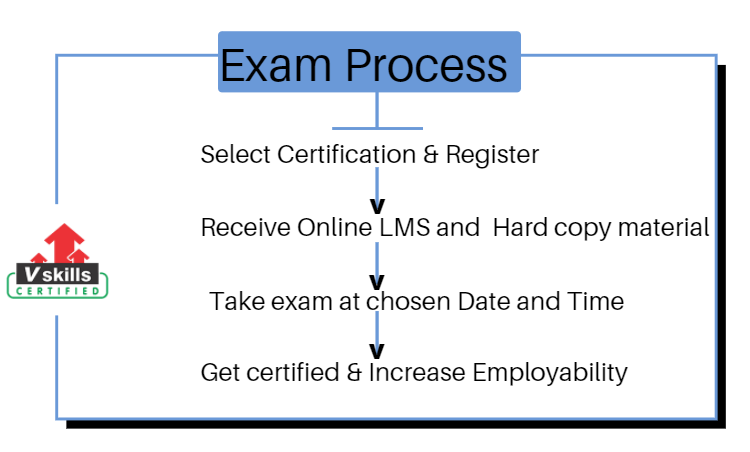 Test Details
Exam Duration: 60 minutes
Vskills Exam Code: VS-1104
Number of questions: 50
Maximum marks: 50
Passing marks: 25 (50%).
There is NO negative marking in this module.
Course Outline for Certified Six Sigma Black Belt Professional
Certified Six Sigma Black Belt Professional covers the following topics –
Enterprise Application
Leadership
Team Facilitation
Team Management
Define Phase
Project Charter
Process Characteristics
Data Collection
Measurement Systems
Application of Statistics
Probability
Process capability
Variable Correlation
Hypothesis Testing
FMEA
Gap Analysis
Design of Experiments (DOE)
Statistical Process Control (SPC)
Other Control Tools
Maintain Control & Improvements
Design for Six Sigma (DFSS)
Preparation Guide for Vskills Certified Six Sigma Black Belt Professional
Candidates preparing for the exam should understand the importance of exam resources. During the exam preparation, it is essential to get all the required exam study resources. This will provide an advantage to understand the concepts and meaning more accurately. In the Certified Six Sigma Black Belt Professional exam preparation guide, we will discuss some of the most important resources to help you prepare well for the exam.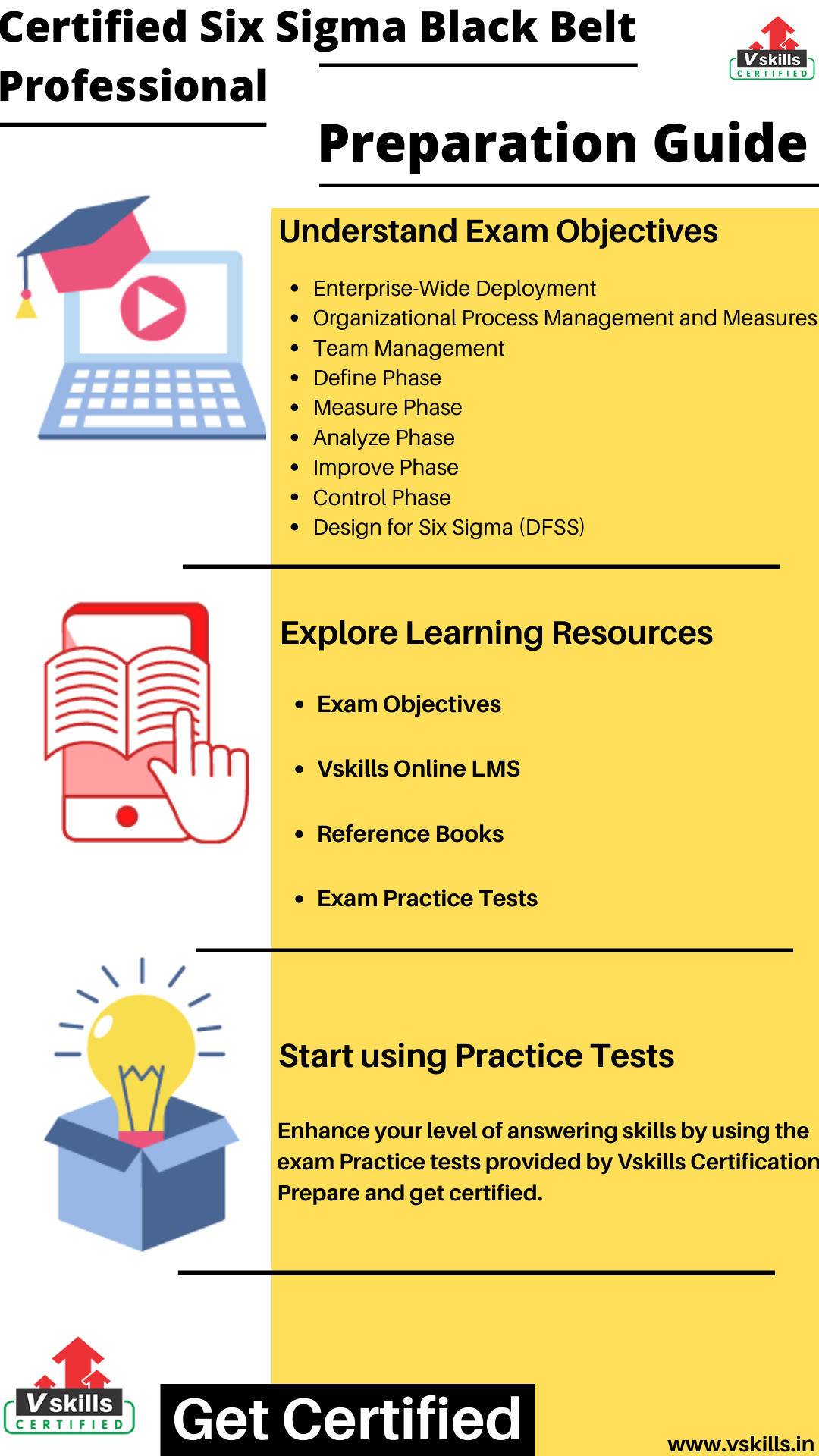 Study Resource: Exam Objectives
For every examination, the first task should be to get all the exam related details including the important contents and its topic. This will help candidates to easily start preparing for the exam and to understand things more accurately. For Certified Six Sigma Black Belt Professional the topics include:
Enterprise-Wide Deployment
Organizational Process Management and Measures
Team Management
Define Phase
Measure Phase
Analyze Phase
Improve Phase
Control Phase
Design for Six Sigma (DFSS)
Study Resource: Vskills Online LMS
Vskills Certified Six Sigma Black Belt Professional provides candidates access to prepare for the exam using the online learning material for a lifetime. The online material for this is regularly updated. Furthermore, e-learning is bundled with hard copy material which helps candidates to improve and update the learning curve for superior and better opportunities.

Study Resource: Books for Reference
Reference Books can provide an advantage to learn and understand things more accurately. For the Certified Six Sigma Black Belt Professional exam, there are various books available which you can find online or in libraries. Some of the books are as follows:
The Certified Six Sigma Black Belt Handbook, Third Edition 3rd Edition by Kubia
Six Sigma: A Complete Step-by-Step Guide by The Council for Six Sigma Certification
Study Resource: Practice Test
After understanding and learning about the Certified Six Sigma Black Belt Professional topics, it is time for practice tests. That is to say, practice tests are important for better preparation as by assessing yourself with these tests you will know about your weak and strong areas. Moreover, you improve your answering skills for getting better results. So, make sure to find the best practice sources.

Prepare for Job Interview
If you have job interview scheduled related to quality management, checkout these online interview questions which will help you to brush up your knowledge and helps you to make you job ready.