Certify and Increase Opportunity.
Be
Govt. Certified Word 2003 Professional

Microsoft Word is capable of inserting other special symbols such as accented characters and the Euro symbol.
Place the insertion point where you want to insert the symbol
Click Insert > Symbol
The Symbol dialogue box appears. Browse the different symbols by changing the options in the Font: and Subset boxes
A row of recently used symbols is shown along the bottom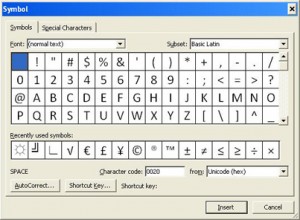 3. Select the symbol you want to use and click Insert
4. The Symbol dialogue box remains open for you to add further symbols. Click Close when finished
If you know the character code for a symbol, you can insert the symbol by entering its character code i.e. 002A and then press Alt + X to produce *.