The chief responsibility of a Certified Fixed income Analyst Professional is to create real returns or incomes at constant intervals in the face of investment. The certification will demonstrate your expertise in concepts including price-yields, monetary policies, conventions, aggravating dv01/pvbp, treasury debt securities, repo agreements, modeling, mortgages, credit default exchange, euro-dollars futures, Treasury futures contracts, OIS, interest- rate swaps, and treasury future contacts. The Vskills Certified Fixed Income Analyst Certification will increase your potential employment opportunities and financial earnings as well.
Who Should Take the Fixed Income Analyst Professional Certification?
In today's time where every individual is trying to improve their skills in their respective niche, it is significant to improve our CV's as well to deliver the best to the firm and convincing employers to hire on the basis of skills and certifications. So the ones who are looking for a suitable platform to develop their skills, and hence acquire decent certificates to validate their expertise, must go for the Vskills Certified Fixed Income Analyst certification exam.
Roles and Responsibilities Of a Fixed Income Analyst Professional
The following are the duties/ responsibilities of a Fixed Income Analyst.
A Fixed Income Analyst manages analysis on debt or fixed income securities and in the interest to build recommendations regarding investment strategies.
Another duty is to stay updated about the new trends and news, mostly in areas such as competitive position and financial stability of this firm to recognise the coming risks.
Also to report to a superior about the condition and in-depth analysis of the firm.
Career as a Fixed Income Analyst
In this position, you will assist businesses in raising loans to fund their expansion. This position will also provide you with good exposure as well as a lively environment surrounded by a multitude of fixed income products and their complicated mechanisms. Let us know about Career as a Fixed Income Analyst!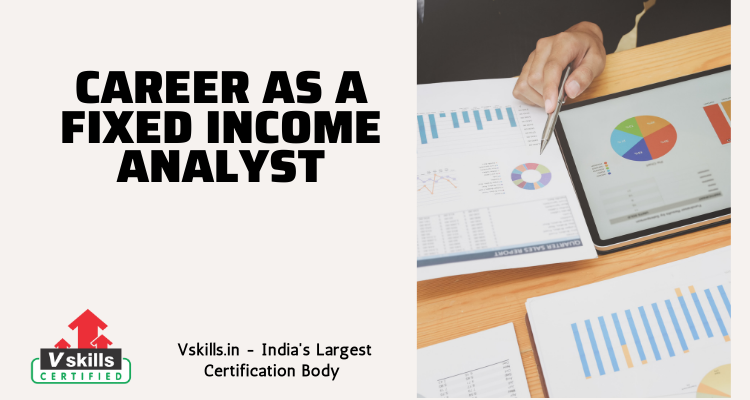 Why become an Fixed Income Analyst Professional?
There is a lot of importance and demand in the market for a Fixed Income Analyst Professional. Companies or firms that are concentrating on fixed income products or NBFC's hire skilled income analysts. Moreover, the Public and Private companies also demand a fixed income analyst for their finance department.
Moreover, Vskills being India's largest certification provider gives candidates access to top exams as well as provides after exam benefits. This includes:
The certifications will have a Government verification tag.
The Certification is valid for life.
Candidates will get lifelong e-learning access.
Access to free Practice Tests.
Candidates will get tagged as 'Vskills Certified' On Monsterindia.com and 'Vskills Certified' On Shine.com.
Exam Details
Exam Duration: 60 minutes
Vskills Exam Code: VS-1126
Number of questions: 50
Maximum marks: 50
Passing marks: 25 (50%)
Exam Mode: Online
There is NO negative marking in this module.
Certified Fixed Income Analyst Professional Course Outline
Certify and Increase Opportunity.
Be
Govt. Certified Fixed Income Professional

1. Overview of Fixed Income Markets
1.1 Overview of Debt Contracts
1.2 Players and Their Objectives
1.3 Classification of Debt Securities
1.4 Risk of Debt Securities
1.5 Return-Risk History
2. Price-Yield Conventions
2.1 Concepts of Compounding and Discounting
2.2 Yield to Maturity or Internal Rate of Return
2.3 Prices in Practice
2.4 Prices and Yields of T-Bills
2.5 Prices and Yield of T-Notes and T-Bonds
2.6 Price-Yield Relation Is Convex
2.7 Conventions in Other Markets
3. Federal Reserve(Central Bank) and Fixed Income Markets
3.1 Central Banks
3.2 Monetary Policies
3.3 Fed Funds Rates
3.4 Payments Systems and Conduct of Auctions
4. Organization and Transparency of Fixed Income Markets
4.1 Primary Markets
4.2 Interdealer Brokers
4.3 Secondary Markets
4.4 Evolution of Secondary Markets
5. Financing Debt Securities: Repurchase (Repo) Agreements
5.1 Repo and Reverse Repo Contracts
5.2 Real-Life Features
5.3 Long and Short Positions Using Repo and Reverse Repo
5.4 General Collateral Repo Agreement
5.5 Fails in Repo Market
6. Auctions of treasury Debt Securities
6.1 Benchmark Auctions Schedule
6.2 Conduct of Treasury Auctions
6.3 Auction Theory and Empirical Evidence
6.4 Auction Cycles and Financing Rate
7. Bond Mathematics: DVO1, Duration and Convexity
7.1 DV01/PVBP or Price Risk
7.2 Trading and Hedging
7.3 Convexity
7.4 Effective Duration and Effective Convexity Suggested Reading and References
8. Yield Curve and The Term Structure
8.1 Yield Curve Analysis
8.2 Term Structure
8.3 Forward Rates of Interest
8.4 STRIPS Markets
8.5 Extracting Zeroes in Practice
9. Models of Yield Curve and the Term Structure
9.1 Modeling Mean-Reverting Interest Rates
9.2 Calibration to Market Data
9.3 Interest Rate Derivatives
9.4 A Review of One-Factor Models
10. Modeling Credit Risk and Corporate Debt Securities
10.1 Defaults, Business Cycles, and Recoveries
10.2 Rating Agencies
10.3 Structural Models of Default
10.4 Implementing Structural Models The KMV Approach
10.5 Cost of Financial Distress and Corporate Debt Pricing
10.6 Reduced-Form Models
10.7 Credit Spreads Puzzle
11. Mortgages, Federal Agencies and Agency Debt
11.1 Overview of Mortgage Contracts
11.2 Types of Mortgages
11.3 Mortgage Cash Flows and Yields
11.4 Federal Agencies
11.5 Federal Agency Debt Securities
12. Mortgage-Backed Securities
12.1 Overview of Mortgage-Backed Securities
12.2 Risks: Prepayments
12.3 Factors Affecting prepayments
12.4 Valuation Framework
12.5 Valuation of Pass-Through MBS
12.6 REMICS
13. Inflation-Linked Debt: Treasury Inflation-Protected Securities
13.1 Overview of Inflation-Indexed Debt
13.2 Role of Indexed Debt
13.3 Design of TIPS
13.4 Cash-Flow Structure
13.5 Real Yields Nominal yields, and
13.6 Cash Flows, Prices, Yields and Risks of Tips
14. Derivatives on Overnight Interest Rates
14.1 Overview
14.2 Fed Funds Futures Contracts
14.3 Overnight Index Swaps (OIS)
14.4 Valuation of OIS
14.5 OIS Spreads with Other Money Market Yields
15. Eurodollar Futures Contracts
15.1 Eurodollor Markets and LIBOR
15.2 Eurodollor Future Markets and LIBOR
15.3 Deriving Swap Rates form ED Futures
15.4 Intermarket Spreads
15.5 Options on ED Futures
15.6 Valuation of Caps
16. Interest-Rate Swaps
16.1 Swaps and Swap- Related Products and Terminology
16.2 Valuation of Swaps
16.3 Swap Spreads
16.4 Risk Management
16.5 Swap Bid Rate, Offer Rate, and Bid -Offer Spreads
16.6 Swaptions
17. Treasury Futures Contracts
17.1 Forward Contracts Defined
17.2 Futures Contracts Defined
17.3 Futures Versus Forwards
17.4 Treasury Futures Contracts
18. Credit Default Swaps: Single-Name, Portfolio, and Indexes
18.1 Credit Default Swaps
18.2 Players
18.3 Growth of CDS Market and Evolution
18.4 Restructuring and Deliverables
18.5 Settlement on Credit Events
18.6 Valuation of CDS
18.7 Credit-Linked Notes
18.8 Credit Default Indexes
19. Structured Credit Products: Collateralized Debt Obligations
19.1 Collateralized Debt Obligations
19.2 Analysis of CDO Structure
19.3 Growth of the CDO Market
19.4 Credit Default Indexes (CDX)
19.5 CDX Tranches
Preparation Guide for Certified Fixed Income Analyst Professional Exam
The purpose of a study guide is to ingrain and summarize the information available for preparing for any exam. Before beginning to study you may think of studying process like it is the most daunting task you have, but with a proper preparation guide all these difficulties can be solved. This preparation guide will provide you with the mandatory steps that should be followed before giving the Certified Fixed Income Anayst Exam.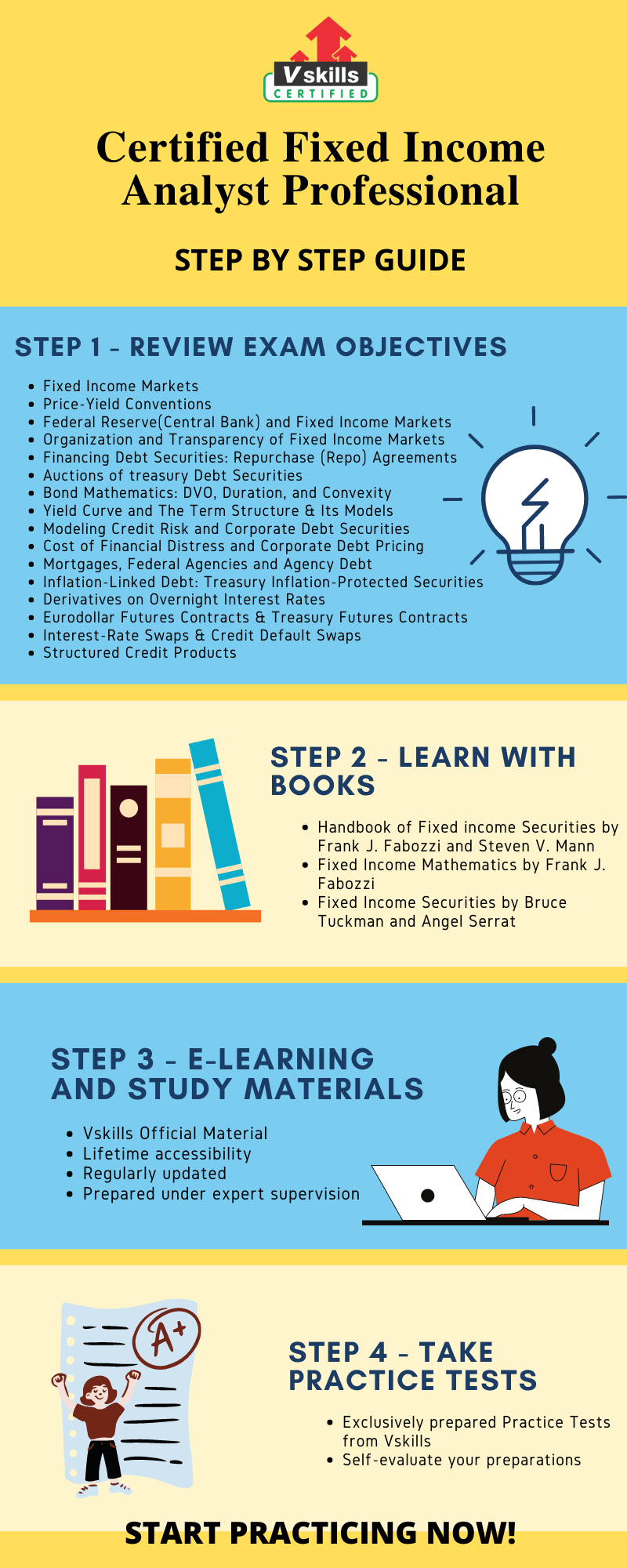 Step 1 – Review Exam Objectives
The first step is to get yourself familiar with the objectives of the exam. These objectives act as a blueprint for the exam, and help you gain clarity in terms of the syllabus, and the exam concepts, so that you can have in depth knowledge of the subject. This exam covers the following objectives:
Firstly, to identify and analyze the upcoming threats to the assets and raise earning capacity or success of a business
Secondly, to work in sales loan inception, trading marketing financial services or private banking
Also, to judge financial history to determine if a person is capable of a decent candidate for a loan
Subsequently, to allot companies or investors with an intelligible market assessment to help them make decisions about investment and future business.
Another responsibility is to analyze new proposed laws to understand how they will affect a company or a firm, and applicable recommendations to ensure compliance
Finally, to investigate how an organization is running and to look at minor details like what can harm the company
Refer: Certified Fixed Income Analyst Professional Brochure
Step 2 – Learning the Traditional Way through Books
Books have always been a very essential part of our studying process. No matter how many types of online learning sources we come across, books will always instill an extra dose of knowledge. The below-mentioned books are the top 3 books referred for the Certified Fixed Income Analyst exam.
The Handbook of Fixed income Securities by Frank J. Fabozzi and Steven V. Mann – This book is one of the highly recommended books to study for FIA. It is introduced to the basic concepts, strategies, and principles which gives a better understanding of fixed income securities and enhances the returns as well.
Fixed Income Mathematics by Frank J. Fabozzi – It is one of the finest to work on mathematics, statistical areas. There are details mentioned about evaluation methods for mortgage backer security asset-backed securities too.
Fixed Income Securities by Bruce Tuckman and Angel Serrat – This book consists of the practical application of strategies, principles and theories, and methodologies available for evaluating fixed income securities.
Step 3 – E-learning and Study material
After books, our first preference is E-learning resources, as the matter available online eases the learning process. The availability of sources of knowledge in topics helps us to understand the topics better, and also includes all necessary topics required to study for the exam. Vskills offers official e-learning resources to help you prepare for this exam. The perks included with these E-Learning and Study Materials by Vskills is that they come with lifetime access, and to add more perks, they are constantly updated to provide you with the latest information.
Step 4 – Check your Progress with Practice Tests
Practice tests are always a necessary part before any examination. It helps us to understand how much more we have to concentrate on which areas before exams. Practice test helps us to familiarise the formats of examination, and also helps in making us exam ready. So Start practicing with free Practice Tests Now!

Job Interview Question
If you are looking for a new job role in Fixed Income, the you must checkout these online interview questions to prepare for same, the questions will surely help you to pass the interview with ease.

Enrich your knowledge to increase your job opportunities by becoming a Certified Fixed Income Analyst. Start Practicing Now