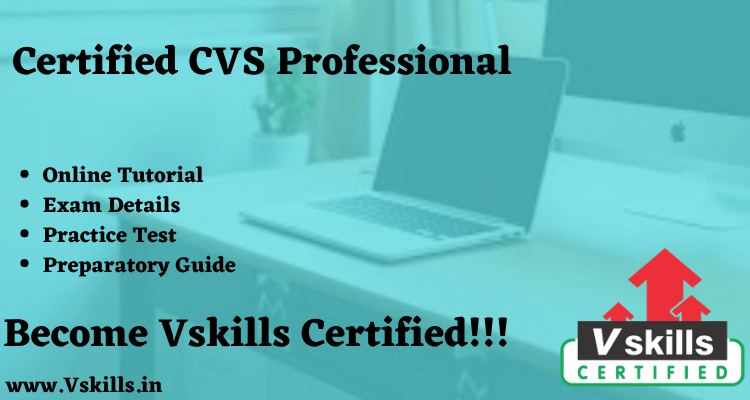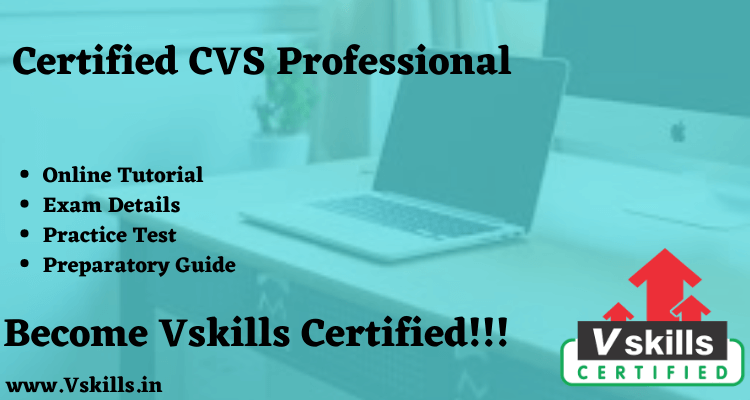 Certified CVS Professional designation is maintained for value specialists who have shown expert-level knowledge and understanding in the practice of the Value Methodology. Vskills Certified CVS Professional certification evaluates the candidate as per the company's requirement for versioning and version control of software construction. The certification examines the candidates in different areas in a versioning system, Branching, Repository, Tagging, Remote Repositories, Managing multiple users, Repository Management, and Troubleshooting. 

Overview
The Vskills certification is designed for professionals and graduates aspiring to excel in their chosen areas. It is also well revised for those who are already working and would like to take certification for additional career progression. Earning Vskills CVS Professional Certification can help candidate differentiate in today's competitive job market, broaden their employment opportunities by displaying their advanced skills, and result in higher earning potential.
Vskills being India's largest certification provider gives candidates access to top exams as well as provides after exam benefits. This includes:
Become Government Certified Professional!
The Certification is valid for life.
Candidates will get lifelong e-learning access.
Access to free Practice Tests.
Candidates will get tagged as 'Vskills Certified' On Monsterindia.com and  'Vskills Certified' On Shine Shine.com.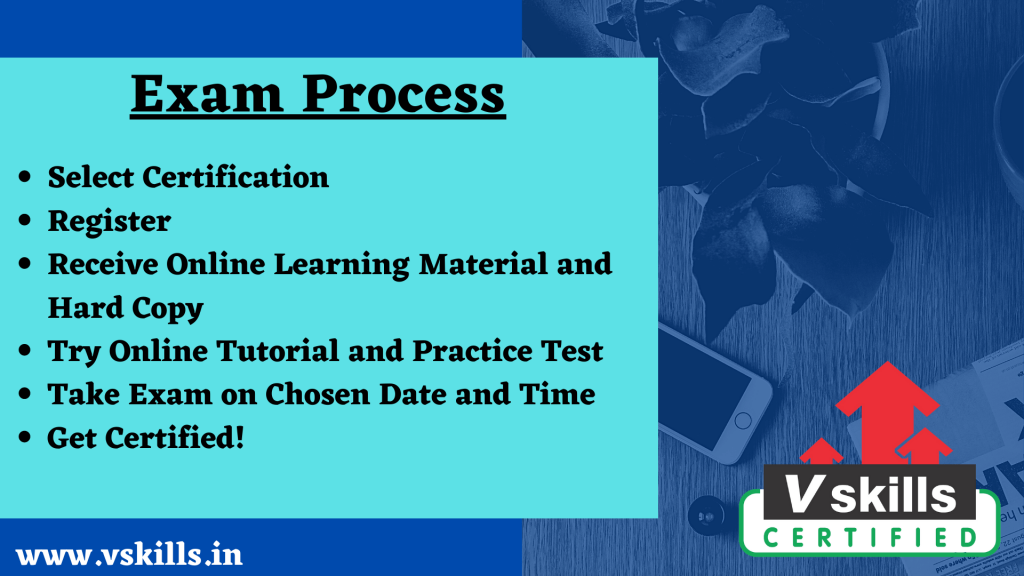 Exam Details
Exam Duration: 60 minutes
Vskills Exam Code: VS-1142
Number of questions: 50
Maximum marks: 50
Passing marks: 25 (50%)
Exam Mode: Online
There is NO negative marking in this module.
Certified CVS Professional Course Outline
Certified CVS Professional covers the following topics –
1. Versioning Basics
1.1 What Is a Versioning System?
1.2 CVS in the Field
2. CVS Basics
2.1 Installing CVS
2.2 Building Your First Repository
2.3 Importing Projects
2.4 Accessing Remote Repositories
2.5 Checking Out Files
2.6 Committing Changes
2.7 Updating Sandboxes
2.8 Adding Files
2.9 Removing Files
2.10 Tips
3. CVS Concepts
3.1 General Information
3.2 Sandboxes and Repositories
3.3 Committing Changes to the Repository
3.4 Checking File Status
3.5 Updating the Sandbox Files from the Repository
3.6 Adding Files to the Repository
3.7 Removing Files from the Repository
3.8 Moving Files or Directories
3.9 Releasing a Sandbox
3.10 Keywords
3.11 Binary Files and Wrappers
3.12 Specifying Default Command Options
4. Tagging and Branching
4.1 Tagging
4.2 Stickiness
4.3 Branching
4.4 Branching Strategies
5. Multiple Users
5.1 Using Simultaneous Development
5.2 Watching a File
5.3 Reserving Files
5.4 Comparing File Revisions
5.5 Displaying Recent Changes
5.6 Displaying File History
6. Repository Management
6.1 Creating a Repository
6.2 Deleting a Repository
6.3 Securing Your Projects
6.4 Repository Structure
6.5 CVSROOT Files
6.6 Server Environment Variables
6.7 Backing Up a Repository
6.8 Editing a Repository
6.9 Sandbox Structure
6.10 Client Environment Variables
6.11 Exit Status
7. Project Management
7.1 Creating a Project
7.2 Distributing Files
7.3 Running Scripts
7.4 Interfacing with External Programs
7.5 Tools
7.6 Strategies and Practices
8. Remote Repositories
8.1 Specifying Repository Paths
8.2 The local Access Method
8.3 The ext and server Access Methods
8.4 The fork Access Method
8.5 The gserver Access Method
8.6 The kserver Access Method
8.7 The pserver Access Method
8.8 Using inetd with gserver, kserver, and pserver
9. Troubleshooting
9.1 General Troubleshooting Techniques
9.2 Connectivity Problems
9.3 Filename Problems
9.4 Line-Ending Problems
9.5 Permission Problems
9.6 Lock Files
10. Command Reference
10.1 CVS Command-Line Options
10.2 CVS Commands
11. Miscellaneous Topics Reference
11.1 Administrative Files
11.2 CVSROOT Files
11.3 CVSROOT Variables
11.4 Dates
11.5 Environment Variables
11.6 Keywords and Keyword Modes
11.7 Pattern Matching
11.8 Repository Access Methods
Preparation Guide for Certified CVS Professional
Candidates brewing for the Certified CVS Professional exam should recognize the importance of exam resources. During the exam preparation, it is important to get all the necessary exam study sources. This will provide the benefit to understand the concepts and meaning more precisely. In the preparation guide, we will review some of the most significant resources to help the candidate prepare well for the exam.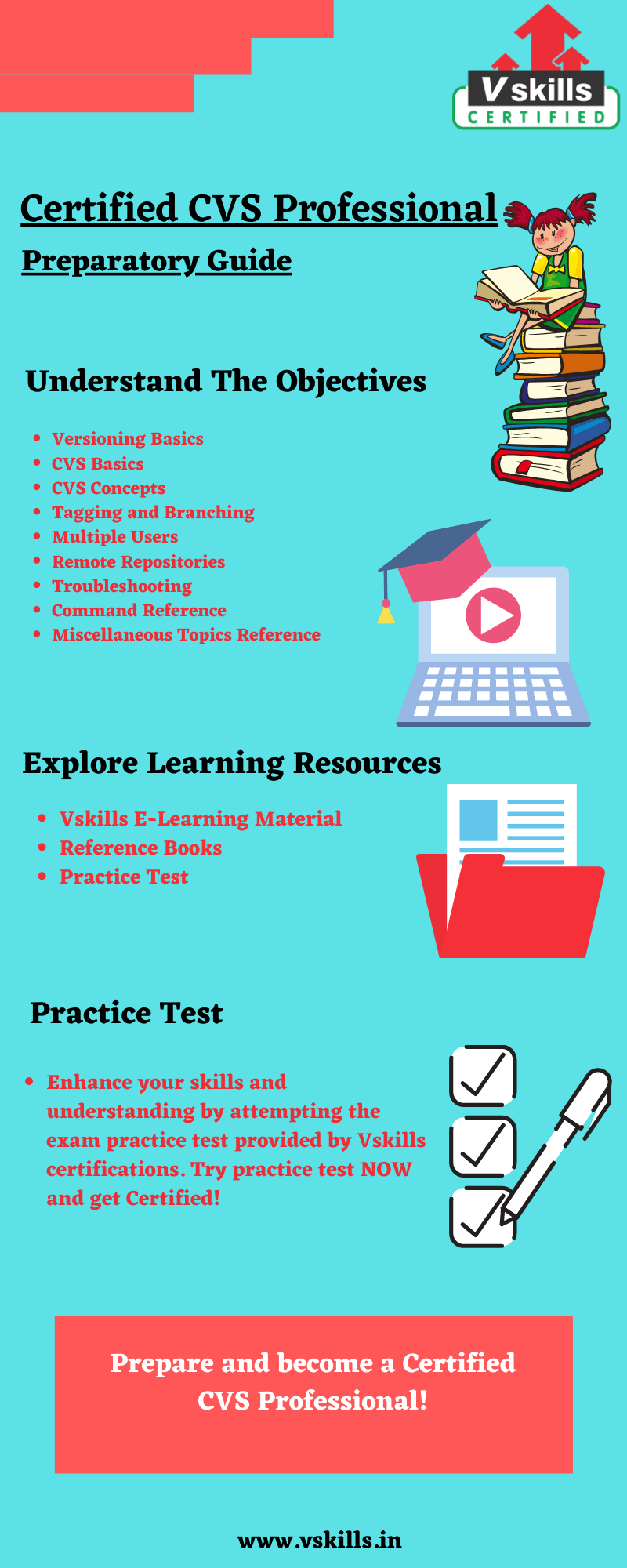 Exam Objectives
For every examination, the first task should be to get all the exam relevant details including the important contents and its topic. With complete exam objectives, the candidate's exam preparation time is better spent because they already know what to study. For this exam, the topics include:
Versioning Basics
CVS Basics
CVS Concepts
Tagging and Branching
Multiple Users
Remote Repositories
Troubleshooting
Command Reference
Miscellaneous Topics Reference
Vskills Online Learning Material
Vskills provides candidates a way to prepare for the exam using the online learning material for existence. The online material for this is regularly updated. Moreover, e-learning is bundled with hard copy material which encourages candidates to enhance and update the learning curve for superior and better opportunities. The candidate can also download the sample chapter for the Certified CVS Professional exam.
Vskills Brochure
Vskills also provides a brochure for the Certified CVS Professional exam. The brochure contains all the necessary related to the exam such as details, sample papers, important information, course outline, etc.

Books for Reference
The next step in the preparatory guide should be books and study guides. The candidate needs to find those books which are enriched with information. Finding a good book may be a difficult task, but in order to gather knowledge and skills, the candidate has to find, read, and understand.
Practice Test
Practice tests are the one who ensures the candidate about their preparation for the exam. The practice test will help the candidates to acknowledge their weak areas so that they can work on them. There are many practice tests available on the internet nowadays, so the candidate can choose which they want. Try the practice test here!