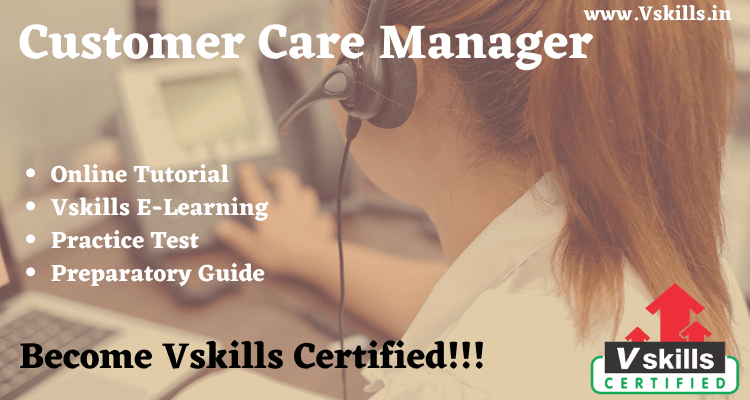 The Vskills Certified Customer Care Manager course will provide the candidate with the skills required to be an excellent customer care manager. It would show the candidate how to recognize their customers and their unique requirements, how to interact in a positive manner, how to resolve customers' problems, and how to switch an unhappy customer into the biggest fan. Vskills is an outstanding Launchpad into a fulfilling profession as a Certified Customer Care Manager.
Responsibilities of a Certified Customer Care Manager
Interact with customers to know their needs/expectations and make proper adjustments to satisfy those needs.
Catch up with customers to ensure they get optimal value from purchased products/services.
Handle tough or complex customer problems by examining said problems to come up with solutions useful in addressing customer grievances.
Give customers updates and periodic charges on service developments and changes in courses.
Build communication channels through which customers can post their feedback or challenges for a quick resolution.
Submit free products or services to soothe irate or unsatisfied customers.
Investigate customer care data and statistics to achieve results useful in practicing key business decisions.
Regulate programs for customer care staff to refresh their job knowledge and improve their skills.
Keep proper record of all customer care operations and projects for implication purposes.
Workaround an achievable budget to achieve set objectives and purposes.
Conduct studies to manage the opinion of customers concerning their products/services, etc.
Overview
The Vskills Certified Customer Care Manager Course is meant for professionals and graduates aspiring to exceed in this profession. It is also well befitted for those who are already working and would like to take certification for further career progression. Becoming a Certified Vskills Customer Care Manager can help candidates contrast in today's competitive job market, increase their employment possibilities by displaying their advanced skills, and succeed in higher earning potential.
Vskills being India's largest certification provider gives candidates access to top exams as well as provides after exam benefits. This includes:
Become Government Certified Professional!
The Certification is valid for life.
Candidates will get lifelong e-learning access.
Access to free Practice Tests.
Candidates will get tagged as 'Vskills Certified' On Monsterindia.com and 'Vskills Certified' On Shine Shine.com.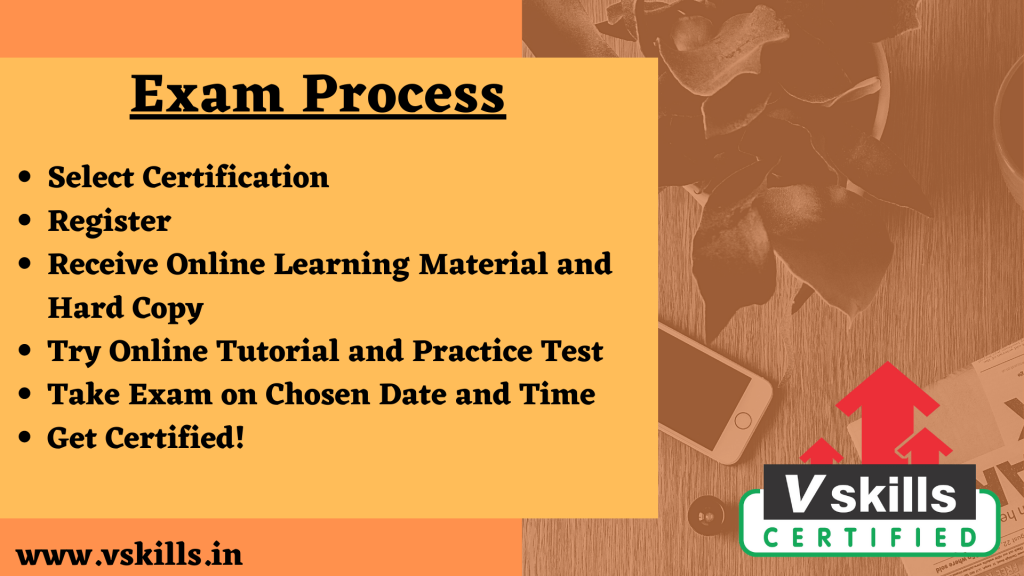 Exam Details
Exam Duration: 60 minutes
Vskills Exam Code: VS-1556
Number of questions: 50
Maximum marks: 50
Passing marks: 25 (50%)
Exam Mode: Online
There is NO negative marking in this module.
Customer Care Manager Course Outline
Vskills Customer Care Manager exam covers the following topics –
Customer Expectations
What is customer expectations
Customer Expectations Relevance
Types of Expectations
Expectations Model
Managing Expectations
New-Age Customer Expectations
Customer Feedback
Handling Customer Expectations
Customer Needs
Consumer Need
Understanding Customer Needs
Hulls Drives Reduction Theory
Maslow's Hierarchy of Needs
McClelland's Three Needs Theory
Consumer Motivation Concept
Means – End Chain Model
Customers Listening and Tools
Customer Complaints
Complaint Barriers
Customer Journey Mapping (CJM)
Voice Of the Customer
Benchmarking
Business Performance Measures
Customer Focus
What is Customer Focus
Customer Focus Elements
Customer Focus Levels
Customer Focused Interaction
Social Media
Applying Knowledge Management
Using Mobile Technology
Customer Focused Employees
Team Management
Team Building
Team Communication
Team Socializing
Team Culture
Team Values and Ethics
Accountability
Delegation
Managing Diversity
Team Performance Management
Organisation Culture
Overview of Organization Culture
Characteristics of Organization Culture
Functions of Organisation Culture
Liability of Organisation Culture
Organisational Socialisation
Mentorship
Individual Behaviour
Integrated Human Behaviour Model
Factors Influencing Individual Behaviour
Self Concept & Self Esteem
Emotional Intelligence
Motivating Team Members
What is Motivation
Theories of Motivation
Key Strategies of Motivation
How to Boost Motivation
Motivational Drives
Conflict and Negotiation Management
Overview of Conflict
Types of Conflict
Causes of Conflict
Conflict Management Technique
Negotiation and Conflict
Negotiation Basics
Preparing for the Negotiation Process
The Seven Basic Steps in Negotiation
Best Alternative to a Negotiated Agreement (BATNA)
Tactics for Negotiation Process
Customer Service Quality
Service Quality Basics
Service-Profit Chain
Quality Standards in Customer Service
Service Metrics for Customer Service
Service Quality Management Tools
Lean and Service Quality
Customer Experience and Service Blueprinting
CRM
Popular CRM Tools
Customer Service Excellence
Customer Service Leadership
Customer Service Strategy
Customer Advocacy
Managing a Customer Service Team
Leading a Customer Service Team
Quick Fixes to Attain Excellent Customer Service
Building Customer Loyalty
Customer Retention
Winning Back a Lost Customer
Calculating the Value and ROI of Customer Service
Future Trends in Customer Service
Preparation Guide for Customer Care Manager
Candidates brewing for the Customer Care Manager exam should recognize the importance of exam resources. During the exam preparation, it is important to get all the necessary exam study sources. This will provide the benefit to understand the concepts and meaning more precisely. In the preparation guide, we will review some of the most significant resources to help the candidate prepare well for the exam.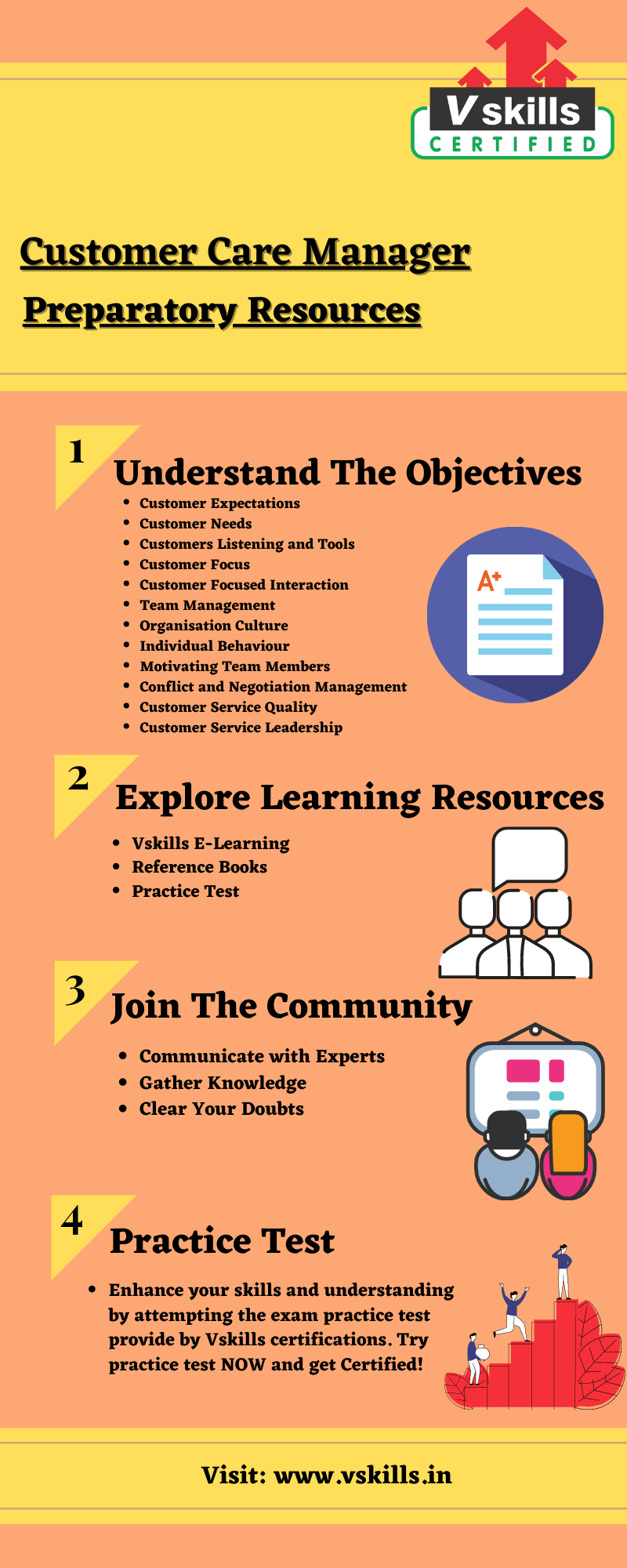 Exam Objectives
For every examination, the first task should be to get all the exam relevant details including the important contents and its topic. With complete exam objectives, the candidate's exam preparation time is better spent because they already know what to study. For this exam, the topics include:
Customer Expectations
Customer Needs
Customers Listening and Tools
Customer Focus
Customer Focused Interaction
Team Management
Organisation Culture
Individual Behaviour
Motivating Team Members
Conflict and Negotiation Management
Customer Service Quality
Customer Service Leadership
Vskills Online Learning Material
Vskills provides candidates a way to prepare for the exam using the online learning material for existence. The online material for this is regularly updated. Moreover, e-learning is bundled with hard copy material which encourages candidates to enhance and update the learning curve for superior and better opportunities. The candidate can also download the sample chapter for the Customer Care Manager exam.
Books for Reference
The next step in the preparatory guide should be books and study guides. The candidate needs to find those books which are enriched with information. Finding a good book may be a difficult task, but in order to gather knowledge and skills, the candidate has to find, read, and understand.
Practice Test
Practice tests are the one who ensures the candidate about their preparation for the exam. The practice test will help the candidates to acknowledge their weak areas so that they can work on them. There are many practice tests available on the internet nowadays, so the candidate can choose which they want. Try the practice test here!