Certify and Increase Opportunity.
Be
Govt. Certified Word 2003 Professional

To Insert a Diagram From the Diagram Gallery:
Š Select Insert Diagram from the main menu.
Š Select a diagram.
Š Click OK. The diagram will appear in your Word document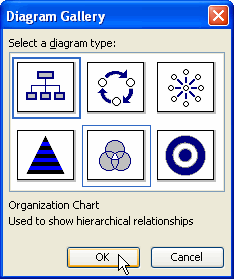 To Modify a Diagram:
Since each diagram is completely different, the modifications you can make will differ depending on the diagram you insert. However, the tools you use to modify the diagrams are the same.
You can:
Right-click any shape or text box within the diagram to modify or delete it. The menu will change depending on the item you select.OR
Modify the diagram using the Diagram Toolbar. The drop-down menus on the Diagram Toolbar will differ depending on the type of diagram you choose.
To Insert a Chart:
Select Insert from the main menu.
Select Picture Chart from the cascading menu. A chart and datasheet will appear in your document.
Delete the existing data in the datasheet.
Enter your own data in the datasheet.