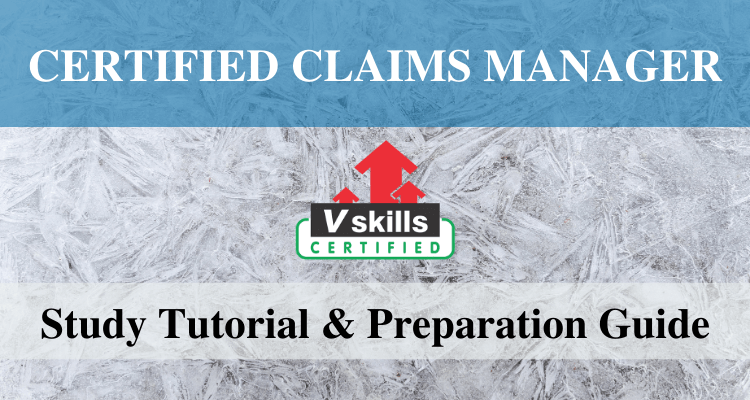 Claims Managers undertake the responsibility of finding employment in companies specializing in claims or insurance or finance. These Claim managers are in high demand for their knowledge and practical skills in the claims, insurance, finance, and underwriting concepts. The Vskills Claims Manager certification will help you grab an edge over your competitors, with a benefitting career.
Why become a Certified Claims Manager?
The Claims Manager certification course aims to examine the candidates in various areas in fundamentals of insurance, underwriting, intermediaries, claim settlement procedures, legal aspects, ethics, and new trends in claim settlement. For candidates who aspire to grow in this respective field, this certification will increase their employment opportunities.
Who should take the Claims Manager certification?
The Claims Manager certification is designed for the job seekers and professionals who wish to make their CV's stronger and would like to explore more in the insurance and finance niche. This certification will instill the skills that are necessary for today's competitive market, along with giving high financial benefits.
Roles and Responsibilities of a Certified Claims Manager
Given below are the Responsibilities of a Certified Claims Manager
Firstly, to maintain a relationship with a customer through claims processing, claims services, and compensation services.
Secondly, to control the damage of the firm, as it is considered as the largest cost issue in a composite insurance company.
Then, to take care of further development and pricing
Subsequently, to deal with different tasks and jobs related to a claim manager's position.
Also, to deal with customers to follow up any issue related to insurance claims
Moreover, to report the messages to the appropriate departments
Last but not the least, to record the report of the claim
Finally, to determine the amount of damage and if necessary involve an expert
Benefits of taking Vskills Certification
Vskills being India's largest certification providers gives candidates access to top exams as well as provides after exam benefits. This includes:
The certifications will have a Government verification tag.
The Certification is valid for life.
Candidates will get lifelong e-learning access.
Access to free Practice Tests.
Candidates will get tagged as 'Vskills Certified' On Monsterindia.com and Shine.com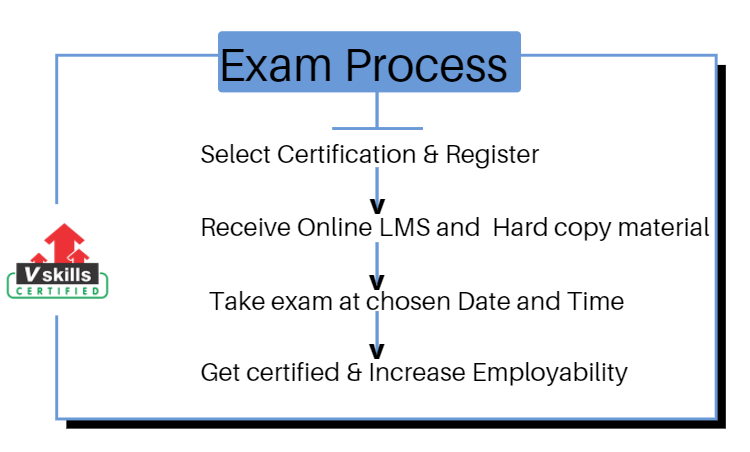 Exam Details
Exam Duration: 60 minutes
Vskills Exam Code: VS-1175
Number  of questions: 50
Maximum marks: 50
Passing marks: 25 (50%)
Exam Mode: Online
There is NO negative marking in this module.
Career as a claims manager
Claims managers are in charge of the claims department, ensuring that the firm conducts an effective review in line with the law and regulations. They must be extremely meticulous and capable of detecting little inconsistencies that might indicate purposeful deceit or even incorrect facts. Let us know about Career as a Claims Manager!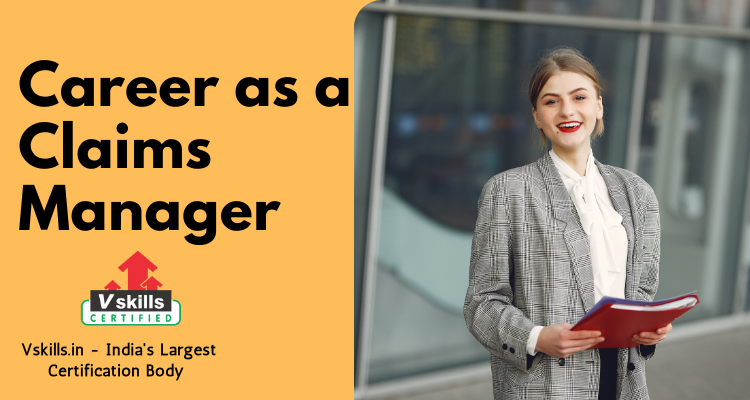 Course Details
Certify and Increase Opportunity.
Be
Govt. Certified Claims Manager

Insurance
History

Principles of Insurance

Disclosure

Material Facts

Methods of insurance

Insurer's Business Model

Types of Insurance

Insurance Policy
Underwriting
Introduction

Types of Underwriting

Underwriting Policy

Sources of Underwriting Information

Classes of Business

Assessment & Management of Exposure

Perils & Clause of Insurance Policies

Operational Control

Underwriting of Life Insurance

Underwriting of General Insurance
Underwriting and Claims Settlement
Introduction

Nature of Claim for Various Classes of Insurance

Types of Claims

Claim Settlement & Its Significance

Dispute, Litigation & Arbitration
The Role of Insurance Intermediaries
Introduction

The Role of Insurance Intermediaries
Claim Settlement
General Claim Settlement Procedure

Investigation and Assessment

Claims Documents

Arbitration

Settlement

Survey by Professional Surveyors

The Surveyor Report

Claim Procedure for Motor Insurance

Claim Procedure for Fire and Marine Insurance

Health Insurance Claim Settlement

Settlement of Insurance Claims
Legal Aspects
Introduction

Legal Aspects of Insurance Contracts
Ethics and Corporate Governance
Basics

IRDA Corporate Governance Guidelines

Protection of Policy Holders

Treating Customers Fairly
Trends in Claim Settlement
Introduction

End-to-End Claims Management Solutions

Focus on Key Performance Indicators

Advanced Fraud Detection Technologies

Customer Service

Quality Assurance and Insurance

Insurance Business & Claim Management in Other Countries
Preparation Guide for Certified Claims Manager Exam
The aim of a preparation guide is to arrange the proper steps of the study process, so that it is increases the stimulation of memorizing and eases the process. The mentioned steps in the guide are essential to follow, so that there is no last minute confusion in regards to the concepts and topics. This preparation guide below will help you with proper learning resources that'll help you gain command of the skills required to pass the exam.
Step 1 – Review Exam Objectives
The first and foremost thing before you start preparing is to get well versed with the objectives of the exam. This will let you understand the way through which you will prepare for the exam and then help attain your certification. Below-mentioned are the objectives of the Certified Claims Manager Exam –
Insurance
Underwriting
Underwriting & Claims Settlement
Role of Insurance Intermediaries
Claim Settlement
Legal Aspects
Ethics & Corporate Governance
Trends in Claims settlement
Refer: Certified Claims Manager Brochure
Step 2 – Learning with Books
Books help your brain to be more active and gives you various perspectives on a single concept. The books exposes you to different concepts, and understandings while giving you latest and detailed information. Moroever, studying from books improves your memory as well.
The top 3 books for the Claims Manager certification exam are mentioned below.
Certified Claims Manager Handbook – The book essentially covers the concepts of types and different aspects of Claim management. The book also mentions role and trend in claim settlement
P&C Insurance Claim Management. The book has a rich insight into research conducted on claim management. There are 5 secret keys mentioned in the books regarding claim management.
The Certified Manager of Quality/ Organisational Excellence Handbook. The books add different knowledge on the facts based on insurance, along with the basic information regarding the concepts.
Step 3 – E-learning and Study material
E-learning introduces us to new concepts at a single platform anytime and anywhere. It promotes critical and creative thinking and exposes us to the realistic experience in learning, provided by professionals. Moreover, the videos available helps gain knowledge immediately because of its visual content. Vskills offers you its E-Learning Study Material and its hard copy as well, to supplement your learning experience and exam preparation. Moreover, this online learning material is available for a lifetime and is updated regularly.
Refer: Certified Claims Manager Sample Chapter
Step 4 – Check your Progress with Practice Tests
Practice tests tend to improve your stamina as it encourages us to work on our weak areas as we already know through practice test in which areas we have mastered. It saves time and improves focus, by removing our anxiety and boosting our confidence. So build your confidence with free practice tests Now

Job Interview Questions
Prepare for your next job Interview with Vskills Latest online Interview questions, these questions are created by experts to help you to overcome the interview fear.
Elevate your chances to grab brighter career opportunities, by becoming a Certified Claims Manager. Start Practicing Now!