Certify and Increase Opportunity.
Be
Govt. Certified IT Support Professional

Chassis types
It is the box or outer shell that houses the circuit boards and other electronics (usually excluding the display, keyboard and mouse). It protects the system components from damage and electromagnetic interference, directing cooling airflow, and allowing installation of and access to the system components. It is designed as per shape of the motherboard and has a matching power supply.
Earlier cases sat on desk and served as monitor stands. Today, "designer" computers are available. Asus and cooler master are some of chassis manufacturers. When considering the case, there are general rules to follow:
The bigger the box, the more components it can hold (the greater the expansion potential) and, often, the better the airflow (essential for cooling). Large cases are easier to work with.
Smaller cases usually come with lower wattage power supply, reducing devices to be installed.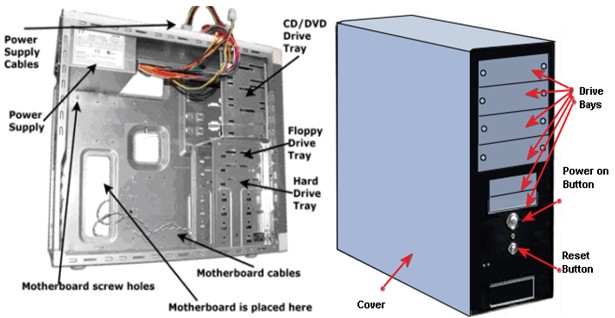 Cabinets in market are usually available with power supply. Cabinets have tray or bay or area for mounting various disk drives like Hard disk, Floppy disk, DVD/CD- Drives other than motherboard mounting plate and add on card mounting cage as in illustrated in the next figure, components mounted in the assembled cabinet are shown.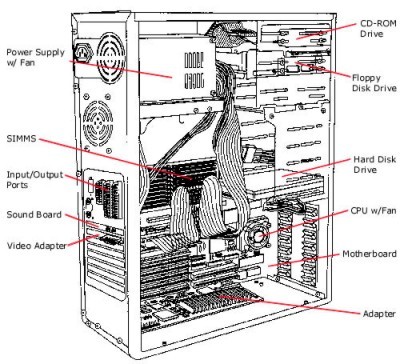 Desktop
They are most the prevalent chassis type used by users as earlier personal computers were in desktop shape. They are placed horizontally on desk
Tower
Earlier they were used for servers only but now they are available in Mid, Mini and Full tower sizes. Mid and mini towers are used for PC and full tower for servers which have many slots to accommodate many drives. They are placed vertically usually beneath the desk
Rack Mount Chassis
They are industry-standard-sized computer racks placed in cabinets (19″ wide) and usually used in data centers and server rooms. Such devices are standard 1.75 inch units and are measured in U.
U is the standard unit of measure for height of racks (metal frame designed to hold devices) and cabinets (enclosures with one or more doors). This unit refers to the space between shelves on a rack. 1U is equal to 1.75 inches. For example, a rack designated as 20U, has 20 rack spaces for equipment and has 35 (20 x 1.75.) inches of vertical usable space. Rack and cabinet spaces and the equipment which fit into them are all measured in U.
Each module is 19 inches (482.6 mm) wide, including edges on each side and it is fastened to the rack frame with screws.