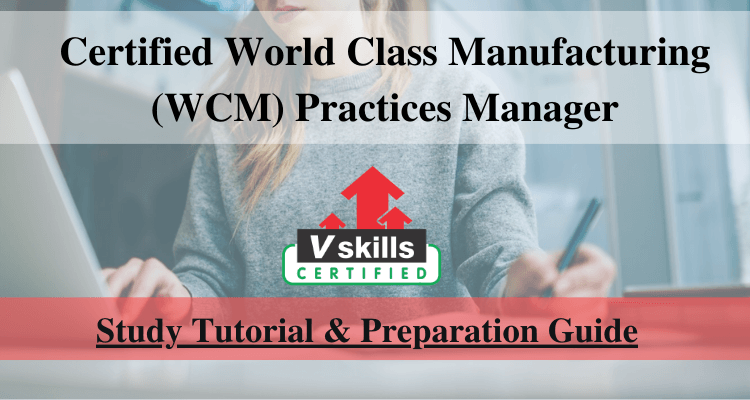 The World Class Manufacturing (WCM) Practice Manager certification validates your expertise in the concepts and practical management of the structure and design involved in the production system in the entire organization. World-class Manufacturing is a myriad of concepts, which sets a level for production and manufacturing in a firm. In the current competitive business environment, it is significant for any firm to have a manufacturing practice that is lean, efficient, cost-effective, and flexible. Vskills' Certified World Class Manufacturing (WCM) Practices Manager exam, will demonstrate your skills to your potential employers.
Why become an World Class Manufacturing Practice Manager?
The World Class Manufacturing (WCM) Practice Manager certification is developed to guide professionals with the necessary skills and knowledge, essential in world-class manufacturing. Firms specializing in production, quality management, and consulting are persistently hiring skilled World Class Manufacturing (WCM) Practice Manager. Different public, Private firms also require WMC practice Manager for their production and quality department.
Who should take the WCM Practices Manager Certification?
Job seekers who aspire to learn about executing and maintaining World Class Manufacturing (WCM) practices, must take the WMC Professional certification. This certification examines the candidates in different areas in global Competitiveness, WMC philosophy, cutting edge technology, Globalisation HRD practice, Kaizen, SPC, VSM, etc. It teaches a candidate the significant and crucial concepts in WMC practices
Roles of World Class Manufacturing Practices Manager?
Below-mentioned are the responsibilities of World Class Manufacturing Practices Manager –
WMC have an inclination towards carrying out best practices and also introduce new practices so as to stay above the rest in the manufacturing business. The finest manufacturer implements robust control techniques but there are 5 steps to make the system function well, and they are as follows –
Cellular Manufacturing to maintain a High level of WIP material
Postpone product mutation to achieve a higher degree of customization as many changes are made to the final product
Removal of the trivial to focus on forecast demand and take care of customer expectations.
Certified WCM Practices Manager: Overview
Vskills being India's largest certification provider gives candidates access to top exams as well as provides after exam benefits. This includes:
The certifications will have a Government verification tag.
The Certification is valid for life.
Candidates will get lifelong e-learning access.
Access to free Practice Tests.
Candidates will get tagged as 'Vskills Certified' On Monsterindia.com and 'Vskills Certified' On Shine Shine.com.
Exam Details
Exam Duration: 60 minutes
Number of questions: 50
Maximum marks: 50
Passing marks: 25 (50%)
Exam Mode: Online
There is NO negative marking in this module.
Certified WCM Practices Manager: Course Outline
Certify and Increase Opportunity.
Be
Govt. Certified WCM Manager
Global Competitiveness
The Emergence of The Information Age
Competing in the Information Age
Business Challenges
Operating Environment
Globalization and International Business
India's Position
WCM and Competition
Manufacturing Challenges
Problems in The Manufacturing Industry- Problem of Coordination
Cutting Edge Technology
Manufacturing Excellence and Competitiveness
What is World Class Manufacturing?
Halls Framework of Value Added Engineering
Schonbergers Framework of World class manufacturing
Gunn's Model of World Class Manufacturing
Maskells Model of World Class Manufacturing
America's best plants model of world-class manufacturing
Malcolm Baldridge National Quality Award
WCM Philosophy
Evolution of WCM
The Principles of WCM
The Practices of WCM
World-Class Practices in The Factory
Quality in World-Class Manufacturing
Deming's Approach
Shingo's Approach
Assessing Both Quality Approaches
The Culmination of WCM
System and Tools For World Class Manuf Acturing
The Integration Imperative
Overview of Systems and Tools
Information Management Tools
Material Processing and Handling Tools
An Assessment of Manufacturing Systems and Tools
Statistical Process Control
Basic Statistics
Central Tendencies
Measures of Spread
Measures of Shape
Measures of Association
Frequency Distributions
Central Limit Theorem
Basic Probability
Collecting and Summarizing Data
Control Chart
Process Capability and Performance
Lean Manufacturing
Toyota Production System
The Lean Process
Mudas or Waste
Value Stream Mapping
5S
Kaizen
Single Minute Exchange of Die (SMED)
Kanban Card System
Total Productive Maintenance
Labor and HRD Practices in WCM
Human Resource in WCM
Morale and Teamwork
High Employee Involvement
Cross Functional Team
Work Study Methods
Human Integration Management
Indian Manufacturing
Competitiveness of Indian Manufacturing
Manufacturing performance and Planned Strategies
WCM Readiness of Indian Firms
Manufacturing Objectives and Strategy
Usage of Management Tools and Technologies
Manufacturing Management Practices
IT Infrastructure and Practices
The Manufacturing Strategic Intent Framework
Strategic Use of IT
Breadth and Depth of IT
Globalization and World Class Manufacturing
Business Strategy and Global Competitiveness
Generic Manufacturing Strategies
Developing Strategic Thinking
Strategic Planning Issues for WCM
Strategic Barriers for IT
Strategic Planning Methodology for WCM
Implementing The WCM
Need For Performance
Where Do we go From Here
Manufacturing Strategy
The Manufacturing Strategic Intent Classification
Translating Intent into Action
Case Studies
Accelerated Fermentation Process: Using World Class Enzymes
Birla Cellulosic Kharach
Preparation Guide for World Class Manufacturing (WCM) Practices Manager Exam
Becoming a World Class Manufacturing (WCM) Practices Manager is not everyone's cup of tea. It takes a lot of dedication and commitment to prepare yourself for the certification, and equip yourself with the necessary skills. With the help of a proper preparation strategy, one can achieve these goals. The following preparation guide assembles some of the very important study resources that'll prove to be beneficial in your exam preparation.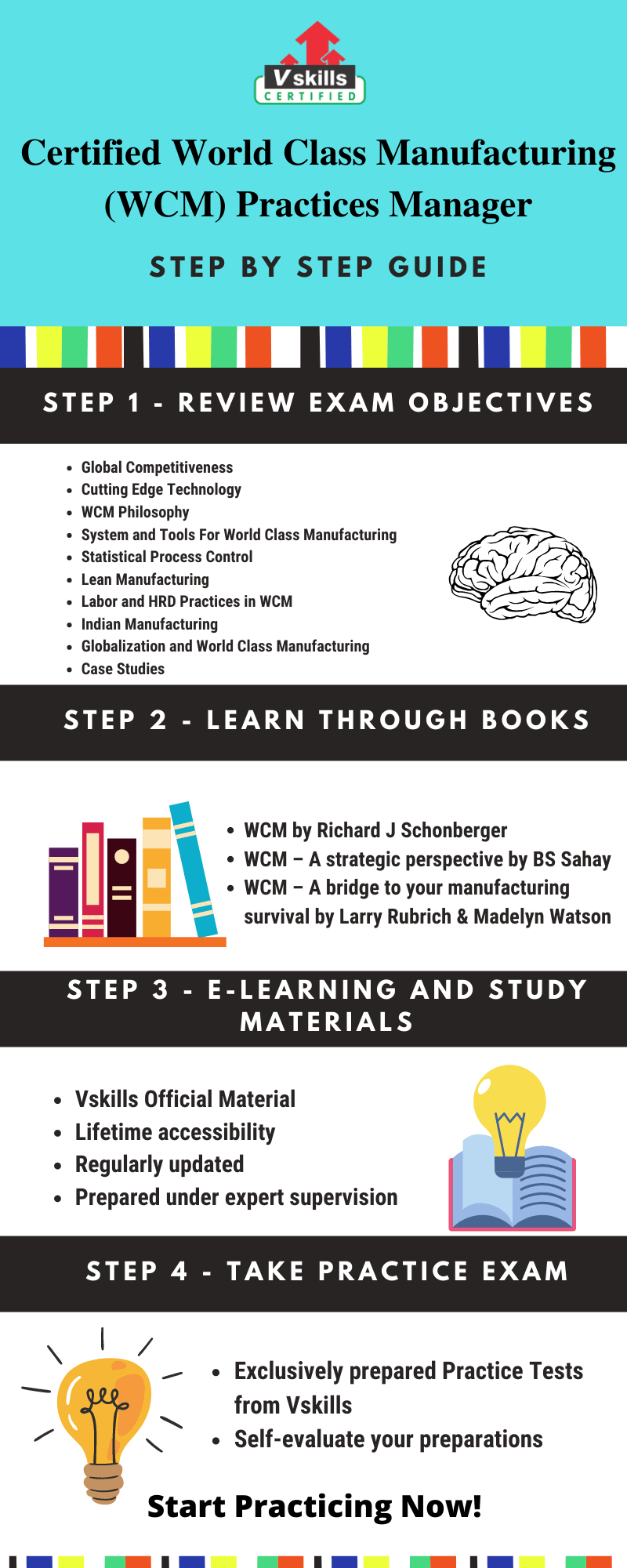 Step 1 – Review Exam Objectives
Going through the exam objectives is the most important element of your exam preparation. This will help you organize yourself before you start your preparation. It helps you understand the requirements of the exam and hence allows you to collect suitable study resources that can help you align with these requirements. The World Class Manufacturing Professional certification exam has the following objectives –
Firstly, to learn the adoption of different concepts
Secondly, to learn the concept of Kaizen which means continuous improvement and one of the most important aspects of WMC
Then, to learn the manufacturing approach, to transform the non-value-added activity into added activity
Also, to learn total quality management for an increase in implementation by manufacturing and service organizations for excelling in the performance
Finally, to learn six- sigma, which is considered a more effective beneficial approach for improving the firm's productivity.
Refer: Certified World Class Manufacturing (WCM) Practices Manager Brochure
Step 2 – Learn Through Books
The second step towards your certification is to go through suitable books. Books are considered our best friends, and going through them although involves a tedious learning process it also gives an advantage of strengthening our brain as well. While some prefer the digital method of study, others love to study from books. This is completely your own choice, and you must make yourself comfortable with a suitable method of preparation. For your reference, the top three books for the WCM Professional certification are given below –
WCM by Richard J Schonberger – In this book, there is a complete knowledge of revolutionized American manufacturing theory and its important practices.
WCM – A strategic perspective by BS Sahay – This book gives an outlook on the functioning of the manufacturing process.
WCM – A bridge to your manufacturing survival by Larry Rubrich & Madelyn Watson – This book is uniquely written and explains step by step format for both managers and operators in implementing WCM practices.
Step 3 – E-learning and Study Materials
Apart from going through the syllabus, and relevant books, there might be certain concepts that still remain untouched. The fact remains true that books cannot explain the practical details, that are very important from the exam point of view. So, to help you grasp the essential knowledge, Vskills offers E-learning resources, exclusively for candidates like you. The perks offered with these study materials is that you get lifetime access to them. Moreover, Vskills also provide a hard copy of these study materials, that are timely upgraded with the changing syllabus.
Refer: Certified World Class Manufacturing (WCM) Practices Manager Sample Chapter
Step 4 – Check Your Progress with Practice Tests
Practice tests are always a necessary part before any examination. These tests help us to familiarise ourselves with the formats of examination. Moreover, it helps us to analyze our level of preparation as well, thereby making us exam ready. So start practicing Now

Elevate your chances to grab brighter career opportunities, by becoming a Certified WCM Practices Manager. Start Practicing Now!
Apply for WCM Certification Now!!
http://www.vskills.in/certification/World-Class-Manufacturing-Certification