Certify and Increase Opportunity.
Be
Govt. Certified Business Writer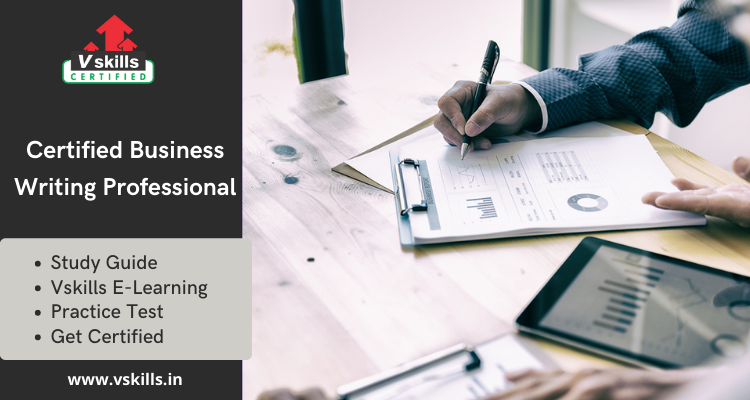 Certified Business Writing Professional is designed by Vskills to help you develop all the relevant skills and knowledge required in the business writing field. It is designed to help and enhance your writing communication skills. Business writing is an upcoming demanding career. Big companies, nowadays are hiring business writers who are capable enough to write in and about various business aspects such as, types of memo, cover letters, e-mail, letter, CV, proposal, etc. However, to become a good writer you need to learn a few basic and advanced skills.
Roles and Responsibilities
As a Business Writer, you will be working on creating, writing, and editing various types of memos, cover letters, e-mail, letter, CV, proposal, etc. To add on, business writing is a must-have skill in today's growth. The ability to write with clarity precisely & elegantly will get you much more in your professional career. On the other hand, poor writing can hold back your career. Few people can write with elegance & flow and express themselves with clarity. Writing is an art and being an artist is a tedious yet enjoyable job.
Benefits of the Certification
The business writer is an amazing job, you will get to work on new writings every day. Also, with time your creativity will evolve and develop.
With the Vskills Certified Business Writing Professional, you will able to acquire the skills and knowledge to find employment in good companies. Also, you can work with the top companies such as info edge, TCS, Adecco India, and Atlas Copco.
Vskills being India's largest certification provider gives candidates access to top exams as well as provides after exam benefits. This includes:
The certifications will have a Government verification tag.
The Certification is valid for life.
Candidates will get lifelong e-learning access.
Access to free Practice Tests.
Test Details
Exam Duration: 60 minutes
Number  of questions: 50
Maximum marks: 50
Passing marks: 25 (50%).
There is NO negative marking in this module
It is an online examination

Course Outline
Communication Basics
Meaning and Definition
Dimensions of Communication
Formal Vs Informal
Barriers of Communication
Cultural Barriers
Effective Communication
Negotiating Conflict in a Principled Fashion
Guidelines For Effective Communication
Oral Communication
Formal Vs Informal Oral Communication
Advantages of Oral Communication
Disadvantages of Oral Communication
Silence as Communication
Non Verbal Communication
Reflection Of Thought, Feelings And Position
Effective Use of Body Language
Written Communication
Features of Written Communication
Written Communication in Business
Fragmented and Parallel Sentences
Fragmented and Parallel sentences
Series
Element of a Series
Squinting Construction and Split Infinitive
Split Infinitive
Dangling Participles and Gerunds
Coherence and Unity
Summarising or Precise Writing
The Key Language Points
Some Rules to Remember
Graphics
Characteristics of Tables
Principles of Business Correspondence
Objectives
Common Components and Formats
Technical Writing
Technical Writing Objectives
Principles of Technical Writing
Write Clear Sentences for Your Reader
Letter Writing
Examples of Private Letters
Examples of Business Letters
Application Letters
Circular and Questionnaires
E-Mail
Managing the Mailbox
Presenting Your Mail
Small is Beautiful Keep Your Mail Short
Don't Hide Behind Your Mail
Proposal
Introduction
Definition and Types
Planning Sheet for a Proposal
Composition of a Proposal
The Statement of Need
Sample for Proposal Writing
Scientific and Technical Articles
Definition & Characteristics
Report Writing
Characteristics of Report Writing
Style of Report Writing
Classification of Reports
Key Points
Notices
Notice Basics
Useful Tips
Agenda
Minutes of Meeting
Introduction
Layout of Meeting Minutes
Useful Tips
Memo
Basics
Elements of an Effective Memo
Types of Memos
Memo Parts
Preparatory Guide for Certified Business Writing Professional
To help you out with your preparation we have provided you with a preparatory guide. This guide will help you in preparing for the examination. Let's get started:

Refer to Exam Objectives
The course domains and modules act as a blueprint for the exam. Therefore you must refer to the Business Writing Certification guide before commencing its preparations to excel in the exam. Also, exam objectives are very important when it comes to preparing the exam strategy. Here, we have provided you with the exam objectives:
Communication Basics
Verbal & Non-Verbal Communication
Technical Writing
Report Writing
Principles of Business Correspondence
Refer: Vskills Business Writing Certification Broucher
Vskills E-Learning
For the Vskills Business Writing Certification examination, our team has provided online study material. Also, this online material this is regularly updated. Furthermore, e-learning is bundled with hard copy material which helps candidates to improve and update the learning curve for superior and better opportunities.
Refer: Vskills Business Writing Certification Sample Chapter
Reference Books
It is very important to study in the right book. There is an ample number of books available in the market for this examination. This book will help you in preparing for the examination:
 The Sense of Style by Steven Pinker
The Elements of Style by Strunk and White
Garner's Modern English Usage, 4th Edition
Evaluate yourself with Practice Test
It is very important to practice what you have learned so that you are in a position to analyze your practice, by practicing you will be able to improve your answering skills that will result in saving a lot of time. Moreover, the best way to start doing practice tests is after completing one full topic as this will work as a revision part for you.
If you are preparing for a role in Business Writing, then you must checkout these online interview questions to crack the job interview with ease. Try for free Now !