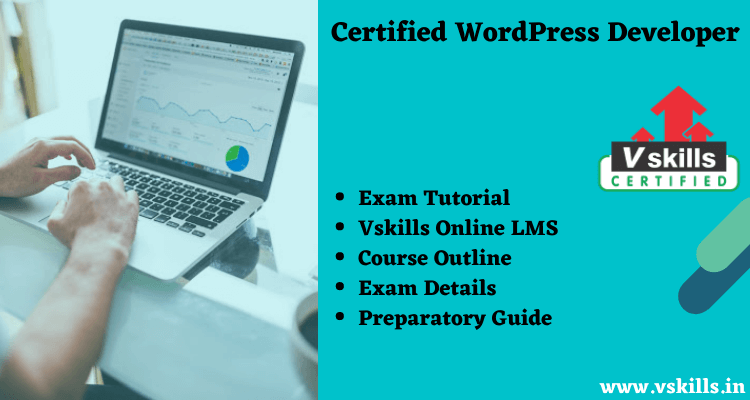 Certified WordPress developers are responsible to design and implement websites for customers using the WordPress web formulation tool. They operate for a variety of organizations like computer systems firms, design agencies, and marketing agencies. They can serve as a part of agency design or marketing teams, or for themselves as freelancers. While some WordPress developers work part-time or remotely, most work full time in an office environment. These Certified WordPress developers work directly with clients, writers, designers, marketers, brand strategists, and other developers to build engaging and user-friendly websites.
So if you are planning to take WordPress development as a career then Vskills Certified WordPress developer exam that proves your capabilities as a qualified candidate to take up the job.
Role and Responsibilities of a Certified WordPress developer
Engaging with clients to address website design and function.
Sketching and making the website front-end.
Building the website architecture.
Planning and accomplishing the website back-end including database and server integration.
Creating WordPress themes and plugins.
Handling website performance tests.
Troubleshooting content problems.
Administering WordPress training with the client.
Observing the execution of the live website.
career in Certified WordPress Developer
If you're a budding writer or content producer, you've undoubtedly heard of WordPress Developer, a wonderful open-source platform that allows users to build remarkable and appealing web pages without having to attend a coding school. Let us know about career in Certified WordPress Developer!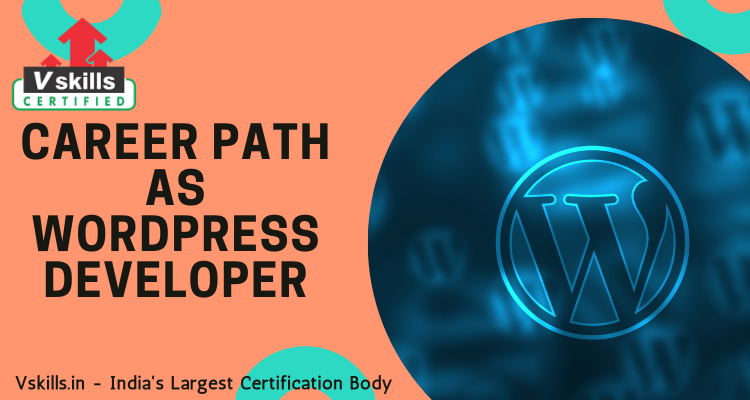 Certified WordPress developer: Overview
WordPress is great for making a fully customized website for any design. Whether the candidate wants to build a blog, a personal portfolio, or a company website, they can do it with WordPress. It is one of the most compelling content management system (CMS), it provides its user full control over the published content. It is remarkably SEO friendly & facilitates easy social media integration. The Vskills Certified WordPress developer certification is created for anyone seeking to be a web designer & developer. This course will further benefit bloggers, programmers, or business owners. Learners who want to study web design from the start and anyone who wants to acquire the basics of web design or desire to improve their web development abilities will obtain from this course. By the completion of this WordPress certification, the candidate will have sufficient knowledge to build a website of their own.
Vskills being India's largest certification provider gives candidates access to top exams as well as provides after exam benefits. This includes:
Get tagged with a Governemnt Certification
The Certification is valid for life.
Candidates will get lifelong e-learning access.
Access to free Practice Tests.
Candidates will get tagged as 'Vskills Certified' On Monsterindia.com and 'Vskills Certified' On Shine Shine.com.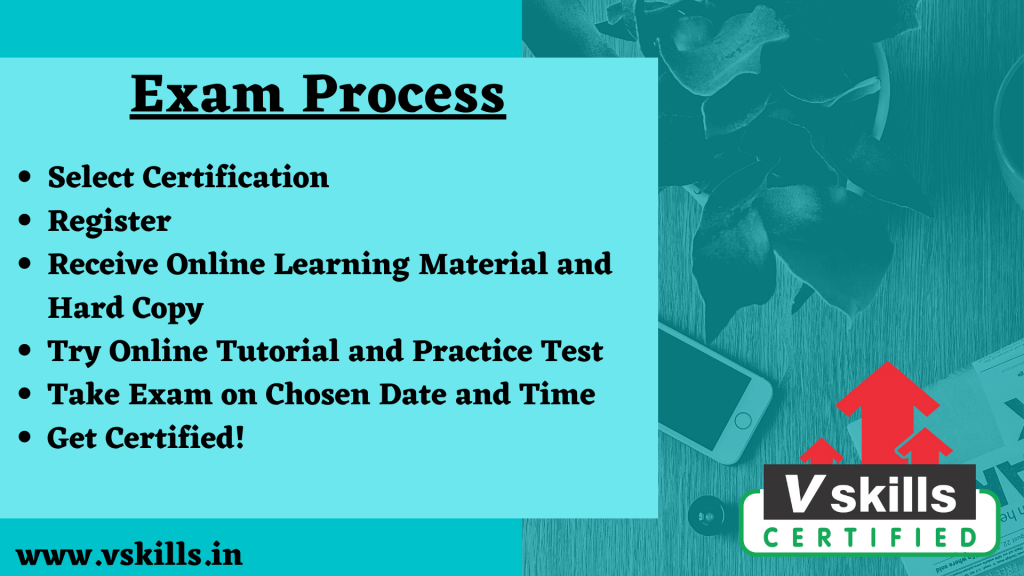 Exam Details
Exam Duration: 60 minutes
Vskills Exam Code: VS-1048
Number of questions: 50
Maximum marks: 50
Passing marks: 25 (50%)
Exam Mode: Online
There is NO negative marking in this module.
Certified WordPress developer Course Outline
Certified WordPress developer covers the following topics –
Configuration
Preparation Guide for Certified WordPress developer
Candidates brewing for the Certified WordPress developer exam should recognize the importance of exam resources. During the exam preparation, it is important to get all the necessary exam study sources. This will provide the benefit to understand the concepts and meaning more precisely. In the Certified WordPress developer preparation guide, we will review some of the most significant resources to help the candidate prepare well for the exam.
Exam Objectives
For every examination, the first task should be to get all the exam relevant details including the important contents and its topic. With complete exam objectives, the candidate's exam preparation time is better spent because they already know what to study. For the Certified WordPress developer exam, the topics include:
CMS and WordPress Basics
WordPress Configuration
WordPress Posts and Pages
WordPress Data Storage
WordPress Plug-ins
WordPress Themes
WordPress Administration
WordPress Authentication and Optimization
WordPress Security
Vskills Online Learning Material
Vskills Certified WordPress developer provides candidates a way to prepare for the exam using the online learning material for existence. The online material for this is regularly updated. Moreover, e-learning is bundled with hard copy material which encourages candidates to enhance and update the learning curve for superior and better opportunities.
Refer: Certified WordPress developer exam Sample Chapter.
Vskills Brochure
Vskills also provides a brochure for the Certified WordPress developer exam. The brochure contains all the necessary related to the exam such as details, sample papers, important information, course outline, etc.

Books for Reference
The next step in the preparatory guide should be books and study guides. The candidate needs to find those books which are enriched with information. Finding a good book may be a difficult task, but in order to gather knowledge and skills, the candidate has to find, read, and understand. We recommend the following for additional knowledge:
Professional WordPress Plugin Development, 2nd Edition by Williams
Professional WordPress: Design and Development by Brad Williams, David Damstra, et al.
WordPress 5 Complete: Build beautiful and feature-rich websites from scratch, 7th Edition by Karol Krol
Practice Test
Practice tests are the one who ensures the candidate about their preparation for the Certified WordPress developer exam. The practice test will help the candidates to acknowledge their weak areas so that they can work on them. There are many practice tests available on the internet nowadays, so the candidate can choose which they want. Try the practice test here!
Job Interview Questions
Get ready to crack you interview whether you are a fresher or looking to upgrade your career. The questions are designed by experts to help you to overcome the job interview obstacle.