If you're a budding writer or content producer, you've undoubtedly heard of WordPress Developer, a wonderful open-source platform that allows users to build remarkable and appealing web pages without having to attend a coding school.
Let us know about career in Certified WordPress Developer!
About WordPress
WordPress may be traced all the way back to the dawn of the Internet. WordPress was created in 2001, when the Internet was accessed via a phone line and computers were thicker than textbooks. WordPress began as a simple tool to assist individuals in publishing their views online. WordPress has grown into a famous blogging platform with international acclaim over the years.
WordPress pioneered several online formatting capabilities, including as in-line pictures and previews, in the early 2000s, contributing to its reputation for simplicity of use. With the rise of the blogging frenzy came a slew of new features. The popularity and usefulness of the site grew quickly.
Certified WordPress developers use the WordPress web creation tool to design and construct websites for customers. They work for a range of companies, including computer systems corporations, design firms, and marketing firms. They can work as freelancers or as part of an agency's design or marketing teams.
Role and Responsibilities of a WordPress developer
Engaging with clients to address website design and function.
Sketching and making the website front-end.
Building the website architecture.
Planning and accomplishing the website back-end including database and server integration.
Creating WordPress themes and plugins.
Handling website performance tests.
Troubleshooting content problems.
Administering WordPress training with the client.
Observing the execution of the live website.
Career path
WordPress developers usually have an associate's degree when they start their careers. A four-year degree, ideally in computer programming or a related subject, may be required for more technical positions. Although a working knowledge of WordPress is required, certain applicants with web programming certification may be considered. The number of web development jobs is anticipated to rise by 13% by 2028, according to the US Bureau of Labor Statistics. In an office setting, a WordPress Developer's usual work hours are 9 a.m. to 5 p.m.
How to Learn WordPress?
WordPress is not as difficult to learn as you would believe. As with anything else in life, there is a method to mastering this talent faster if you follow it. The procedure we propose is as follows: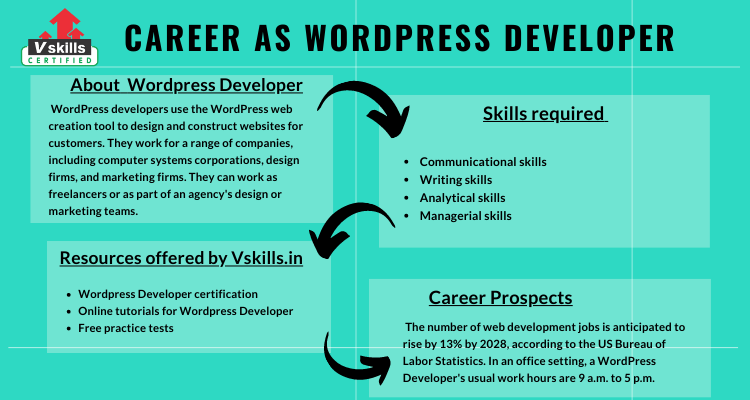 Select a project. What is it that you want to write about? Is there anything you can't wait to tell the world about? The first step is to decide the project you want to work on.
Sign up for a WordPress account. There just isn't any other way to begin. To begin, go to WordPress.com and create an account. You'll be prompted to choose a username and password. You'll also set up a profile, pick a plan, and create a web address. It's also a good idea to give your website a title.
Take a look at what WordPress has to offer. Have some fun exploring after you've completed your profile. To locate some fantastic reading, click to the Reader and then to the My Sites tab. You may use this menu to create pages and blog entries. Allow your curiosity to lead you in the right direction.
Take a look at the themes that are available. You may choose from hundreds of themes for your blog. With so many possibilities, there's certain to be something that catches your attention (and your readers). And Make changes to your theme. You may now upload your own header, add widgets, and change the fonts and colours.
Select a WordPress training programme or course. Now that you've mastered the fundamentals of WordPress, it's time to delve a bit further. Choose a course that meets your objectives, expectations, and time constraints. Find a class that allows you to learn at your own pace, whichever is most convenient for you (in-person, online, or hybrid). In the area that follows, you'll discover a lot of suggestions.
Work on your project as usual. You may use the abilities you've learned on your blog or website even before you finish the course. Begin writing and publish your work. Put your newly acquired abilities to the test by producing fantastic articles or pages for the rest of the world to see.
Average Salary
Everyone wants to obtain great deals in order to put more money in their pockets. It's possible that you're one of them. If you answered yes, you should consider pursuing a career as a WordPress developer, since you would be well compensated after gaining 2-3 years of expertise.
| | |
| --- | --- |
| EXPERIENCE | AVERAGE SALARY |
| Fresher or having experience less than 1 year | Rs 1.25 lakh per annum |
| 1- 4 years of experience | Rs 2.5 lakh per annum |
| 5- 9 years of experience | Rs 5 lakh per annum approx |
| More than 9 years of experience | Rs 6 lakh or more depending on your knowledge and skills |
If you haven't previously, understand the foundations of WordPress before attempting to become a WordPress developer. Developers should take their time learning the technical elements of WordPress so that they can overcome the obstacles of building a working WordPress website.
Resources for WordPress Developer
Before you can become an expert in desired areas, you must first build a solid base. Before you can move on to practical teaching, you'll need to have the right applied skills. To gain a full understanding of the domain, you can use the following tools:
Firstly, Online Tutorials for WordPress Developer
Also, Certification Courses from verified sources such as Vskills, Coursera, Udemy and so on.
In addition, Online communities
Moreover, Blogs and study material from experts in this field and many more.
Here are some examples of how you can improve your abilities:
Freelancing
Internships
Apprenticeship programs
The above steps will help you to get this domain started. It's a long way to go, however. You can take an advanced course to reach a new level of skills.
Some resources offered by Vskills
Vskills offer WordPress Developer professional certification for all those interested in working in this field or in advancing their career. This certification course covers the following topics –
CMS and WordPress Basics
WordPress Configuration
WordPress Posts and Pages
WordPress Data Storage
WordPress Plug-ins
WordPress Themes
WordPress Administration
WordPress Authentication and Optimization
WordPress Security
Vskills also offers free practice tests and online tutorials to supplement the learning process. You can check them by clicking on the following links –
Discover the career opportunities and other prospects of Career in WordPress Developer. Hurry up and start preparing now with Vskills.in!