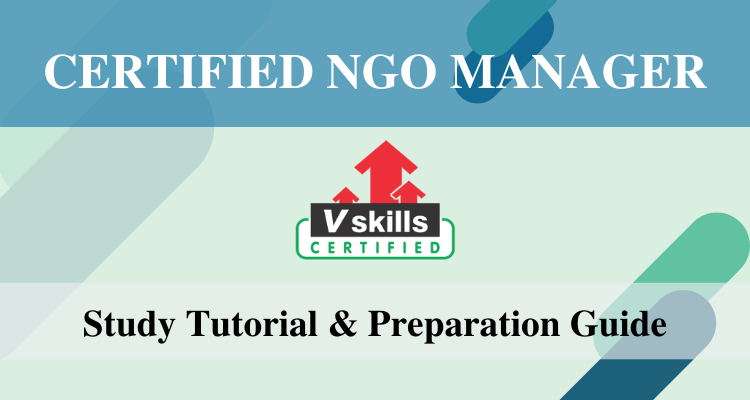 An NGO manager is the one who represents a firm and interacts with government officials and other policy bodies. For the candidate or professionals who aspire to work for an NGO or a Social Organisation and want to make their career in it, this certification is designed for them. The objective of the Vskills Certified NGO Manager course is to assess the candidates on different areas in sustainable Development, Management Planning, operational planning, communication, leadership, fundraising and project management.
Why Become an Certified NGO Manager?
The course is primarily designed for the professionals who aspire to excel in their chosen fields. The NGO manager certification will help you build skills and increase employment opportunities and most importantly earning potential.
Who Should Take the NGO Manager Certification?
Job seekers who are looking for employment opportunities in the CSR department and professionals who wish to make their CV's strong mer. In today's competitive market this certification is highly recommended for those who wish to work in the NGO department
Roles and Responsibilities of a Certified NGO manager
A certified NGO manager performs the following responsibilities.
Plans strategies and execute the organization's service and projects.
Solves the problems and assess programs and approve the yearly budget report
Works as a representative in the firm while undertaking charitable programs and other community services
Looks for the companies who would fund and manage the volunteers and guide them as well.
Creates new policies, decisions and fill IN documents, create organizational charts and other archives
Attends the meeting with the sponsor and government officials
Holds massive knowledge regarding the rules and policies of the government agencies, tax and many other things
Analyzes the financial transactions, reports and solve problems in the organization.
Benefits of taking Vskills Certification
Vskills being India's largest certification providers gives candidates access to top exams as well as provides after exam benefits. This includes:
The certifications will have a Government verification tag.
The Certification is valid for life.
Candidates will get lifelong e-learning access.
Access to free Practice Tests.
Candidates will get tagged as 'Vskills Certified' On Monsterindia.com and Shine.com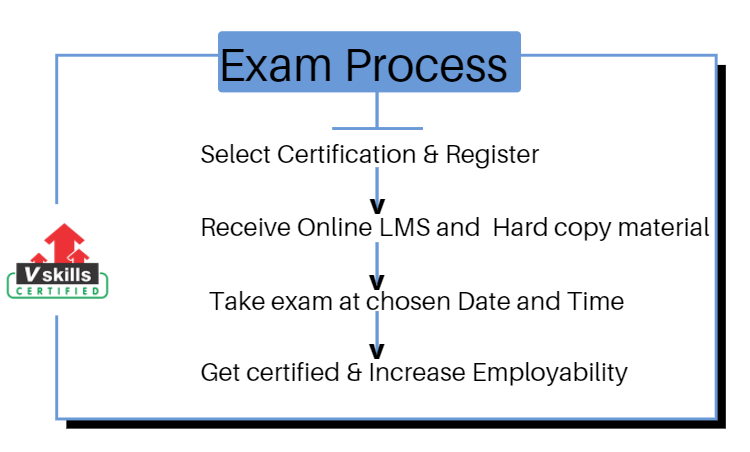 Exam Details
Exam Duration: 60 minutes
Vskills Exam Code: VS-1172
Number of questions: 50
Maximum marks: 50
Passing marks: 25 (50%)
Exam Mode: Online
There is NO negative marking in this module.
Course Details
Certify and Increase Opportunity.
Be
Govt. Certified NGO Manager

Non-Governmental Organization
Basics
History
Types
Activities
Legal Procedures for Establishments of NGOS
Introduction
A Trust
Registration of a Trust
Registration of a Civilization
Tax Relief's For NGOS
Documents Required Under Section G
Kind of Income Entitled for Exemption
Meaning Of Charitable and Religious Purpose
Office Procedure and Documentation Structure
Documents Required to Form a Trust
Contents of a Trust Deed
Registration Under Indian Registration Act
Documents Required to Form a Society
Contents of The Memorandum of Association
Significant Bye Laws of The Society
Registration of a Society
Registration Under Companies Act
Basics of Accounting, Budgeting and Resource Mobilization
Basics Accounting
Steps in Accounting Procedure
Vital Rules in Accounting
Budgeting
Resource Mobilization
Social Marketing
Social Marketing
Social Marketing and Commercial Marketing
Behavioral Change and Social Marketing
A Successful Social Marketing Organization
Fundamental Components of Social Marketing
Challenges for NGO Society
Social Marketing And Corporate Social Responsibility
Examples of Social Marketing
Project Management
Introduction
Project Cost Management
Sequence and Timing
Scheduling The Implementation
Defining Project Objectives and Preliminary Milestones
The Role of Workflow
Project Documentation
Staffing
Hardware and Software Possessions
Outsourcing
Preparing a Budget
Cost Components
An Instance Budget
Additional Scheduling Thoughts
Executing the Project:
Proposal Writing
Reporting
Monitoring
Evaluating The Manufacture Stage of The Project
Evaluating the Overall Project
Evaluating The Collection
Multi-Institution Projects
Funding of Activities
Foreign Funding
Foreign Non-Funding Support
Foreign Companies
Alternative Resource Mobilisation
Problems and Issues in Alternative Resource Mobilization
Tax Exemption
Making a Proposal
Partnership Management
Introduction
Need
Different Types of Partnerships
Principle of Effective Partnerships
Cultivating Partnerships
Capacity Building
Introduction
History
Community Capacity Building
Capacity building in Government
Capacity Building by NGOs
Evaluating capacity building
Liasoning and Advocacy
Advocacy Basics
Forms of Advocacy
Advocacy Contexts
Transnational Advocacy
Liaisoning
Code of Ethics & Conduct
Introduction
Need for Ethics Code
Guiding Principles
NGO Integrity
Mission and Activities
Governance
Human Resources
Public Trust
Financial and Legal
Fundraising
Partnerships, Collaboration & Networking
Computers Basics
Introduction – What is Computer?
Characteristics of computer
Commonly Used Computer Terms
Units of a computer system
Representation of information
Basic Operations of a Computer – Input, Process and Output
Input Devices
Output Devices
Storage Devices
Types of Software
Disk Organization Terms
Operating System
User Interface
Word Processing
File Management
Printing of documents
Previewing a document
The Formatting Toolbar Icons
Editing Text
Headers and Footers
Font Formatting
Bullets and Numbering
Drop Capital
Mail Merge
Spreadsheet
MS-EXCEL Window Elements
Page Setup
Preset Headers and Footers
Printing document
Editing data
Formula
Presentation
Loading of PowerPoint
Starting with a presentation
Different Views
Editing the document
Modifying the document
Working of a Slide Show
Internet
Networking Concepts
Internet Terms (Hypertext, URL, Domain Name)
Web Browser and ISP
Upload and download files
Control of Internet
Email
Communication Skills
Basics of Communication
Communication types
Communication Barriers
Verbal Communication
Non-Verbal Communication
Communication Skills Development
Preparation Guide for NGO Manager Certification Exam
The following preparation guide is a perfect instrument to grab information that you must study before the exam. It provides convenient references for study sessions and what steps are to be implemented in the correct order, thereby decreases the studying pressure, and increasing confidence with constant motivation.
Step 1 – Review the Exam Objectives
The first step in your preparation guide should always start with the exam objectives. Reviewing each and every exam objective becomes the most important part of your preparation. Devote enough time to each topic and have in-depth knowledge of the subject. Moreover, this will also result in strengthening your preparation. This certification exam covers the following topics:
Non-Governmental Organization
Legal Procedures for Establishments of NGOs
Office Procedure and Documentation Structure
Basics of Accounting, Budgeting, and Resource Mobilization
Social Marketing
Project Management
Funding for Activities
Partnership Management
Capacity Building
Liasoning and Advocacy
Code of Ethics & Conduct
Computers Basics
Word Processing
Spreadsheet
Presentation
Internet
Communication Skills
Refer: Certified NGO Manager Brochure
Step 2 – Learning with Books
Books have proven to be the most effective source of learning. Books increase your intellectual growth, and hence facilitating creativity and imagination. The following books are the top 3 books that you can refer to for NGO manager certification exam.
Managing at the Leading Edge by Mike Hudson – The book consists of deep insight into the organizational perspective. It covers topics like governance, management, leadership, and strategic partnership. Mostly focuses on practical experience as a consultant.
Managing the Non-Profit Organization: Practice and principle by Peter Drucker – The book is one of the finest books which provides all sorts of information regarding undertaking NGO tasks. Through interviews and writing marketing missions.
Breakthrough Thinking for Non-Profit Organisation Creative Strategies for extraordinary results by Bernard Ross and Clare Segal – The book explores how to evolve your performance as an NGO manager. The book is awarded as one of the best Nonprofit organizations Management books in 2005 in the USA.
Step 3 – E-Learning and Study Materials
E-learning approaches creative thinking and stimulates learning. It is one of the easiest ways to learn and makes the learning process fun. The website has study material that summarizes all the concepts. It makes a student active and saves them from the tedious process of finding answers to the questions. Vskills offers E-Learning Study Material for the Certified NGO Manager exam. One very special advantage of Vskills learning material is its timely updates and lifetime access. In addition to supporting your e-learning, Vskills also provides study materials in hard copy for the candidates preferring offline study methods.
Refer: Certified NGO Manager Sample Chapter
Step 4 – Check your Progress with Practice Tests
Taking practice tests exposes us to our fear that we might face during the final exam. Practice tests help evaluate our progress, and encourages us to work on our weak areas, and notifies us about the topics that we have already mastered. This, as a result, builds our confidence and prepares us for the final certification exam. So Start Practicing Now!

Job Interview Questions
Prepare for your next job Interview with Vskills Latest online Interview questions, these questions are created by experts to help you to overcome the interview fear.

Showcase your knowledge and expertise with the Vskills NGO Manager Certification. Start Practicing Now