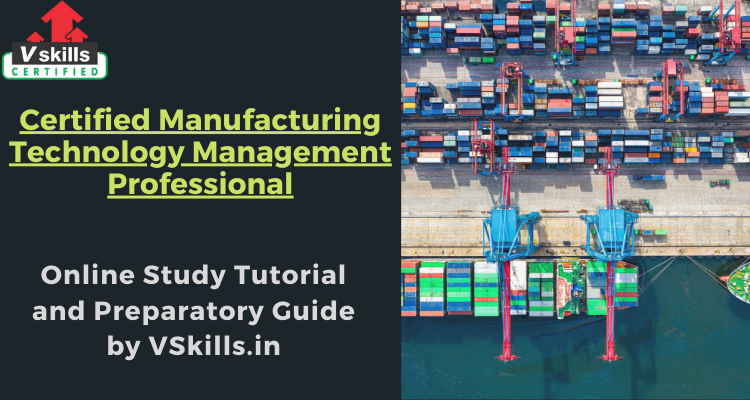 IT sector has been booming over the recent years and making a career in this sector can help making a lot of fortune. This kind of certifications are quite challenging as they help you in figuring the right direction for you. The Manufacturing Technology Management Professional focuses on preparing skilled individuals for managerial positions in industry. Manufacturing Technology Management students study a broad range of topics in order to understand the overall workings of an industrial organization and the key elements which lead to productivity, profitability and competitiveness.
The present era is ruled by the concept of survival of fittest. In order to climb up the corporate ladder, one has to be way ahead and different from other people. The certifications help you stand out in the crowd as you will be professionally working in the domain you are most interested. But, nothing in the world comes for free. You have to put a lot of hard work and figure out with right set of resources to ace the examination.
Roles and Responsibilities
Manufacturing Technology Management students study a broad range of topics in order to understand the overall workings of an industrial organization and the key elements which lead to productivity, profitability and competitiveness. The roles and responsibilities includes practical application of the above mentioned topics.
Vskills Certified Manufacturing Technology Management Professional
This certification is of utmost benefit for one's career. Earning Vskills Manufacturing Technology Management Professional Certification can help candidate differentiate in today's competitive job market, broaden their employment opportunities by displaying their advanced skills, and result in higher earning potential.
Who should take this certification?
This Course is apt for anyone looking to advance his career into this field. It is intended for production executives, senior executive and managers wanting to excel in their chosen areas. It is also well suited for those who are already working and would like to take certification for further career progression.
Benefits of taking this Certification
Certification Process
Select Certification & Register
Receive a.) Online e Learning Access (LMS) b.) Hard copy – study material
Take exam online anywhere, anytime
Get certified & Increase Employability
Exam Details
Duration: 60 minutes
No. of questions: 50
Maximum marks: 50, Passing marks: 25 (50%).
There is NO negative marking in this module.
Online exam.
Course Outline
This exam revolves around following objectives –
Strategic Management
What is Strategy
Strategic Management Processes
Strategic Management Process in an Organization
Strategic Decision-making
Environmental Analysis
Pestle Analysis
SWOT Analysis
Value Chain Analysis
Competitor Analysis
Manufacturing Strategy
What is Manufacturing Strategy?
What is Competitive Priorities?
Decision Categories
Manufacturing Capabilities
Manufacturing Performance
Long Range Business Planning
Technology Strategy
What is Technology?
What is Technology Strategy?
Technological Change
Technology and Innovation
Innovation Management
Technology Forecasting
Technology Forecasting Methods
Technology Monitoring
Technology Life Cycle (TLC)
Technology Strategy Formulation
Manufacturing Processes
Manufacturing Basics
Metal Casting
Metal Forming
Plastic Molding and Forming
Rapid Prototyping
Fastening and Joining
Soldering
Adhesive Bonding
Machining
Surface Finishing
3D Printing
Computer Integrated Manufacturing
Computer-Aided Design
Closed-loop control process
Flexible Manufacturing Systems
Computer-Aided Engineering
Computer-Aided Process Planning
Computer-Integrated Manufacturing (CIM)
CIM Manufacturing Machinery
Controls for CIM Machinery
Make or Buy Decisions
Decision Making Basics
Make-Or-Buy Decision
In-House or Make Decision
The Buy Decison
Decision Making Process
Example
Make or Buy Analysis
Plant location and layout
Plant Location
Plant Location Planning
Plant Layout
Plant Layout Types
Product Layout Design
Just-In-Time Manufacturing
What is JIT Manufacturing?
JIT Manufacturing Evolution
JIT Production Theory
JIT Manufacturing Elements
JIT Benefits
JIT Limitations
JIT Prerequisites
JIT Implementation
Quality Management
Quality Basics
Product vs Service Quality
Quality Management
Cost of Quality
Quality Principles
Quality Management Methods
Base Lining
Benchmarking
Value Analysis (VA/NVA)
TQM
PDCA
Quality Function Deployment (QFD)
FMEA
Six Sigma
Lean
Cause-and-Effect Diagram
CPM/PERT Chart
Control Charts
Quality Standards
Quality Performance Measurement
Preparatory Guide for Certified Manufacturing Technology Management Professional
There are unlimited resources available for preparation which are available for the prescribed syllabus. Out of the many resources you can choose as many as you feel comfortable with. Always remember that the resources that you will choose will make the difference. Always remember that there are unlimited resources you can choose any of them. Let us have a look at a handful of them –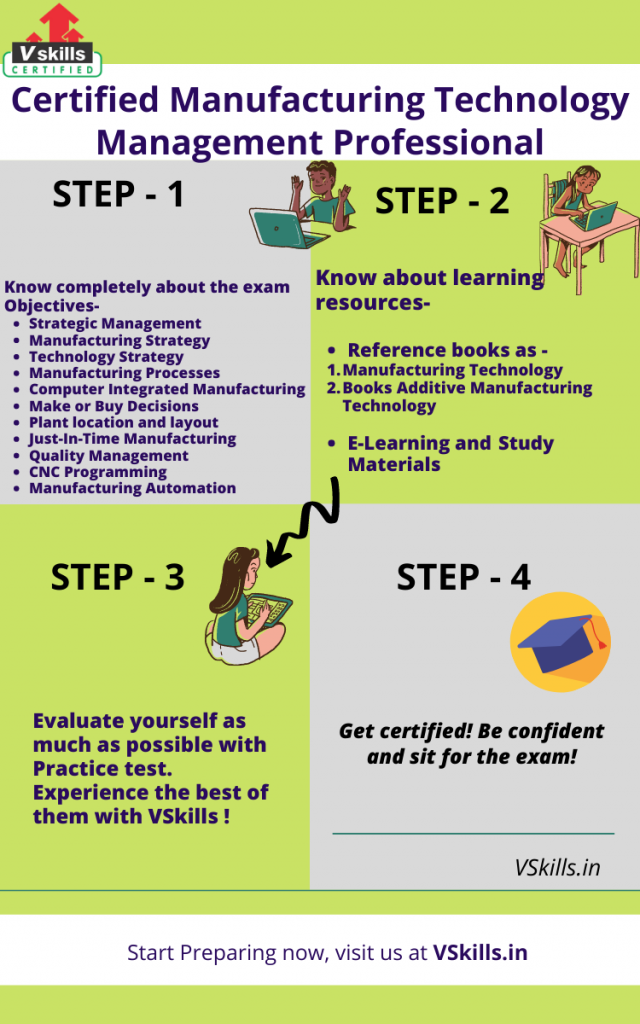 Step 1 – Review the exam objectives
The first and foremost thing before you start preparing is to get well versed with the objectives of the exam. Knowing in detail about the exam objectives will let you understand the way through which you will prepare for the exam and then help to pass that with the flying colors. This exam revolves around following objectives –
Strategic Management
Manufacturing Strategy
Technology Strategy
Manufacturing Processes
Computer Integrated Manufacturing
Make or Buy Decisions
Plant location and layout
Just-In-Time Manufacturing
Quality Management
CNC Programming
Manufacturing Automation
Refer – Certified Manufacturing Technology Management Professional Brochure
Step 2 – Refer to the books
Books are the best resources and always the first way that comes in our mind while preparing. You can choose the books as per your ease and level of understanding. There are many books that are available that can be used to clear your concepts and can provide you with insightful other topics too. This can be used to deal with the tricky part of the paper too. Some books that can be referred are –
Manufacturing Technology (Manufacturing Process) by R.K. Rajput
Additive Manufacturing Technology by Hari Prasad and A.V. Suresh
Step 3 – E-Learning and Study Materials
Learning for the exam can be fun if you have right set of resources matching your way of studying. Vskills offers you its E-Learning Study Material to supplement your learning experience and exam preparation. This online learning material is available for lifetime and is updated regularly. You can also get the hardcopy for this material, so, you can prefer either way in which you are comfortable.
Refer – Certified Manufacturing Technology Management Professional Sample test
Step 4 – Evaluate yourself with practice tests
Practices makes a man perfect. We all are quite well versed with this saying and also with the truth in this. Practice papers and test series help you in identifying the loopholes in the preparation. You can also find the problems you are facing in your strategy. Practicing as much as you can will help in identifying various parts of the syllabus that need more attention and that are fully prepared. This is the best way to know your level of preparation. Start practicing now!

Manufacturing Technology Interview Questions
Checkout these latest online interview questions on Manufacturing Technology to prepare for any job interview. The questions are created by domain experts, to help you to overcome the job interview obstacle.