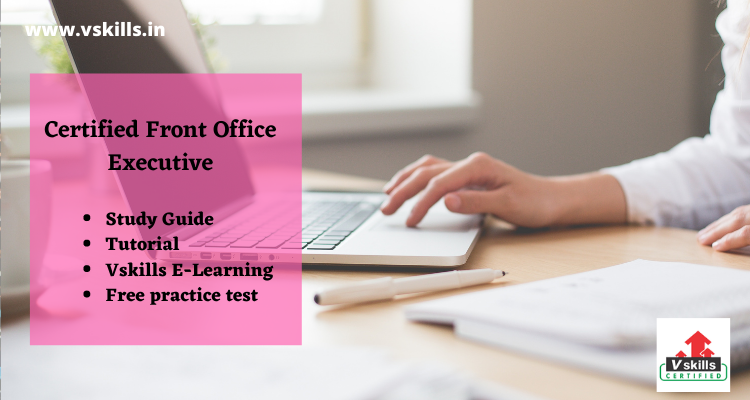 A Front Office Executive is recognized for its helpfulness and knowledge of the facility. They are the first point of contact for everyone entering a company. For instance, in a hotel checking people into the computer system, explaining particulars about the room and amenities, answering questions about food service or local transportation, and calling for assistance with luggage is done by the Front Office Executives.
Front Office Executives: Roles and Responsibilities
As a Office Executive, you will be responsible for attending all the incoming calls, responding to them, and transferring the call to the appropriate department. To add on, you will be responsible for adhering to all the safety procedures and keeping the management informed about any kind of unsafe situation. Furthermore, you will also be coordinating with other departments as well.
Vskills Certified Front Office Executive
With the Vskills Certified Front Office Executive, you will be able to excel in their chosen areas. It is also well suited for those who are already working and would like to take certification for further career progression. Also, It also evaluates the students' awareness of various roles and responsibilities of a front desk executive and the candidate's ability to become effective from the first day itself.
Benefits of the Certification
Earning Vskills Front Office Executive Certification can help candidate differentiate in today's competitive job market, broaden their employment opportunities by displaying their advanced skills, and result in higher earning potential.
Job seekers looking to find employment as a Front Desk Operator or Receptionist in IT, Finance, Real Estate, BPO, Manufacturing, Hospitality, Health Services industries among others.
Vskills being India's largest certification provider gives candidates access to top exams as well as provides after exam benefits. This includes:
The certifications will have a Government verification tag.
The Certification is valid for life.
Candidates will get lifelong e-learning access.
Access to free Practice Tests.
Test Details
Exam Duration: 60 minutes
Number of questions: 50
Maximum marks: 50
Passing marks: 25 (50%).
There is NO negative marking in this module
It is an online examination
Course Outline
Job and Responsibilities
Role of a Receptionist
Key Skills
Functional Grammar and Usage
Usage of Capitals
Using Nouns
Using Pronouns
Using Adjectives
Using the Articles
Using Verbs and Tenses
Customer Service Practice
Key Challenge
Customer Service in Action
Presentation and Communication Skills
Personal Presentation
Telephonic Communication
Email Communication
Listening Skills
Time Management
Use Lists
Beware of time wasters
Optimize your work environment
Take stock at the end of the day
Preparatory Guide for Certified Front Office Executive
It is very important to prepare with the right study material. To help you with your preparation, our team has curated a preparatory guide for Certified Front Office Executive. Let's get started: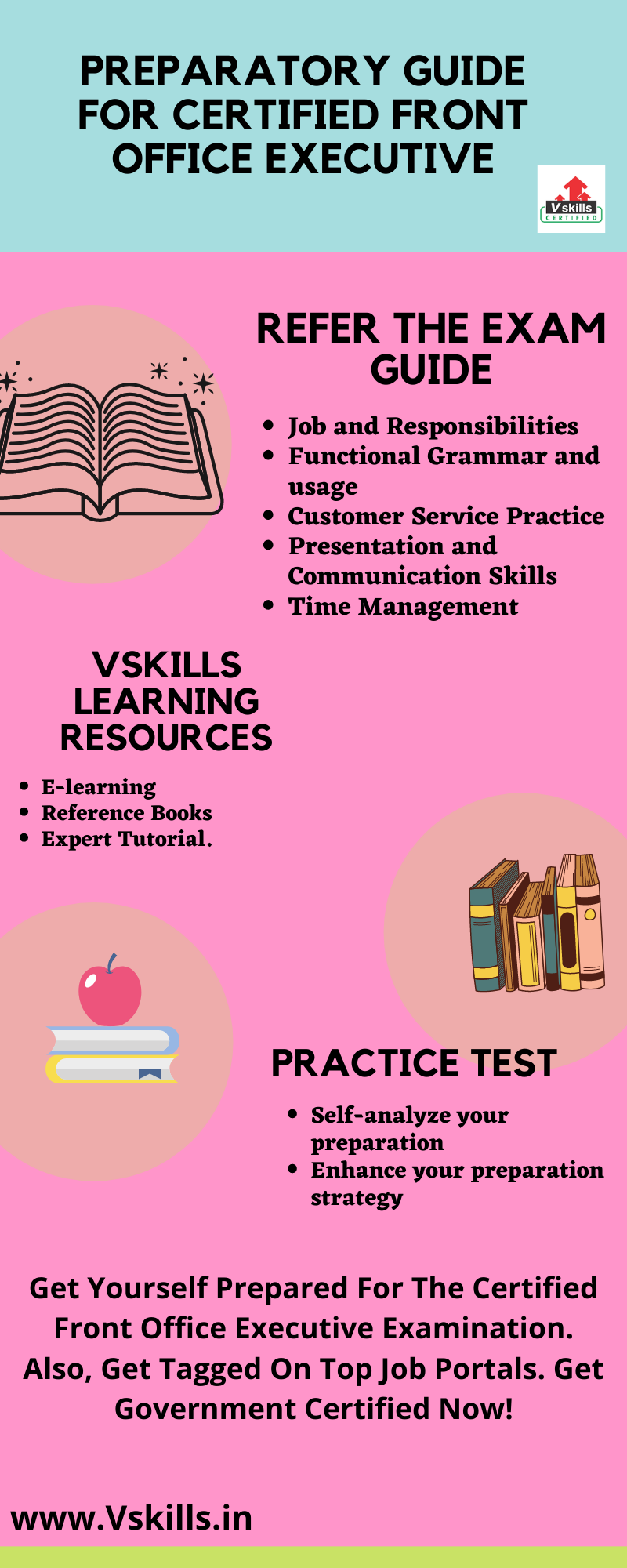 Exam Objectives
The course domains and modules act as a blueprint for the exam. This will help candidates to easily start preparing for the exam. Also, for the Vskills Certified Front Office Executive, the exam topics to refer to are:
Job and Responsibilities
Functional Grammar and usage
Customer Service Practice
Presentation and Communication Skills
Time Management
Refer: Certified Front Office Executive Brochure
Vskills E-Learning
For the Vskills Certified Front Office Executive examination, our team has provided online study material. Also, this online material is regularly updated. Furthermore, e-learning is bundled with hard copy material which helps candidates to improve and update the learning curve for superior and better opportunities.
Refer: Certified Front Office Executive Sample Chapter
Reference Books
It is essential to prepare from the right books. We have provided a list of books which you can refer to:
Front Office by P. Abbott
Front Office Management and Operations by Sudhir Andrews
Evaluate yourself with Practice Test
After studying for the examination, it is important to practice sample papers. Practicing sample test will help you analyze your weak areas and strengths. Moreover, you will be able to improve your answering skills that will result in saving a lot of time. So, make sure to find the best practice sources.

Front Office Executive Interview Questions
Checkout these latest online interview questions on Front Office to prepare for any job interview. The questions are created by domain experts, to help you to overcome the job interview obstacle.