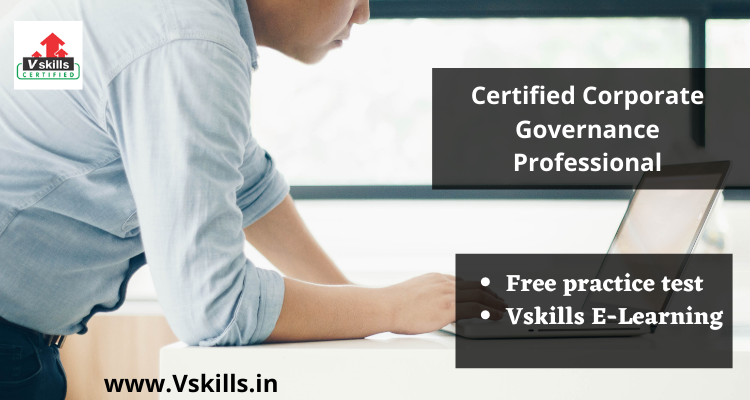 Corporate Governance professional may be called as Company Secretary, General Counsel, Chief Financial Officer, Chief Governance Officer, Chief Risk Officer, or another title. To add on, they advise the government on various projects and help them formulating various policies. Furthermore, they handle the flow of information. They work on updating policies. It requires a lot of skills and knowledge to become a successful Corporate Governance Professional. The Vskills Certified Corporate Governance Professional is designed to help you gain all the relevant skills and knowledge. 
Roles and Responsibilities
As a Corporate Governance Professional, you will be working on maintaining and monitoring government operations. You will be responsible for analyzing monthly reports. To add on, you will responsible for analyzing projects and reports and help to formulate policies. Further,  you will be advising directors and officers on director duties, the Corporations Act, the organization's constitution, stock exchange, and other regulatory and statutory requirements.
Vskills Certified Corporate Governance Professional
With the Vskills Certified Corporate Governance Professional, you will be learning and developing all the skills required. To add on, this Course is intended for professionals and graduates wanting to excel in their chosen areas. It is also well suited for those who are already working and would like to take certification for further career progression. Also, Corporate Governance Professionals are in great demand. Companies specializing in corporate governance consultancy are constantly hiring skilled corporate governance professionals. Various public and private companies also need corporate governance professionals for their finance and corporate governance departments.
Benefits of the Certification
Earning Vskills Corporate Governance Professional Certification can help candidate differentiate in today's competitive job market, broaden their employment opportunities by displaying their advanced skills, and result in higher earning potential.
Job seekers looking to find employment in the Finance and Corporate Governance departments of various companies, students generally wanting to improve their skill set and make their CV stronger, and existing employees looking for a better role can prove to their employers the value of their skills through this certification.
Vskills being India's largest certification provider gives candidates access to top exams as well as provides after exam benefits. This includes:
Becomes a Government Certified Professional.
The Certification is valid for life.
Candidates will get lifelong e-learning access.
Access to free Practice Tests.
Career in Corporate Governance
Corporate governance analysts ensure that firms follow all applicable requirements and manage risk effectively. Gap analysis, compliance testing, policy development, and process studies are among the areas in which these analysts specialize. Analysts in corporate governance operate in a range of businesses, including consulting firms that offer information solutions, engineering, and analytical services. In most cases, these analysts work full-time in an office setting. Let us know about Career in Corporate Governance!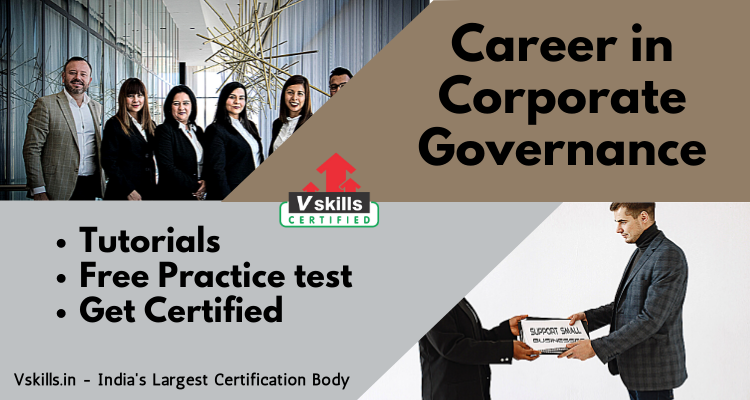 Test Details
Exam Duration: 60 minutes
Number  of questions: 50
Maximum marks: 50
Passing marks: 25 (50%).
There is NO negative marking in this module
It is an online examination
Course Outline
The Vskills Certified Corporate Governance Professional course covers the following topics –
Corporate Governance
Other Definitions

Principles of Corporate Governance

Corporate Governance Models Around The World

Sarbanes-Oxley Act of 2002

Stock Exchange Listing Standards 
Shareholders Agreement
Common Characteristics

Other Guidelines

Stakeholder Interests

Control and Ownership Structures

Internal Corporate Governance Controls

External Corporate Governance Controls
Economic efficiency
Old Theory

Allocative and Productive Efficiency

Competing Goals

Systemic Problems Of Corporate Governance

Debates In Corporate Governance

Separation Of Chief Executive Officer And Chairman Of The Board Roles
Philosophy of business
Development of Management Theory and Philosophy

Modern Philosophers of Business

Some Important Philosophical Topics

Business as Property

A Mini-Republic Or Modern Village

The Ontology of the Business Enterprise

The Epistemology and Logic of Business
Board of Directors
Typical Duties Of Boards Of Directors

Typical Inside Directors

Two-Tier System

Election and Removal

Exercise of Powers
Corporate Social Responsibly
CSR Approaches

Cost-Benefit Analysis with a Resource-Based View

Social Accounting, Auditing and Reporting

Potential Business Benefits

Developing an Engagement Plan

Common Types of Corporate Social Responsibility Actions

Criticisms and Concerns

Public Policies

Crises and Their Consequences

Industries Considered Void of CSR
Cross Ownership
Cross Ownership Of Stock

Media Cross Ownership

Transactions With The Company

Use Of Corporate Property, Opportunity, Or Information

Competing With The Company

The Future

United States
Adverse Selection
Common Law Duties of Care And Skill

The Future

United States

 
Corporate Group
Crises and Their Consequences

Stakeholder Priorities

Industries Considered Void of CSR
Knowledge Economy
Concepts

Evolution           

Driving Forces

Technology

Challenges for Developing Countries
Executive Compensation
Stock Options

Restricted Stock

Levels Of Compensation
Corporate Governance Norms In India
Corporate Governance

Evolution of Corporate Governance

Clause 49

OECD Principles

Policy Steps by SEBI

Companies Bill, 2012

Overarching Principles
MCA Voluntary Guidelines
BOARD OF DIRECTORS

Responsibilities Of The Board

Audit Committee Of Board

Auditors

Secretarial Audit

Institution Of Mechanism For Whistle Blowing
Risk Governance
Basics

Risk Management

Corporate Governance Perspectives

Enterprise Risk Management

Risk Aversion, Risk Policy, Risk Tolerance and Risk Appetite

Emerging Market Example
Preparatory Guide for Certified Corporate Governance Professional
All set for your exam now. It's time to start your preparation. Here, we have provided an exam guide specially designed by our experts. We are going to illustrate a detailed description to help you prepare for the exam with expert learning resources and a study guide.

Exam Objectives
The course domains and modules act as a blueprint for the exam. This will help candidates to easily start preparing for the exam. Also, for the Vskills Certified Corporate Governance Professional, the exam topics to refer to are:
Corporate Governance
Shareholders Agreement
Economic Efficiency
Philosophy of business
Board of Directors
Corporate Social Responsibly
Cross Ownership
Adverse Selection
Corporate Group
Knowledge-Economy
Executive Compensation
 Corporate Governance Norms In India
MCA Voluntary Guidelines
Risk Governance
Refer: Certified Corporate Governance Professional Brochure
Vskills E-Learning
For the Vskills Certified Corporate Governance Professional examination, our team has provided online study material. Also, this online material is regularly updated. Furthermore, e-learning is bundled with hard copy material which helps candidates to improve and update the learning curve for superior and better opportunities.
Refer: Certified Corporate Governance Professional Sample Chapter
Books are you Best Friend
It is important to prepare with the right set of books. To ease out your hunt for books we have provided a list of books which you can refer to:
Corporate Governance: Theory and Practice by Anil Kumar

ICSA Study Text in Corporate Governance by Coyle Brian
Evaluate yourself with Practice Test
It is very important to practice what you have learned so that you are in a position to analyze your practice, by practicing you will be able to improve your answering skills that will result in saving a lot of time. Moreover, the best way to start doing practice tests is after completing one full topic as this will work as a revision part for you.

Apply for Corporate Governance Certification Now!!
Job Interview Questions
If you are looking to crack your job interview in first attempt, then you must check out these interview questions. The sole purpose of these questions is to assist you in your job preparation.