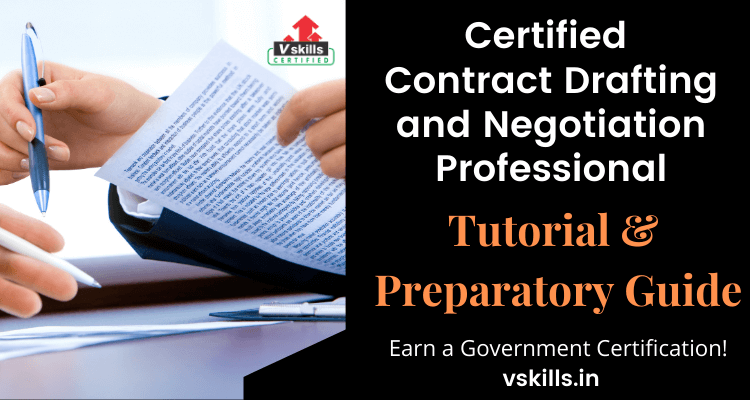 Organisations around the world enter into various contracts throughout their lifecycle. They need Certified Professionals to efficiently manage, evaluate and draft these contacts. Therefore employers are on a lookout for Certified Contract Drafting and Negotiation Professional. These professionals serve as the point of contact for customers on contractual matters. This certification enhances your employability and demonstrates your capability. Moreover, it bridges the gap for your dream job.
Roles and Responsibilities of a Certified Contract Drafting and Negotiation Professional
Certified Contract Drafting and Negotiation Professionals play a critical role in an organisation as they serve as main facilitators for negotiations, recommendations, record keeping, monitoring, change management, and more. They are also responsible for:
To begin with, they are responsible for contract drafting, evaluation, negotiation, and execution
Then, they should maintain contractual records and documentation such as receipt and control of all contract correspondence
Further, they must provide guidance on contract matters to project managers or other operational staff
Also, they are responsible for developing and implementing procedures and policies
Finally, ensure that signed contracts are communicated to all relevant parties to provide contract visibility and awareness, interpretation to support implementation
Vskills Certified Contract Drafting and Negotiation Professional Overview
Vskills Certification for Contract Drafting and Negotiation Professional validates your skills and expertise as per the companies needs. It equips you with the industry relevant skills. It assess you on various topics like Negotiation, Strategy & Tactics, Contract Basics, Contract Formation, Contract Legality, Breach of Contract and Remedies, Indian Contract Act, 1872, International Contract Law, Contract Drafting and Agreements. This certification is best suited for candidates who wish to be employed in legal departments of various companies.
Why become a Vskills Certified Contract Drafting and Negotiation Professional?
Vskills Certified Contract Drafting and Negotiation Professional certification differentiates you as a professional who is serious about applied learning, making you an asset to a prospective employer. Given the increased legal regulations, the demand has accelerated. Also, Vskills is India's largest certification provider and gives candidates access to top exams as well as offers after exam benefits. This includes:
Become a Government Certified Professional
Also, the Certification will have lifetime validity.
Get Lifelong e-learning access.
Get access to Practice Tests and Sample Papers.
Get tagged as 'Vskills Certified' on Top Job Portals – Monsterindia.com and Shine.com
Exam Details
Exam Code: VS-1574
Duration: 60 minutes
No. of questions: 50
Maximum marks: 50
Passing marks: 25 (50%).
There is NO negative marking
This is an Online exam
Exam Process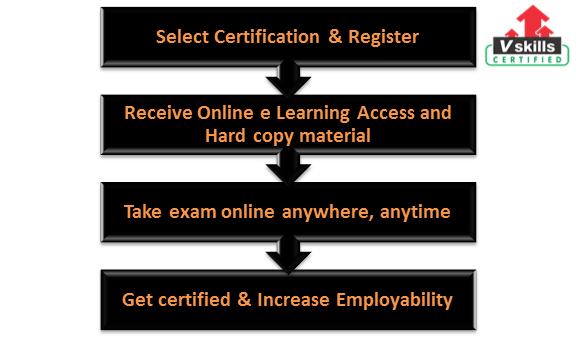 Course Outline
The topics covered in this exam are:
Introduction to Negotiation
Definition of Negotiation
Identifying Opportunities for Negotiation
Preparing for the Negotiation Process
The Seven Basic Steps in Negotiation
Negotiation: Attitudes, Conflict and Approaches
Negotiation Styles
Negotiation and Conflict
Attitude and Negotiation
Negotiation Strategy & Tactics
Strategies for Negotiation
Best Alternative to a Negotiated Agreement (BATNA)
Approaches for Negotiation
Types of Negotiators
Tactics for Negotiation Process
Non-Verbal Communication
Emotions in the Negotiation Process
Contract Basics
Overview
Contract Definition
Contract Elements
Indian Contract Act
Contract Formation
Agreement
Classification of contracts
Offer and Acceptance
Valid Offer
Offer Lapse
Acceptance
Valid Acceptance
Communication of offer and acceptance
Revocation of Offer and Acceptance
Intention
Consideration
Essentials of Consideration
No consideration No Contract
Stranger
Contract Writing
Contract Contents
Contract Legality
Legality of object
Unlawful Consideration and Unlawful Object
Illegality
Common Law and Illegality
Breach of Contract and Remedies
Breach of Contract
Anticipatory Breach
Remedies
Damages
Equitable remedies
Specific Relief Act
Indian Contract Act, 1872
PREAMBLE
Chapter I Of the communication, acceptance and revocation of proposals
Chapter II Of contracts, violable contracts and void agreements
Chapter III Of contingent contracts
Chapter IV Of the performance of contracts – Contracts which must be performed
Chapter V Of certain relations resembling those created by contract
Chapter VI Of the consequences of breach of contract
Chapter VII Sale of goods
Chapter VIII Of indemnity and guarantee
Chapter IX Of bailment
Chapter X Agency, Appointment and authority of agents
Chapter XI Of partnership
International Contract Law
International Contract Basics
The Internationalisation of contract law
Contractual Disputes
UN – CISG
INCOTERMS 2010
UNCITRAL
Contract of Carriage of Goods
International Insurance
International Payment
World Trade Organization (WTO)
Regional Trade Blocs
Anti-Dumping and Countervailing
International Commercial Litigation
Contract Drafting
Drafting Basics
Confusing Terms in Contract Drafting
Contract Drafting Checklist
Agreements
Business Agreements
Partnership Agreements
M & A Agreements
Property Related Agreements
IP Agreements
Power of Attorney
Labour Agreements
Banking Agreements
Preparatory Guide: Certified Contract Drafting and Negotiation Professional
The following preparatory guide is designed in step by step manner to set you on the right track for this certification exam. Follow the guide and pass the exam with flying colours.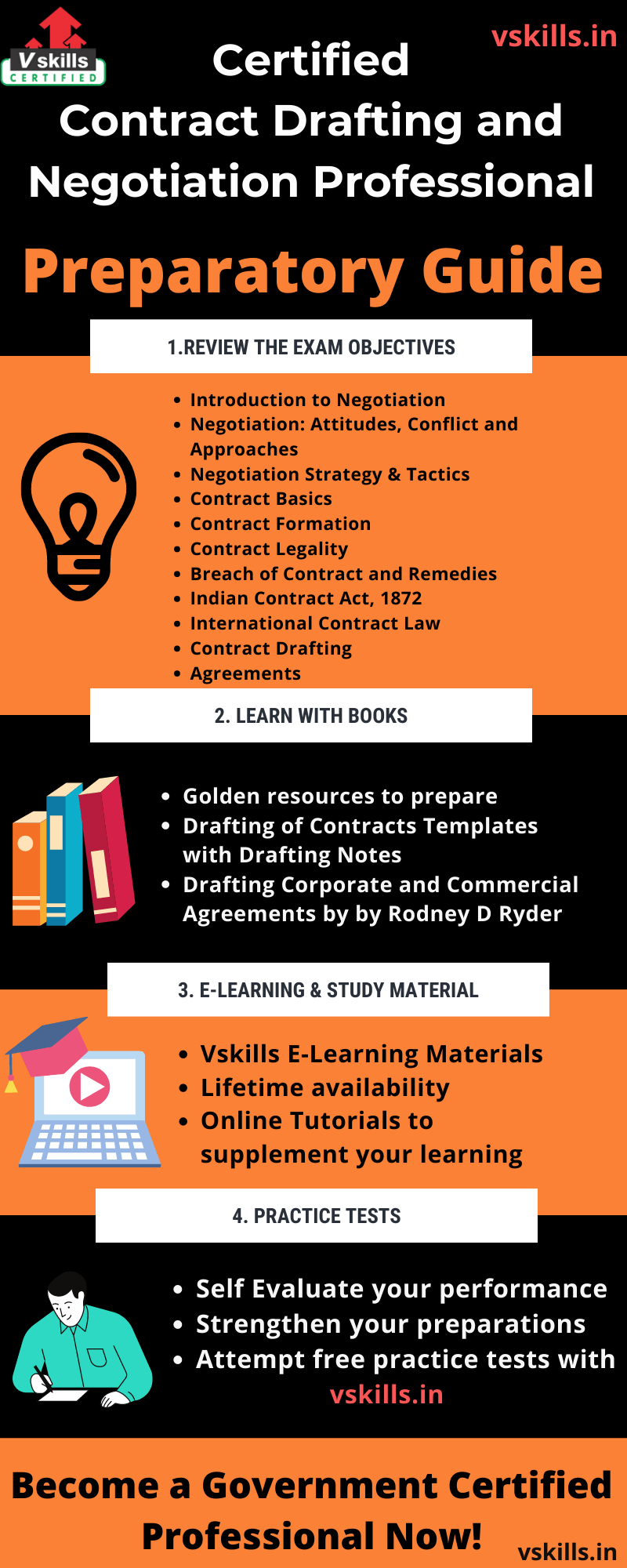 Step 1- Master the Exam Objectives
Before, venturing on any journey, one must have a clear idea of what he/she is putting themselves into. With that being said, reviewing each and every exam objective becomes the most important part of your preparation. Have utmost clarity about the exam course and concepts to score better in the exam. Tailor your study plan around these objectives to achieve this much valued credential. The exam objectives are:
Introduction to Negotiation
Negotiation: Attitudes, Conflict and Approaches
Negotiation Strategy & Tactics
Contract Basics
Contract Formation
Contract Legality
Breach of Contract and Remedies
Indian Contract Act, 1872
International Contract Law
Contract Drafting
Agreements
Step 2- Learn with Books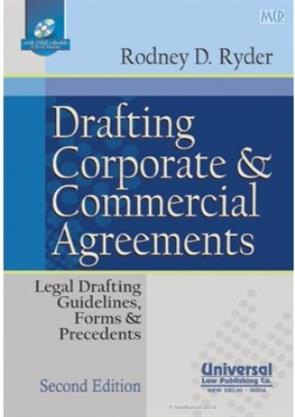 Preparation for any exam without books seems unreasonable and unproductive at the same time. You should refer the right books to gain in depth knowledge about the exam. Moreover, select relevant and credible books by expert authors for your exam preparations. They provide detailed explanation of the exam concepts. You must include the following books in your preparations to ace your learning:
Drafting of Contracts Templates with Drafting Notes by Ravi Singhania
Contract Drafting and Negotiation for Entrepreneurs and Business Professionals by Paul A. Swegle
Drafting Corporate and Commercial Agreements by by Rodney D Ryder
Step 3- Choose the right resources
We cannot stress enough that only finding the right learning resources will allow you to understand each and every domain properly. Choosing the right resources will reliable content is very important. Vskills also offers candidates the hard copy material that will help them in improving skills and staying up to date with the learning curve. Also you get Lifetime Access to E-Learning and Study Material by Vskills. These resources are updated regularly and supplement your learning.
Step 4- Attempt Practice Tests
Finally, we're on the last step for the preparatory guide. Further, this final step will give the candidate the exact insight of the topics in which they're lacking. So, make sure you're going through practice tests after you have gone through the entire syllabus. Most importantly, all the practice tests are designed to encounter the real exam environment around you. However, practice papers can be from various sources. Above all, remember the more you test yourself the better you're going to become. Lets Start Practising Now!

Upgrade your knowledge and enhance your skills with Certified Contract Drafting and Negotiation Professional exam. Start your preparation Now!