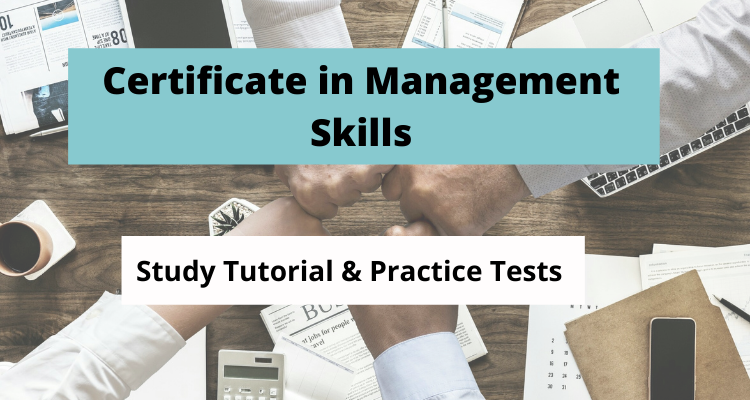 The Certificate in Management skills is a program designed to teach you about the key roles of effective supervisors and managers. This program will cover topics like communication skills, training, and staff development, delegation, problem-solving and decision-making process, employee conflict resolution, and performance.
Why become a Certified Management Skills Professional?
Professionals who aspire to become a manager of a firm, should be aware of the tasks and techniques undertaken by a Manager. This course is introduced to teach you about trial and tribulations of a managerial position. It will help you gain confidence to manage the firm on your own. Many various organisations are looking for a good manager for their firm, therefore there is a good scope in this niche.
Who should take this certification?
Job seekers who are looking for employment opportunities in the project management and software development department, this course is highly recommended for you as this will open the doors of employment opportunities for you. Candidates who wish to strengthen their CV's are always welcomed by this certification.
Roles and Responsibilities of a Certified Management Skills professional
A certified manager has to look after a lot of things. Let's see what are those tasks.
To accomplish the objectives allotted by the department, and assessing department activities, developing a plan, and managing staff.
To maintain and keep the employees on toes by recruiting, selecting, orienting, and training the employees
To develop personal growth opportunities
To maintain and accomplish staff results by effective communication of job expectations, planning monitoring, and job results.
To establish strategies and aims of the firm with the employees
To accomplish the financial objectives of the firm by forecasting requirements and preparing a yearly budget
To analyze expenditures, variances, and suggest corrections accordingly.
To resolve customer problems
Benefits of taking Vskills Certification
Vskills being India's largest certification provider gives candidates access to top exams as well as provides after exam benefits. This includes:
The certifications will have a Government verification tag.
The Certification is valid for life.
Candidates will get lifelong e-learning access.
Access to free Practice Tests.
Candidates will get tagged as 'Vskills Certified' On Monsterindia.com and On Shine.com.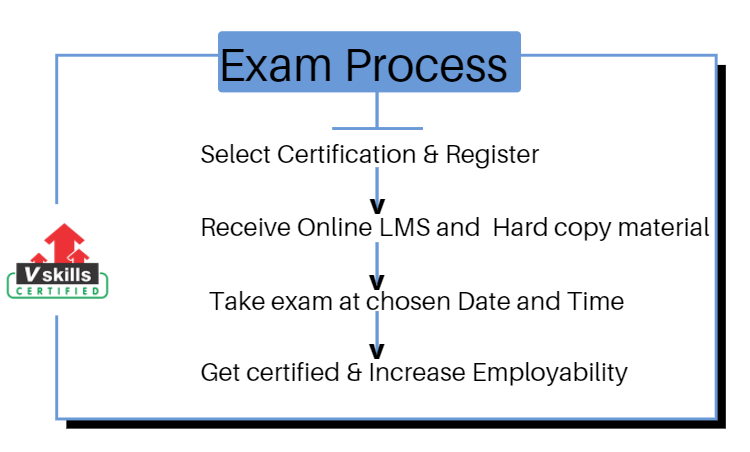 Exam Details
Exam Duration: 60 minutes
Vskills Exam Code: VS-1396
Number  of questions: 50
Maximum marks: 50
Passing marks: 25 (50%)
Exam Mode: Online
There is NO negative marking in this module.
Course Details
Management and Manager
Management Basics
Management Approach
Managerial Responsibilities
Best Practices for a Effective Manager
New Role as Manager
Identifying Required Managerial Skills
Managerial Power and Credibility
Succeeding as a First-time Manager
Demands and Constraints of a Manager's Role
Managerial Challenges
Overcoming Management Challenges
Credibility
Managing Former Coworkers
Managerial Expectations
Setting Organizational Expectations
Setting Team Expectations
Meeting Organizational Expectations
Balancing Conflicting Expectations
Building a Productive Relationship with Your Boss
Evaluating Expectations
Making the Move Into Management
Is management right for me?
Making the Transition
Communication Skills
Public Speaking
Personality Development
Self Grooming Tips
Team Work
Stress Management
Consequences of Stress
Reason/Causes of Stress
Signs of stress
Techniques of Stress Management
Time Management
Time Management Techniques
Negotiation Skills
Negotiation Basics
Preparing for the Negotiation Process
The Seven Basic Steps in Negotiation
Best Alternative to a Negotiated Agreement (BATNA)
Tactics for the Negotiation Process
Managing Office Records
Filing and Record-Keeping
Purpose of Record Management
Features of Effective Record Management
Information Types
Information Access
Type of Files
Procedure of Classification
Methods of Filing
Systems of Filing
Word Processing – MS-Word 2013
MS-Word Basics
Working With Documents
Customize the Word Environment
Editing a Document
Formatting Text
Formatting Paragraphs
Styles
Graphics
Proofing a Document
Page Formatting
Macros
Lists
References and Citations
Track Changes
Spreadsheet – MS-Excel 2013
Excel 2013 Basics
Workbook and Worksheet
Manipulating Data
Worksheet Formatting
Page Properties and Printing
Excel Formulas
Sort and Filter
Charts
Macros
Networking and Internet
Networking Concepts
Network types
Windows Networking terms
Sharing Local Printer
Connecting to a Network Printer
Internet
Web Browser
Uploading and download files
E-mail
Managing E-mail Accounts
Sending an E-mail from Outlook
Web-based E-mail or Gmail
Digital Signature
Future Developments
Social Media
E-Commerce
Big Data
Internet of Things (IoT)
Automation and AI
Preparation Guide for Certificate in Management Skills
To achieve success in your desired goal, you need a preparation source to decide the ways you have to adapt for the examination preparation. If you refer to a proper preparation guide, this will increase the chances to qualify with the desired results. The preparation guide will give you a proper overview of the resources you need in the examination.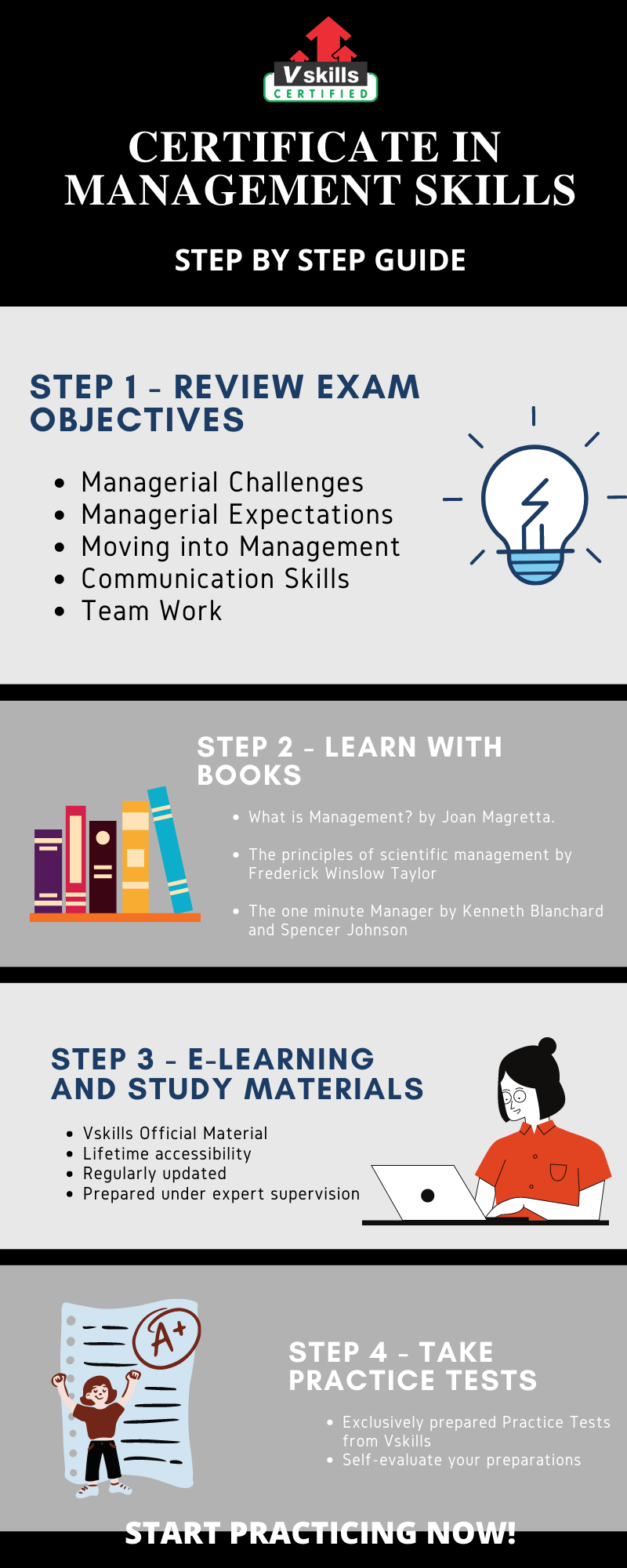 Step 1 – Review the Exam Objectives
First step of a preparation guide is to list the table of contents before the examination, to ensure that you are aware of the contents that you will study in this course. Mentioned below are the exam objectives.
Managerial Challenges
Managerial Expectations
Moving into Management
Communication Skills
Team Work
Refer: Certificate in Management Skills Brochure
Step 2 – Learning with Books
Books are always our trusted resource to gain knowledge. It has several concepts mentioned in different ways which makes out learning easy and effective. There are many books written by different authors and they portray their experiences in those books which gives you detailed knowledge about the topic. The books mentioned below are the top 3 books which you can consider for this certification.
What is Management? by Joan Magretta. This book is brief information about what it takes to make an organization perform. It has mentioned the fundamental principles of management. The book will cover all the points for a beginner and will give them the information that they need
The principles of scientific management by Frederick Winslow Taylor. This book is considered a super classic and makes you understand the basic steps to take to improve industrial productivity. It will give you a deep insight into the scientific perspective of management.
The one minute Manager by Kenneth Blanchard and Spencer Johnson. This book has all the techniques that should be used by a manager in order to control and manage the firm. Also, this book has some great insights on how to increase productivity.
Step 3 – E-Learning and Study Materials
E-learning helps you to set your own learning pace. And makes you comfortable during the learning process. Online learning helps you to work on your weaknesses and helps you to gain confidence in those weak areas by working on it and giving sufficient knowledge. Vskills offers E-Learning Study Material for the Certificate in Management Skills exam. One very special advantage of Vskills learning material is its timely updates and lifetime access. In addition to supporting your e-learning, Vskills also provides study materials in hard copy for the candidates preferring offline study methods.
Refer: Certificate in Management Skills Sample Chapter
Step 4 – Check your Progress with Practice Tests
One of the benefits we have of the internet is we can self evaluate ourselves online by attempting practice tests. Practice tests make it easy for us to understand the topics that we need to work harder on and gives us a taste of the exam environment which is an advantage before the examination. This won't create unnecessary mishaps during exams and will save time as well. Hence always attempt multiple practice tests before the examination.

Strengthen your concepts and make your resume stand out with the Certificate in Management Skills. Start Practicing Now